NARS' new Velvet Matte lip pencil shades are a secret shout out to Prince
It seems that NARS is paying tribute to late musical icon Prince with some of the names of their new Velvet Matte shades.
On Valentine's Day, NARS added ten new shades of their best-selling, cult favorite Velvet Matte pencils. We noticed something interesting about the names. About half of them are named after Prince songs. And not just any Prince songs, some of the naughtiest ones! Rawrrrr.
Pussy Control is a soft lilac shade, but its namesake 1995 song is anything but subtle. The Let's Go Crazy pencil is a vivid pink that would have been so on trend in 1984 when the song with the same name was released.
Look at this lineup 4 U.
Other musically-titled lippies include: Do Me Baby, Get Off, and Dirty Mind.
Dirty Mind is the name of an album and single Prince released in 1980, as well as the name of this sexy deep lilac shade.
Not all of the shades are overt Purple One homages. Shades like Famous Red and Intriguing aren't Prince songs (but who knows, there are vaults upon vaults of unreleased tracks, so maybe?) but they are certainly evocative of the Artist's work and persona. The formula of the pencils contains emollients and vitamin E so your lips can feel…creamy.
Do Me Baby is a chestnut rose color and a 1982 ballad.
Are we gonna let the elevator bring us down? Oh, no Let's Go Crazy!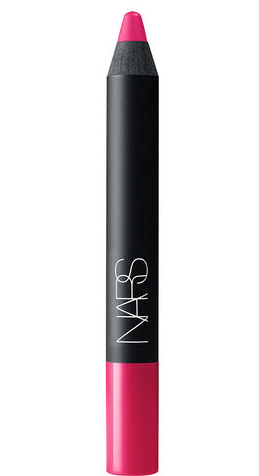 So many shades to mix and match…
Well, we know what we'll be throwing on for the next sexxxxxy dance party.
NARS Velvet Matte lip pencils are available through NARS' site and Sephora for $27 each.