Nancy Pelosi zinged Trump so hard during a recent interview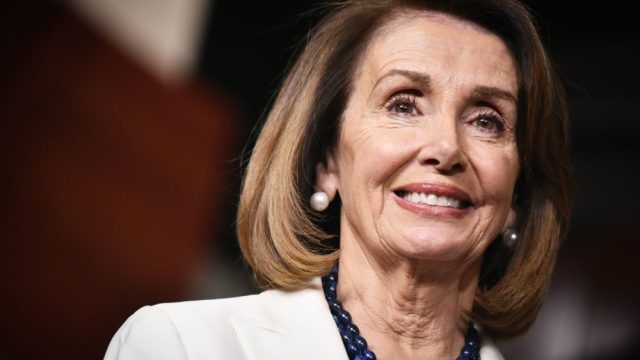 Given that President Donald Trump frequently lies, insults others, and brags about his own abilities, it's always refreshing to see him get called out—and especially refreshing when other politicians do it. Recently, House Speaker Nancy Pelosi, who is no stranger to shutting down Trump, delivered a major Trump-related zinger on a January 3rd Today appearance.
During the one-on-one interview, Today host Savannah Guthrie asked Pelosi about a recent trip to Hawaii she took over the Christmas holiday after the government entered a partial shutdown. Guthrie noted that Trump recently criticized the new speaker for this decision—especially in light of the fact that Pelosi had said the shutdown would give Trump more time to "golf." But the speaker waved the president's remarks aside, saying the shutdown cut her pre-planned vacation in half, and noted that she and other members of Congress had promised to return to Washington within 24 hours if needed. Pelosi then added,
"The president may not know this, but Hawaii is part of the United States of America. Maybe he doesn't realize that, and that's why he said Barack Obama wasn't born in the United States when he was born in Hawaii."
Wow. Burn. Pelosi then reminded Guthrie that "communication is good" in Hawaii.
"The fact is that our members stood ready, were on alert in constant communication, to open up government," she continued. "The president is proud of shutting down government."
As The Hillpoints out, members of Congress on both sides of the aisle took time off over the holidays—not just Pelosi. Trump himself whined about this fact during the winter recess, tweeting on December 24th that he was "all alone (poor me) in the White House waiting for the Democrats to come back and make a deal on desperately needed Border Security."
https://twitter.com/udfredirect/status/1077255770725601280
Trump's complaints are even more eye roll-worthy in light of his unwillingness to actually reach a deal. According to The New York Times, before the shutdown, Vice President Mike Pence reached a compromise with the Democrats that budgeted $2.5 billion in funding for border security and immigration, but Trump turned it down.
Basically, Pelosi's comments are giving us life in light of the recent (Trump-era) disaster in Washington.