Now's Your Chance to Name a Cockroach After an Ex (and Donate to a Good Cause)
The "Cry Me a Cockroach" fundraiser let's bitter exes have a little fun by way of the pesky pests.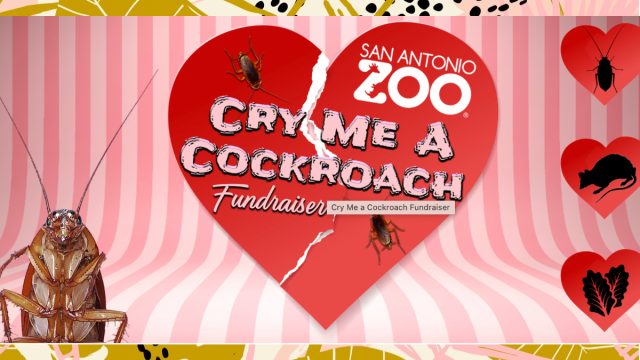 Have you ever wanted to get back at an ex so badly, you'd do anything? Well, common sense will tell you that whatever you're thinking is probably not a good idea.
But, we all need a little satisfaction in life after a bad breakup and this annual fundraiser by the San Antonio Zoo in San Antonio, Texas, can be just the thing! They say revenge is a dish best served cold and in this case, it's crunchy and downright disgusting, too.
RELATED: 40 Questions to Ask Your BFF to Find Out How Well You Know Each Other
It also makes the perfect Galentine's gift for your BFF who just can't seem to get over her jerky ex.
Whether it's a Matt, a Charlie, a Hank, or a Joe, you can take your ex's moniker and label it on one of the peskiest pests there is — a cockroach! That cockroach is then gobbled up by a hungry animal that's housed at the zoo. It's a win-win!
The Cry Me a Cockroach Fundraiser helps raise funds to support the zoo's vision of securing a future for wildlife in Texas and around the world.
For a $5, $10, or $25 donation, you'll receive a digital downloadable Valentine's Day card showing your support for the Cry Me a Cockroach Fundraiser, and you can take it a step further and send them a card letting them know a cockroach was given their name, and then fed to an animal at the zoo!
If you want to really splurge, for $150, you can upgrade to the personalized option, where the zoo will create an individualized video message of your cockroach being fed to one of their animals for you to send to your not-so-special someone (PG, of course!).
The zoo only offers twenty of these personalized videos, and says they'll sell out fast, so hop on this quick if you want one! It also doesn't have to be relegated to an ex, says the zoo — you can name one in honor of a bestie, a bad boss, an ex-partner or anyone really, who has caused you some stress.
The fundraiser has also inspired some hilarious videos on social media.
The zoo asks that you also share in the fun on social media with hashtag #CryMeACockroach and tag @SanAntonioZoo on Facebook, Instagram, Twitter, and TikTok! The feedings are streamed live on Valentine's Day.
Jené Luciani Sena is an accredited journalist and internationally-renowned bestselling author, regularly seen on national TV outlets such as Access Daily, Today and Dr Oz. Touted as one of Woman's World Magazine's "Ultimate Experts," she's a TEDTalk speaker and a busy Mom of 4.
Read more