Nail artist Gracie J is celebrating Black History Month with designs that honor Black icons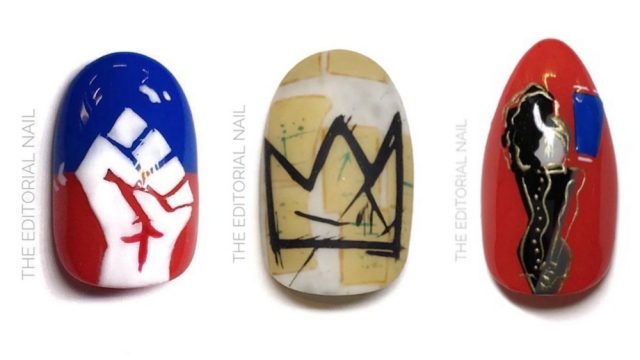 Nail artist Gracie J is celebrating Black History Month with intricate designs that honor icons of Black art, literature, activism, and more.
You might know Gracie J from her work as the key nail artist for TNT's series Claws. Her creations graced the digits of the show's stars and are arguably a series character in their own right. Gracie has a project called "Nails At First Sight" that she uses to showcase her nail art via photos and videos. She explains:
"This is an outlet I use to bring to my life; my different skill sets as an artist: writing, creative direction, and production. I wanted to create something that would set me apart from what's normally expected from a nail artist."
This month's installation is dedicated to Black History Month, and it pays tribute to influential Black historical figures and works. Each nail tip is intricately painted and comes with a mini history lesson in the caption.
We asked Gracie how the project came about. She told HelloGiggles:
"Within my family unit, my sister Meghan is a huge admirer of my work. She challenged me to create a "Nails At First Sight" series for Black History Month. Each day would be a tribute to a variety of icons who have made major contributions to the culture and who have been major influencers in mainstream culture. I love a creative challenge and it was important to me to see my gift, to portray the positive aspects of Black culture, so I took it on. It was a no-brainer."
All of the "Nails At First Sight" installations are gorgeous, but this series is particularly resonant. Gracie shared:
"This series is very personal to me because we are all fighting for something, and that something is a positive change. Whether you are Black, a woman, a man, a member of the LGBTQ community, whatever religious affiliation, whatever walk of life, we all want to be seen. We all want you to know that we are here! These conversations are important. Informing each other is important. Making each other uncomfortable in our ignorance is important."
Check out some of Gracie's pieces:
Rosa Parks's prisoner number
In the photo caption, Gracie writes, "Remember, if you ever find yourself witness to an unjust act towards anyone or anything, please find the courage in your soul to stand up and say NO! Together we stand strong, apart we fall."
The Invisible Man by Ralph Ellison
This award-winning 1952 novel brought awareness to African American social, intellectual, and identity issues of the early 20th century.
"Control" by Janet Jackson
A deconstructed image of the cover of Ms. Jackson's 1986 hit album. Gracie says, "This speaks volumes to me as a woman of color making her mark in her respective industry, in an industry that doesn't leave much room for us."
Jean-Michel Basquiat
The multi-disciplinary artist made an immense impact in his short life. His graffiti-style work and social commentary continue to inspire artists today, especially nail artists.
Jay-Z's Jaybo character
Gracie says, "Jaybo relays a strong message about the Black community's social conformity, complacency, and need to rehab our neighborhoods. This track also tackled antiquated social constructs set in place to disenfranchise the Black minority, such as colorism and classism."
Ayiti Cherie
Gracie pays tribute to her home country, Haiti, with this powerful design. The melting-pot nation was the first Black republic to free itself from slavery and colonial rule.
Emory Douglas
The images of artist Emory Douglas became iconic symbols of the Black Panther Party and Civil Rights Movement.
The Color Purple
Alice Walker's Pulitzer Prize-winning novel about the struggles and sisterhood of Black women in the 1930s South inspired a film and Broadway musical.
Derrick Adams
Contemporary multi-disciplinary artist Derrick Adams works with video, performance, and sound, as well as traditional 2-D mediums. He has work in the permanent collections at the Met, the Studio Museum of Harlem, and galleries all over the world.
We look forward to the next couple of weeks of Gracie's designs as we celebrate this important month.