Mothers-to-be are using nail art to reveal their baby's gender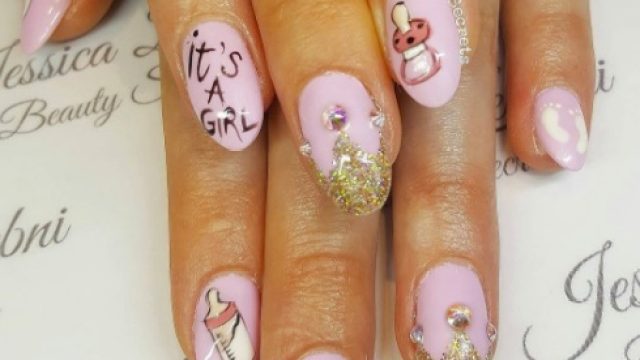 There's a new trend when it comes to gender reveal announcements: Nail art.
Revealing your baby's gender can be an elaborate occasion for some families. Throwing a party, coming up with creative ways for an announcement, and celebrating with friends and family are common ways to reveal the gender. However, there is a new and subtle trend happening with moms-to-be. Creative mommies are painting their nails with pink, blue, and designing them with gems, bottles, and pacifiers.
Some moms are even incorporating purple and green, or combining pink and blue.
Check out a few of these nail designs for your own inspiration!
The classic, "It's a boy!"
Glitter!
These nails keep the options open, asking the question of the gender without revealing it.
Simple and cute.
https://www.instagram.com/p/BF6yvuwFpbv
Sporting a little gem, this mom-to-be put little footprints on her nails for extra style.
Pretty in pink.
Pacifiers, crowns, and all — this mom revealed her baby's gender with glitz and glam.
All the shiny things!
We are loving all of these extra, extra accessories on this mommy's nails.
Bumps and bottles.
https://www.instagram.com/p/BSZ46_rhOCH
This mom poses with her bump while showing off her illustrated nails.
Revealing a baby's gender is still a popular tradition for many parents. Being creative about announcing your baby's pronouns doesn't have to mean a cake or a huge party — nail art could be a cute way to share the news!