This Vibrator Is a Must-Buy if You're Extra Sensitive—Here's My Review
As a professional sex writer, I felt deceived when I tried the cult-classic Hitachi Magic Wand. The iconic back-massager-cum-vibrator is lovingly lauded as the Rolls Royce of vibrators. So you can imagine my disappointment when I held the rumbly wand to my bits and…Well, let's just say that even on the lowest setting my bits were overwhelmed—and not in a good way. So for those of you whose bits, like mine, are on the sensitive side, I'm here to offer an alternative option: The MysteryVibe Poco. 
Now, no shade to all the pleasure-seekers who swear by the wand—heck, some of you high-intensity fans might be rushing off to add the toy to your sex toy collection right now. But as the saying goes: different strokes for different folks. 
Read on for a full review of the lower-intensity, beginner-friendly MysteryVibe Poco vibrator. It deserves as much love as the world's best-known vibe. 
What is the MysteryVibe Poco?
Cased in blue silicone and about six inches long and one and a half inches wide, the Poco looks like a TV remote straight out of Monsters, Inc. And while extraterrestrial travel may be off the table for many of us thanks to, you know, the global pandemic plaguing planet Earth, it's worth mentioning that this vibe will fit seamlessly into even the smallest overnight bag or pocket. 
Admittedly, at first glance, the Poco doesn't look that different from other vibrators on the market, such as the Dame Arc or even the Lelo Gigi 2. But the Poco isn't your average sex toy. Thanks to two built-in hinges, it bends. Yes, really. 
"Its bendable frame allows you to adapt the toy to your body's particular curves and contours, allowing you to target erogenous zones that larger vibrators may not be able to hit with the same precision," Dominique Karetsos, sexual wellness advisor for MysteryVibe, tells HelloGiggles. Can't visualize? Think about the way your finger bends at the knuckle, and you'll get the gist. 
Okay, okay—but what's the intensity like? 
Unlike the Hitachi Magic Wand, which only has two settings (very intense and very very intense), the Poco offers 16 settings. You heard right. And with intensities ranging from "flip phone on vibrate" mode to "electric toothbrush from the early 2000s" mode, you're sure to find an intensity that fits your needs best.
"There are also eight pre-set vibration patterns on the toy and even more patterns available for download with the MysteryVibe app," adds Karetsos. In a process that takes less than two minutes, from the app store to app-controlled, the Poco can be connected to the secure MysteryVibe app. 
Of course, the app feature is totally optional. You can still control the Poco right from the toy itself if you prefer to keep your phone out of your pleasure time.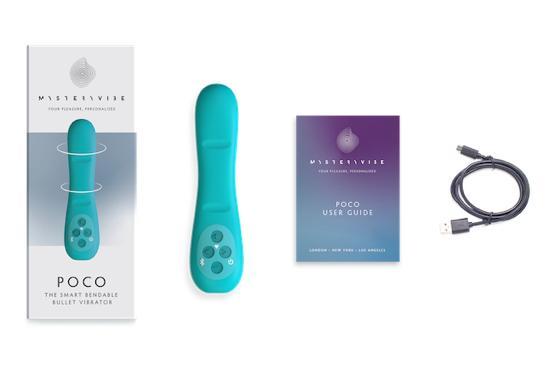 Shop it! $90.00, MysteryVibe
How many ways can you use the Poco?
Beyond just ramping up the toy's "cool" factor, the toy's moldable design allows you to use it internally or externally—or both at the same time. #Multitasking. "You can stimulate your G-spot by sitting in a crossed-legged position and bending the tip of the Poco so it curves inside you (about two inches) to reach your G-spot," explains Karetsos. Or you bend it into a "U" shape, inserting one half inside your body to stimulate your G-spot while the other half provides simultaneous clitoral stimulation, she says. 
Personally, I prefer external stimulation. The first time I used the Poco was in the shower (it's water-resistant). I laid down my no-slip bath mat, grabbed the gel-like Toy Joy lube by Cake, and let the tiled wall support my body as I held the toy flat against my clit. The experience? Overwhelming good! 
The second time, I had my S.O. hold it against my perineum (that's the skin between your front bits and back hole) while performing oral. While they licked, I used the MysteryVibe app to explore different patterns. Unfortunately, I forgot to put my phone on Do Not Disturb mode and got an orgasm-ruining work email. Still, before that "ping," the pleasure was otherworldly.  
These days, my favorite way to use the Poco is to place it flat on my pillow and hump the living shit out of it. (P.S.: For even more ways to incorporate the Poco into solo or partnered play, you can check out 25 more positions on the MysteryVibe website). 
Who should buy the Poco?
Don't hate me, but as a professional sex writer and sex toy reviewer, each week I'm sent at least one new vibrator to test-drive. In other words, since I first tried the Hitachi Magic Wand so many years ago, I've tested nearly a thousand vibrators. If not more. And yet, since first trying the Poco when it was released in June, it's been my favorite to use—and my favorite to recommend to people who also think wand vibrators are overrated, as well as those who are just now dipping a toe in the world of pleasure products. 
Karetsos agrees that the Poco is perfect "whether you have super sensitive nerve endings down there or are a first-time vibrator user. It's perfect for exploring all of the pleasure zones your body has to offer," she says. 
Oh, and the best part? It's only $90! Check it out at MysteryVibe.com.