What book to read next based on your Myers-Briggs personality type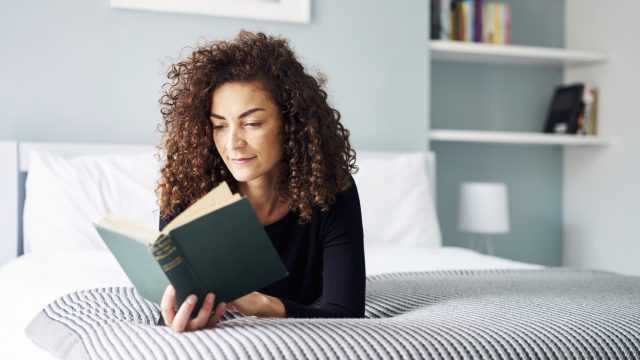 These days, there are tons of ways to find a good book recommendation. You could browse Goodreads, scroll through #bookstagram posts, or choose a title based on your zodiac sign. Or, you could pick up a book perfectly tailored to your Myers-Briggs personality type.
Your Myers-Briggs personality type can say a lot about you. It's the perfect indicator for what book you should read—and will actually enjoy—next. With just four little letters, you can learn a lot about someone's likes and dislikes.
The Myers-Briggs personality types are determined through four different sliding scales. Everyone is either an "I" (introvert) or an "E" (extrovert) with an "N" (iNtuition) or an "S" (sensing). Then, there's either "T" (thinking) or "F" (feeling) and "P" (perceiving) or "J" (judging). If you don't know your Myers-Briggs personality type, take the personality quiz here. It'll only take a few minutes.
There are 16 Myers-Briggs personalities total, and yes, I came up with 16 unique book recommendations tailored to each one. I can't help it; I'm an ISFJ. I'm TOO enthusiastic about sharing specific book recommendations that you didn't ask for, because I just want all of us to have fun and feel taken care of. (Please like me?)
INFP: What Should Be Wild by Julia Fine
You're an idealist. Let your imagination run wild with this striking magical realism read.
ENFP: Flights by Olga Tokarczuk
You need a book that's as adventurous as you are. This collection of short stories is the perfect companion.
INTP: Heartbreaker by Claudia Dey
Part science fiction novel and part mystery, Heartbreaker is right up your alley.
ENTP: Pieces of Her by Karin Slaughter
You need a gripping novel that can hold your attention the whole way through. Welcome to the #SlaughterSquad.
INFJ: Dance of Thieves by Mary E. Pearson
For you, the more epic the novel is, the better. Get invested in book one of this new high fantasy series now, because there are more to come.
ENFJ: Sight by Jessie Greengrass
Your imagination knows no bounds, ENFJ. And this beautiful and brilliant literary debut is like nothing you've ever read before.
INTJ: With You Always by Rena Olsen
You tend to obsess over why things are the way that they are. So you'll flip for the suspense of With You Always.
ENTJ: The Victorian and the Romantic: A Memoir, a Love Story, and a Friendship Across Time by Nell Stevens
It's no secret that you love to be in charge. Your inner academic will live for this combination biography and autobiography about Nell Stevens' time studying Victorian literature.
ISFP: Let That Shit Go: A Journey to Forgiveness, Healing & Understanding Love by Bruna Nessif
Your main goals are to live life to the fullest and surround yourself with loved ones. Bruna Nessif's moving personal stories will remind you to love yourself and let go of what doesn't bring you joy.
ESFP: My Life as a Goddess: A Memoir Through (Un) Popular Culture by Guy Branum
There's nothing wrong with loving the spotlight. Guy Branum is the same way, and his memoir will make you laugh until your sides hurt.
ISTP: Where the Crawdads Sing by Delia Owens
You're a bit of a mystery, ISTP. You can be unpredictable, but you're still practical and reliable. Your charm endures, just like this mesmerizing historical fiction novel.
ESTP: The Tenth Island: Finding Joy, Beauty, and Unexpected Love in the Azores by Diana Marcum
Adventure is your middle name. You'd much rather wing it than spend too much time planning or overthinking, so Diana Marcum's memoir about moving to the Azores on a whim will resonate deeply.
ISFJ: Creativity Takes Courage: Dare to Think Differently by Irene Smit and Astrid van der Hulst
You're extremely creative, but you're modest about it. Nurture your ideas with this interactive guide that will help you unleash your creativity even further.
ESFJ: The Simple Wild by K.A. Tucker
Sweet love stories make you squee, and this one is full of heart. Prepare to seriously swoon and feel all the feelings.
ISTJ: Dopesick: Dealers, Doctors, and the Drug Company That Addicted America by Beth Macy
You appreciate facts, figures, and serious research. Dopesick, a harrowing read about the opioid crisis in America, will astonish you.
ESTJ: A Deal with the Devil: The Dark and Twisted True Story of One of the Biggest Cons in History by Blake Ellis and Melanie Hicken
Your dedication to doing the right thing makes you a natural true crime fan. Pick up this exposé about a French psychic who scammed over $200 million from elderly and emotionally vulnerable victims.
Happy reading!