I found my passion after becoming disabled, and I thank Frida Kahlo for teaching me the beauty of second chances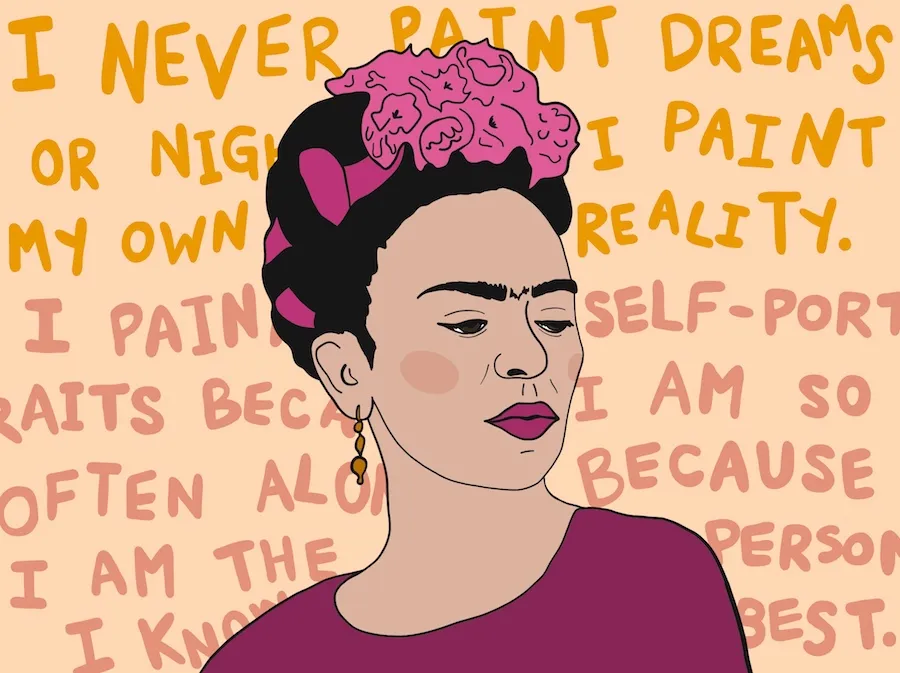 Today, July 6th, would have been Frida Kahlo's 111th birthday.
Frida Kahlo is not only one of the greatest Mexican artists of all time — she also stands as an undisputed feminist icon. In a time when gender conformity was expected, Frida explored a varied spectrum of gender expression in her art, love, and life. Ever critical of society, Frida was unafraid to keep a home that was open to scholars and activists alike for open debates on communism and politics. In short, she was a passionate woman.
Passionate though she was, she wasn't without her own pain. In fact, it could be argued that her pain is what allowed Kahlo to discover her artistic genius.
Many associate Frida with her famous eyebrow or colorful depictions of Mexican surrealism, and they may be surprised to learn she was also born with a disability.
Doctors diagnosed a newborn Frida with spina bifida, a congenital condition that impacted her spinal development. As a young child, she would be made weaker still after a bout of polio.
Yet this did nothing to put a damper on Frida's enthusiastic spirit. Eager to be active, she participated in every sport she could — even taking up boxing. Though the body she was given had its limitations, Frida was thriving as a disabled person. However, around her 18th birthday, an accident left her with injuries that changed her life forever.
Frida was set to start her medical school education when she was in a devastating trolley accident. Though she survived with her life, her injuries consisted of a broken pelvis, broken spine, and a punctured abdomen— injuries which required her to wear a full body cast for an entire year. These injuries would become the source of chronic and constant pain for the artist for the rest of her life. false
As horrible as this existence may seem — ever confined to her bed because of constant pain — it was at this time that Frida discovered her life's greatest passion. Gifted a specially adapted easel by her parents, Frida turned towards art as a source of comfort and entertainment. And her favorite subject was the one she knew the best: herself.
Using a vivid style that revealed her complex inner world, Frida painted self portraits, mythology, surrealism, body horror, love and pain. Images of her wheelchair and the restrictive medical corset she used as aids appear in some of her most famous works, and others display images of an injured Frida — visual representations of her struggles with disability.
Though Frida's disability was often the focus of her work, it was presented side by side with her images of femininity, beauty, and strength.
Her pain was not meant to inspire pity or to paint her as a heroic tragedy case. Her intention was to share her everyday existence, post-disability.
I've been a fan of Frida and her work since before high school. I wanted to become an art restorer and became especially keen on Frida's artistry and her groundbreaking work. Besides her art, I learned about her involvement as a political activist in the Mexican Revolution and her marriage to Diego Rivera. My research became an important step on my way to majoring in Art History at my university of choice.
But life has a way of changing plans. Art restoration turned into a more realizable job in human resources management and my academic work concerning Frida and other artists swiftly fell to the back burner.
But life changed again when I was diagnosed with both a mental and physical disability.
My newly diagnosed anxiety and depression interacted with my fibromyalgia, making my pain and weakness unbearable. Like Frida, I was confined to my bed, limited in what I could physically do but not in my potential.
I found myself alone with my thoughts and needing an outlet. I started keeping a journal of my dreams, my disappointments, and my very real fear of my sudden disability. I also wrote short stories, poetry, and silly children's stories. Some of it was good, but most of it was just a good outlet for me.
The most important realization I had was that I really enjoyed writing. Like Frida with her paint, I could write my own reality. Like Frida with her paint, I now write because I need to. Oftentimes my disability is a part of my writing's message, and when it is, it's alongside words of activism, strength, and love.
It's not the future I dreamed of back in middle school, but 18-year-old Frida also had different plans when she stepped onto the trolley that fateful day. That's the the beauty of second chances — sometimes they're an improvement on the first one.