This book is the next Gone Girl, and you should read it ASAP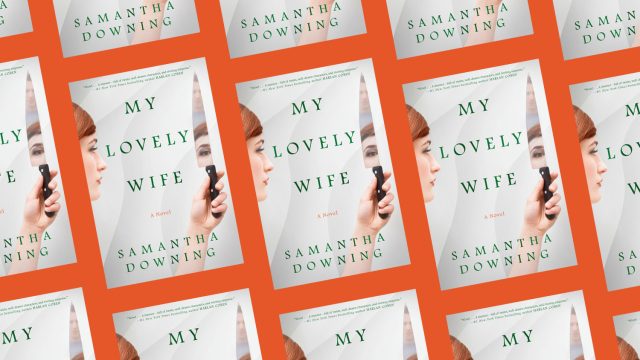 I read a lot of thrillers. It takes a lot to surprise me these days; we all know by now that the call is coming from inside the house. I started to wonder if I'd ever truly find "the next Gone Girl." But then, I read My Lovely Wife.
You're going to hear a lot about My Lovely Wife, which hits bookshelves today, March 26th, in the coming weeks. And you should believe all of the hype. My Lovely Wife is heralded as "Dexter meets Mr. and Mrs. Smith," which is probably enough to pique your interest on its own. But I'll tell you more: It's about a husband and wife who live a perfectly normal suburban life. Except they also kill people to keep their marriage alive. Honestly, we stan a female villain.
My Lovely Wife is THE thriller you need to read in 2019. It's shocking, fast-paced, and so wonderfully wicked. It's the kind of book you immediately want to reread upon finishing it, because you're compelled to go back and find the small clues that were hiding in plain sight along the way. And it's the kind of book that will make you wonder: What the HECK is going on in this author's head?
I spoke with author Samantha Downing about how she wrote the thriller of the year. Don't worry, we kept it spoiler-free. Pick up this wild read and block off your afternoon, because once you start reading, you won't want to stop.
HelloGiggles: I'm dying to get inside of your head. Where did this story come from?
Samantha Downing: I saw a documentary about a couple who kidnapped a woman and held her captive. It made me wonder what kind of woman could do that to another woman. In that case, the man was the one who initiated the act and convinced his wife to go along with it. In my book, I wanted to explore the opposite—a woman who initiates the act. I wondered what kind of woman that would be, and my answer was Millicent.
HG: The role reversal makes for fascinating reading. Did you know that Millicent was going to be one of the bad guys, along with her husband, right away?
SD: I knew right away! I wanted to create a woman who was a villain, and not necessarily a sympathetic one, either. Men are often portrayed this way—as born villains. Women are not. Female villains are often the victims of abuse; they usually have a "reason" why they become the bad guy. It's easier, I think, for us to think that women have become bitter or vindictive because of the way they've been treated. I wanted to create a woman who was just born that way.
HG: Did the story change at all as you wrote it?
SD: I don't plot or outline my books, so some things definitely changed throughout the writing of it. However, the basic story is the same. In fact, the first chapter is almost exactly as I first wrote it.
HG: The kids, Rory and Jenna, were a big part of the story from the start. That's sort of rare for the genre. Why was it important to you to include them?
SD: It was important that Rory and Jenna were old enough to be involved—not toddlers or small children—because one of the themes in the book is how making bad choices and doing bad things can affect more people than you realize. The parents believe what they are doing is their secret, but in reality, it affects their children, their friends, and the whole community.
HG: My Lovely Wife is your debut novel. Did you feel any pressure to come up with a premise or a twist that readers had never seen before?
SD: Actually, no! Because I didn't know it would be my debut novel. There was no pressure at all.
HG: What mysteries or thrillers in the genre inspired you to write one?
SD: So many. First, Rebecca by Daphne du Maurier—one of my all-time favorites. Everything by Gillian Flynn, along with Tana French, Mary Kubica, Megan Abbott, Kimberly Belle, Laura Lippman, Liv Constantine…honestly, we are living in a golden age of female thriller writers. I love it!
HG: My Lovely Wife left me with such an unsettling feeling that anybody can frame anybody for anything, especially now with DNA evidence. Was that thought present in your mind while writing?
SD: Absolutely. Thriller/mystery readers are smart, so in order to convince a reader that someone is convicted or goes free, there has to be DNA. But DNA—like almost anything else—can be manipulated.
HG: What's your favorite book that you've read recently?
SD: Looker by Laura Sims. So disturbing and claustrophobic, the tension just never let up. I loved it!
My Lovely Wife is available wherever books are sold.