My Little Pony made a high-fashion appearance on the runway at Milan Fashion Week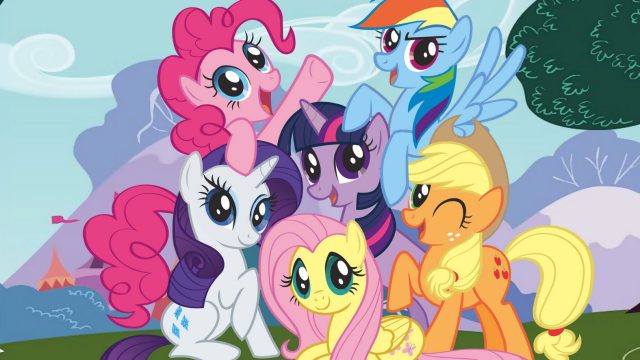 If you're like us, you still haven't forgiven your mom for packing up all your favorite My Little Pony toys and hauling them off to Goodwill (RIP childhood). But while moms may not understand MLP's pony-powered adult appeal, the fashion world is high-stepping it up. This week, Moschino's creative director Jeremy Scott trotted out the My Little Pony-inspired fashion collection of our pre-teen dreams at Milan Fashion Week, complete with candy-colored tops, too-cute tutus, as well as adorable T-shirts, handbags, and assorted accessories printed with the whole stable of our most precious MLP friends.
It's like our glitter sticker collection from middle school and our high school fashion go-tos had a baby, and it is magical.
Made in collaboration with Hasbro, the creator of My Little Pony (and just in time for the new My Little Pony movie) the spring 2018 Moschino collection played up My Little Pony's playfulness by pairing MLP's signature rainbow aesthetic with edgier elements, like knee-high leather boots, studded dog collars, and cropped motorcycle jackets.
Tulle skirts with fishnets? Count us in.
Add an MLP mini backpack to finish the look? Obvi.
It's no secret designer Jeremy Scott loves kitsch, but with this sugary-sweet new line (available now for purchase online) hopes to give fashion lovers more than just a nostalgia high. Now, nearly one year into Donald Trump's presidency, Scott sees himself not only as a cultural influencer, but a bearer of light.
"You know in the Depression era, when people went to see a double feature for a nickel and they would be transported from the fact they had no food, no job? he told Vogue. "I have to stay super positive, because I have to give that positivity to people.
Friendship is magic — and so's fashion. LOVE!