Muslim groups have raised thousands of dollars for the victims of the Pittsburgh synagogue shooting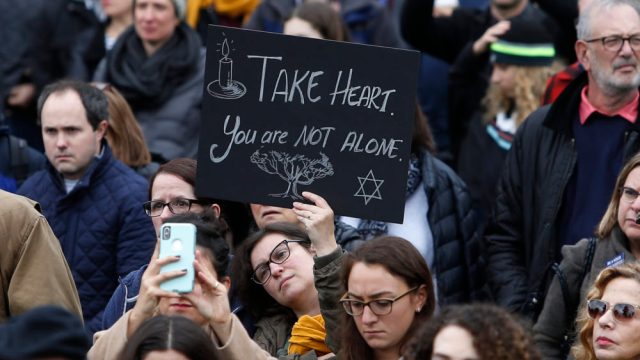 The country is still reeling after a mass shooting on October 27th at the Tree of Life Synagogue in Pittsburgh. Eleven innocent people were killed, and four were wounded. And in the wake of this heinous anti-Semitic attack, several Muslim organizations are working to help the victims.
Two Muslim nonprofits, CelebrateMercy and MPower Change, have set up a crowdfunding campaign to help victims and their families pay for short-term needs like hospital bills and funeral expenses. The fundraiser was posted to LaunchGood, a Muslim-centered crowdfunding site, although the page notes that people of all faiths can donate. According to Time, the Islamic Center of Pittsburgh and Tree of Life Synagogue will work together to distribute the money once the fundraiser ends.
Tarek El-Messidi, founding director of CelebrateMercy, told Time that he understood the money won't fix everything.
"We recognize that the money can't bring back loved ones that [families] have lost so tragically, nor can it physically heal any of the wounds," he said. "But we do hope the money can in some way lift their spirits, lift the burdens of funeral expenses and medical costs."
The campaign's goal was originally $25,000, but as of the morning of October 29th, El-Messidi's page had raised more than $120,000 to benefit the shooting victims.
"Muslims, let's stand with our Jewish cousins against hate, bigotry, & violence" he posted in an October 27th tweet.
There are other prominent fundraisers benefiting the victims. ThinkProgress reports that Iranian refugee Shay Khatiri has also set up a verified campaign through GoFundMe. The public can also donate directly to the Tree of Life Congregation.
Time notes that members of the Islamic Center of Pittsburgh have also pledged to help the Pittsburgh synagogue shooting victims in non-monetary ways as well, including protecting the congregation at its next service.
Today may feel dark, but it's so incredibly heartening to see members of all faiths stand up in support of another community. It's a reminder that we are strongest when united, and it helps to fight and undermine the hate and bigotry that the shooter represents.