8 music videos to watch when your self-esteem balloon is dragging on the ground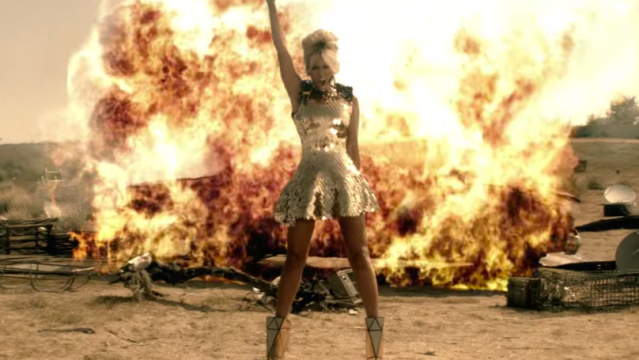 It's normal to have days when you're just not feeling your best. Perhaps it's something as simple as a bad hair day or it could be something more along the lines of a breakup. Whatever is getting you down today, we have a few music videos that will get your self-esteem balloon floating high again.
Sometimes all you need is a good song to get you back on track. And as good as the lyrics are, the video can provide an empowering visual to put a smile on your face and prep you for the day ahead. We picked out some of our favorite music videos that always seem to boost our moods and make us feel a whole lot better.
1. Janelle Monáe – "Tightrope" [feat. Big Boi]
There's actually no way you can get through Monáe's "Tightrope" music video without dancing in your seat. Bonus points if you can manage to walk away without trying to do the "tightrope" dance move. Plus the message of the video and song is all about getting through rough times by keeping balanced (on the tightrope ~of life~). Enjoy, friends.
2. Justin Bieber – "Sorry (PURPOSE : The Movement)"
This music video makes us happy. It makes us want to jump up from our chairs, put on the most colorful thing we own, and bop to the freaking top. Bieber's song itself is extremely catchy. The dance moves the ladies of ReQuest and The Royal Family Dance Crews are doing make us feel alive. The clothes and accessories are to die for. Watch and thrive, people.
3. Beyoncé – "Hold Up"
Has someone wronged you recently? It's time to bring out the big guns and throw Beyoncé up on the screen. Of course you can't go wrong with watching any of Bey's music videos, but "Hold Up" will make you feel like the empowered badass female you are. Let Beyoncé do the window smashing for you.
4. Taylor Swift – "Shake It Off"
If you're feeling down in the dumps, you most likely need a reminder to "shake it off." Listening to Swift's song can definitely boost your mood and prepare you to take on the world. But watching the video will remind you that you shouldn't take things too seriously and it's certainly okay to have fun while you're shaking the haters off.
5. Colbie Caillat – "Try"
There's really nothing more inspiring than watching fellow females reveal their true selves while preaching the motto "you don't have to try." We don't! We can be ourselves and still rule the world. If you're in need of a serious kick in the pants to feel better about yourself, this music video is definitely that.
6. Beyoncé – "Run The World (Girls)"
Assemble the female army because it's time to fight back! The costumes and choreography in this post-apocalyptic themed music video are crazy good. You're going to want to get the girl gang together to learn some of Bey's moves to show the patriarchy that we mean business!
7. Jennifer Lopez – "I Luh Ya Papi" feat. French Montana
In this video, Lopez and her BFFs ask the question as to why men get to be surrounded by bikini-clad women in their videos, but women are left to shoot their videos at carnivals and zoos (lol). So Lopez flips the script and puts the men in the spotlight for "I Luh Ya Papi." We love JLo and all she stands for.
8. Little Mix – "Black Magic"
We love a good revenge story and Little Mix has one that involves a little magic. Even though they use their powers to stir up mischief, the Little Mix girls use them for good as well. These girls are the ultimate girl gang and their music video for "Black Magic" will make you believe that you and your girls have the power to turn anything around.
Now that you're feeling better, we hope you have the best day you can. Remember that no matter how you feel about yourself, you are loved by many and have the ability to do anything you set your mind to! Get out there and kick some serious butt!