Every Halloween party needs these hot-n-spicy mummy poppers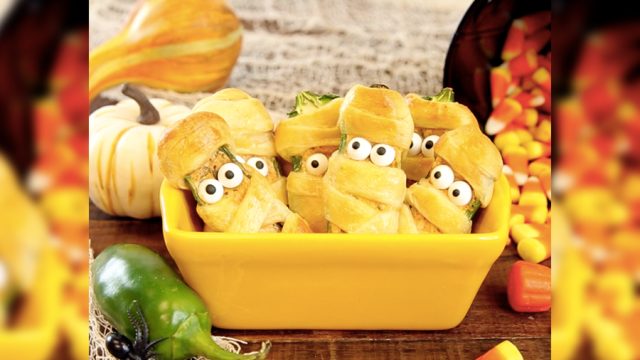 The month of October comes down to 30 days of Halloween planning and one epic night of candy, costumes and celebration!
You spend weeks planning your costume down to last detail – after all, you want it to be perfect. The accessories have to match, your make-up needs to be on point, and don't even get me started on how far out you think your Instagram hashtags.
But there's one thing you forgot when you RSVPed "yes" to that Halloween Party invitation back in August – what you're gonna bring to the party!
Look no further – because these adorable hot-n-spicy Mummy Poppers are the perfect treat to bring to any festive party. Watch the video for these simple instructions on how to make them.
[tempo-video id="5165626328001″ account="4607804089001″]
Hot-n-Spicy Mummy Poppers
Ingredients:
6 Jalapenos
½ Cup cream cheese
½ cup shredded cheese (we used a Mexican mix)
1 tbsp cilantro
½ tsp chili powder
¼ tsp cayenne
¼ tsp salt
¼ tsp black pepper
1 tsp lime juice
Crescent roll dough
1 Egg
Candy eyes
Directions:
Preheat oven to 400.
Halve each jalapeño and scoop out seeds.
Set aside.
Add cream cheese, shredded cheese, cilantro, chili powder, cayenne, lime juice and salt and pepper to a bowl and mix until combined.
Fill each jalapeño half with the mixture making sure not to overfill.
Scrap off excess if necessary.
Lay out crescent roll dough and work together the seams with your thumbs until dough is combined into single sheet.
Cut the sheet with a pizza cutter or knife into thin strips approx. 1/4″ – 1/2″ in width.
Take strips and wrap each filled jalapeño in completely leaving room for eyes. You'll want some gaps as the dough will expand. Try making 'X's with your dough as just wrapping smoothly will run the dough together and not have the same effect.
Brush each finished jalapeño popper with an egg wash before baking 8-10 minutes or until golden brown.
Remove from oven and place candy eyes while still warm.
Serve immediately.