Both "Mulan" reboots are looking for Asian directors, so cheers to that!
Disney's Mulan reboot has been surrounded by controversy lately. But did you know that there are TWO Mulan reboots in the works? Disney and Sony are both making live-action films based on the Disney animated tale. That aside, we FINALLY have some better news about both the Mulan projects.
Disney and Sony are both committed to hiring an Asian director and cast Asian leads in the ancient Chinese tale about a young woman who disguises herself as a man to take her father's place in the army in each of their versions of the film.
https://www.youtube.com/watch?v=MsAniqGowKE?feature=oembed
Seems obvious enough that the studios would seek Asians for these positions, but we know too well how Hollywood typically overlooks minorities, both behind and in front of the camera.
See Mickey Rooney as Mr. Yunioshi in Breakfast at Tiffanys
https://www.youtube.com/watch?v=DC5RtcypOqE?feature=oembed
Emma Stone as Allison Ng in Aloha
https://www.youtube.com/watch?v=kZyEAiQuHss
Scarlett Johansson as Major Motoko Kusanagi in Ghost in the Shell
https://www.youtube.com/watch?v=4GNm7IHLHgY?feature=oembed
We're very happy to learn that the studios working on adaptations of Mulan are changing the tide of whitewashing. Disney is moving quickly to find an Asian director (Ang Lee was approached but passed), and will conduct a global search to find a Chinese lead actress and love interest. Meanwhile, Sony is also seeking an Asian director, and plans to hire a mostly Asian cast.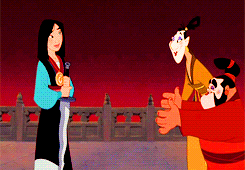 Disney's project will hit theaters first, with a projected release date of November 2, 2018. Sony's project is still in the very early development stage, so no telling yet when we'll see it. Sony will have the benefit of seeing what pitfalls, if any, Disney makes with their adaptation, and will be able to adjust their own accordingly. However, Disney's adaptations rule at the box office. As The Hollywood Reporter states, Disney's The Jungle Book earned $966.2 million worldwide, while Warner Bros.' rival take (did you even know there was one?) has been delayed to 2018.