We ranked the "Best Kiss" nominees for the MTV Movie Awards, because why not?
The nominees for the 2016 MTV Movie Awards were announced this morning, and we're all aflutter wondering which of our favorite on-screen couples will take home the top honor for Best Kiss. The winners last year were Shailene Woodley and Ansel Elgort from The Fault In Our Stars (sob!), so yeah…these star crossed lovers are a pretty tough act to follow.
Here's our ranking of the smooching nominees, from last to first:
6. Leslie Mann and Chris Hemsworth, Vacation
Hilarious? Yes. A bit awkward? Def. Romantic? Not so much.
5. Dakota Johnson and Jamie Dornan, Fifty Shades of Grey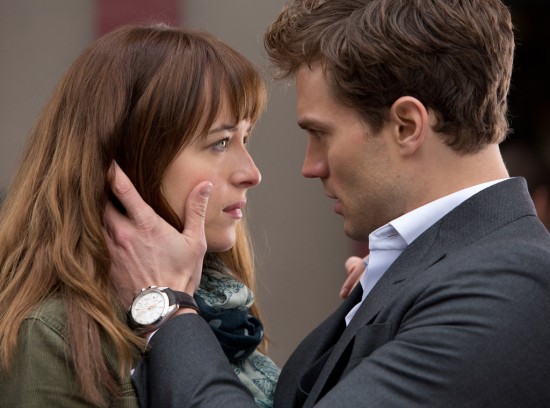 I just can't take Christian Grey seriously after seeing the Lego Fifty Shades trailer. I just can't.
4. Margot Robbie and Will Smith, Focus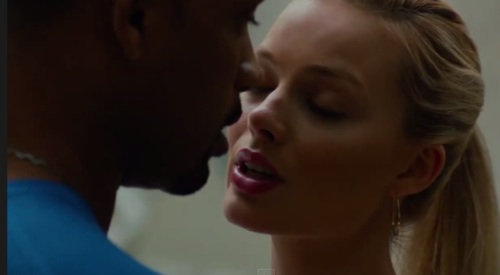 This was a great kiss. There's no denying it. But the trust issues between these two give us a headache. Plus the movie wasn't quite enough of a blockbuster to bring home the golden popcorn.
3. Rebel Wilson and Adam Devine, Pitch Perfect 2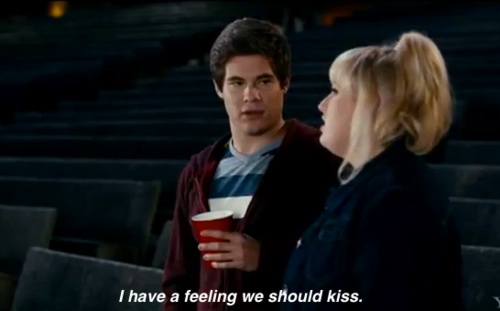 Now we're getting somewhere! We love these two, and somehow we felt like we'd been anticipating this kiss for two full feature-length films. It was epic, if a bit on the sloppy side. Okay, A LOT on the sloppy side.
2. Morena Baccarin and Ryan Reynolds, Deadpool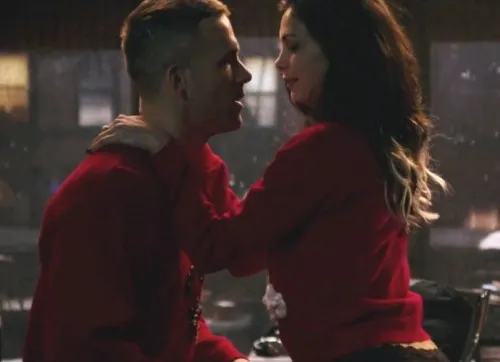 This was a hot one. And extra points for the adorably dorky matching Christmas sweaters. (All of the holiday yes!).  But it didn't make our hearts soar like our pick for #1…
1. Amy Schumer and Bill Hader, Trainwreck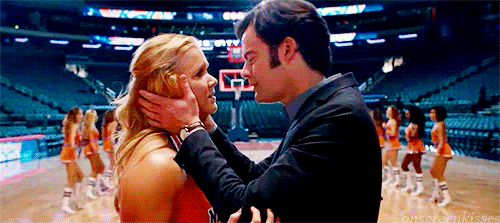 Yaaaassss. This is our favorite for the simple reason that it really brought the feels. We cared about these characters so much, and they so clearly belonged together. When they reunited at the end of the movie, we cheered. (Yeah. Those are cheerleaders in the background. We went there.) The emotional punch of this kiss makes it the clear winner in our book.
The MTV Movie Awards are set to air on April 10. Tune in to see if we're right!