What you need to know about 'Mozart in the Jungle'
Last night, the Amazon series Mozart in the Jungle won two Golden Globes — Best TV Comedy and Best Actor in a TV Comedy. Those are pretty hefty awards, but a lot of people were a little bit confused. How could a television series most of us have never watched or heard of beat out massively popular shows like Orange is the New Black, Transparent, and Master of None?
We can only say that it has to be really, really good. . . and the Golden Globes certainly has put it on our radar. Here's everything you need to know about this award-winning show.
It's got some seriously talented writers
The show currently has three writers: Roman Coppola, who was nominated for an Academy Award for Best Original Screenplay for Moonrise Kingdom in 2012; Jason Schwartzman, who has collaborated with Wes Anderson on films like The Grand Budapest Hotel, Fantastic Mr. Fox, and Darjeeling Limited (you may also know him as Gideon from Scott Pilgrim vs. The World); and Alex Timbers, who has been nominated for a Tony twice for Peter and the Starcatcher and Bloody Bloody Andrew Jackson. Those are some heavy influencers.
One of its main directors also directed American Pie
Paul Weitz worked with his brother, Chris Weitz, on American Pie, so Mozart in the Jungle has gotta be funny. Oh, and the brothers also were nominated for an Oscar for About A Boy.
The show is based on a memoir
Blair Tindall, an oboist who played many high-profile gigs in New York City, wrote the 2005 memoir Mozart in the Jungle: Sex, Drugs, and Classical Music, on which the show is based. Sounds pretty juicy.
However, the show's plot is quite different from the memoir
Vulture describes the show's aesthetic as "playful appreciation" — there's no grittiness, drug hallucinations, or potential murder plots like there are in the book. Rather, Mozart in the Jungle focuses on how life can get in the way of the creative path — think roommate troubles, love lives, and financial problems.
"An orchestra is like an octopus with a million tentacles," Schwartzman told Vulture. "That's exciting from the storytelling perspective, because all these characters meet at this one place and have these performances and do their job. But then they go off into the night, and they have to make ends meet. They have their lives."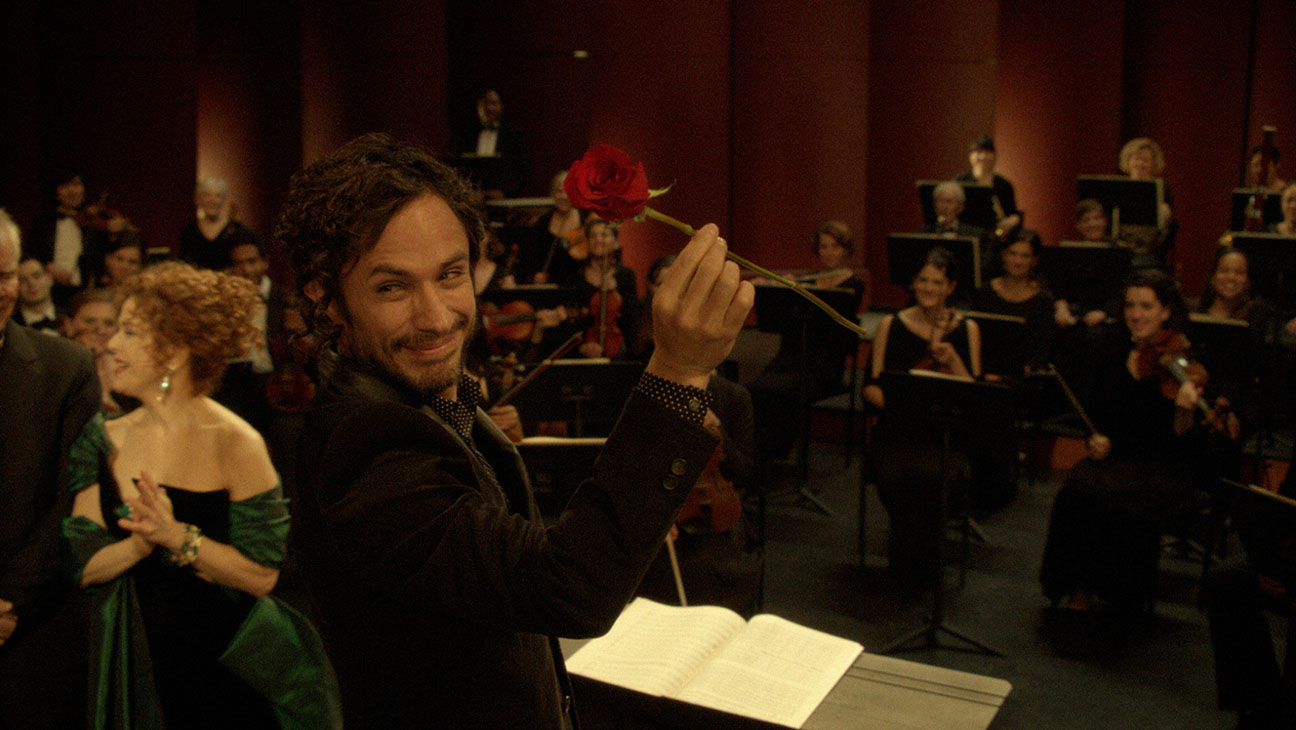 Gael García Bernal earned the show its Best Actor award
Bernal, who is from Mexico, warmed our hearts with his adorably earnest and sincere acceptance speech, so his role as Rodrigo, the symphony's brash conductor, will likely solidify his crush status. In one particular episode, Rodrigo encourages the symphony to play Tchaikovsky's "1812 Overture" for a neighborhood in an abandoned lot. Could it BE any more heartwarming?
Oh, and as The Verge notes, Rodrigo has been described as "childlike," "eccentric but brilliant" and an "oversexed and unconventional enfant terrible." So, in a word, interesting.
The show also stars Bernadette Peters
Bernadette plays Gloria Windsor, president of the New York Symphony. YEP, AMAZING.
The show will help you learn about music
Want to learn more about music while sitting on your couch and without an instrument? Now's your chance. "Hopefully now with this, people will see it and they'll watch more of the show, and ultimately through the show, get into some different kinds of music and stuff," Schwartzman told reporters. "It's kind of a roundabout way of getting to learn about music."
Sure, Mozart in the Jungle may have been a surprise winner, but clearly it was for good reason — and we can't wait to watch. We're sure it will strike a chord and make our hearts sing (yes, both of those puns were on purpose). You can watch the show on Amazon here.
Related reading: 
Everything I need to know, I learned from the 2016 Golden Globes