Amazon just canceled ANOTHER show, and this is far from music to our ears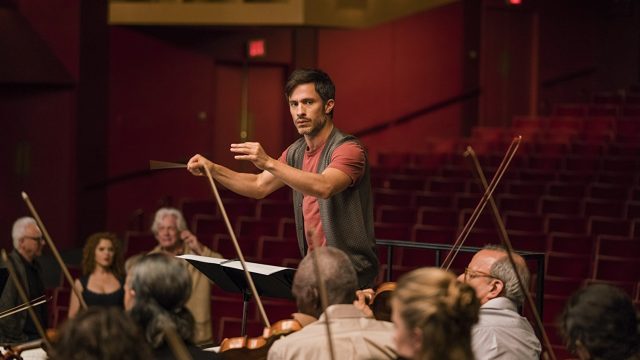 Amazon shows have a nasty history of breaking their fans' hearts. The streaming platform has a long list of shows that were canceled early on, and we're sad to report that it's happening again. Unfortunately, Amazon has canceled Mozart in the Jungle. Cue the New York Symphony playing "Tears in Heaven." Even though the show lasted for four seasons, it really is a bummer. Mozart in the Jungle had some of the coolest female characters on TV.
If you're getting Good Girls Revolt flashbacks, you're probably not alone. The Mozart in the Jungle cancellation came by the new programming chief Jennifer Salke, who started her new position just a few weeks ago. Mozart in the Jungle's executive producers, Paul Weitz, Roman Coppola, Jason Schwartzman, and Will Graham, had only positive things to say about the show.
"We are so proud of the four seasons we made of this show and are grateful to the cast, crew, fans and Amazon for writing this symphony with us," they said in a joint statement, according to The Hollywood Reporter. "We hope people will keep finding the show for years to come." As THR noted, Graham will soon join another Amazon show with the creation of the A League of Their Own series.
Even though Mozart in the Jungle had a solid four-season run, it's still hard to say goodbye.
It had one of the most passionate romances of any show on air.
Seriously, Rodrigo and Hailey were so captivating to watch together.
They were played by Gael Garćia Bernal and Lola Kirke, respectively. Plus, watching Hailey flourish into a conductor was #goals.
And don't forget that Bernadette Peters was glorious as Gloria Windsor.
She was such a treat to be able to watch.
And Cynthia Taylor taught us so much about life.
Thanks for all the lessons, Cynthia. Saffron Burrows, who played Cynthia, must return to our screens ASAP, please.
As mentioned before, Amazon has a way with ending really great shows.
In mid-January, the streaming platform canceled the shows Jean-Claude Van Johnson, I Love Dick, and One Mississippi, Tig Notaro's dark comedy. Why must they be so cruel?
Fans of Mozart in the Jungle will always remember what an effortless blend of music and drama it was. Sigh. This better not happen to The Marvelous Mrs. Maisel.