Upcoming movies you should already have on your radar for the 2019 Oscars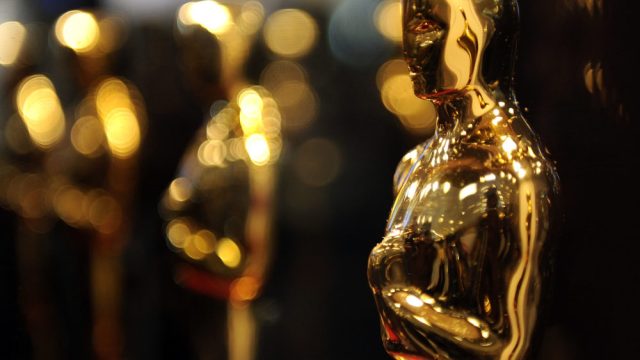 Well friends, it's summer, and that means that 2019 award speculation season has officially begun. While critics and experts have been predicting the prospective nominees for the 91st Academy Awards before the 90th award ceremony took place, we've officially entered the sweet spot of peak speculation.
While potential Oscar contenders aren't bound to a particular release schedule, fall releases have practically become the norm for future nominees. It's an oft-broken rule, as most recently seen with Oscar-winner Jordan Peele, who released Get Out a full calendar year before the 2018 Oscars—as well new releases Black Panther, Hereditary, and A Quiet Place. But strategic marketing campaigns for Oscar hopefuls often push for a late fall/early winter release, just as awards season is heating up.
Since most contenders are still months away from release, we're happy to settle for summer's first screenings and trailer releases, which keep the anticipation in full gear and create wild speculation. We're still months away from the March 2019 Academy Awards ceremony, but we've compiled a list of just some of the movies to keep on your radar as the Oscars conversation picks up:
BlacKkKlansman
https://www.youtube.com/watch?v=pFc6I0rgmgY?feature=oembed
Based on a true story, the Spike Lee co-written and directed film follows black police detective Ron Stallworth, who successfully manages to infiltrate the KKK in the 1970s. Having already been screened at Cannes in May, the film is already making serious waves as an award season contender, specifically John David Washington's turn as Stallworth. Adam Driver, Laura Harrier and Topher Grace also star.
Release Date: August 10th, 2018
The Old Man and the Gun
https://www.youtube.com/watch?v=d7rlUe-Thvk?feature=oembed
In what is being rumored to be his last movie ever, Robert Redford stars as the politest bank robber on the planet. Having escaped from prison at the tender age of 70 and continuing to pull of a string of heists, he's finding love and evading the ever-persistent police. Tika Sumpter, Sissy Spacek, Elizabeth Moss, Tom Waits, Danny Glover, and Casey Affleck (ugh, we know) also star. Based on a true story, if this truly is Redford's swan song, it'll be an awards contender.
Release Date: September 28th, 2018
A Star Is Born
https://www.youtube.com/watch?v=nSbzyEJ8X9E?feature=oembed
After spending the better part of the last decade struggling to get made, the third remake of the 1937 musical of the same name is finally upon us. The updated movie stars Bradley Cooper as a washed-up singer and Lady Gaga as aspiring singer he discovers. Also co-written and directed by Cooper, the films stars Dave Chappelle, Andrew Dice Clay, and Sam Elliott in supporting roles. It's safe to say everyone is curious about the final cut—and its awards season potential.
Release Date: October 5th, 2018
Beautiful Boy
https://www.youtube.com/watch?v=y23HyopQxEg?feature=oembed
Based on the acclaimed memoir of the same name, Steve Carell and Timothée Chalamet star as a father and son struggling with the son's crippling drug addiction. The pair is already being seen as potential frontrunners for acting nods—and following his Best Actor loss last year, Chalamet stans are desperate to see their versatile online boyfriend walk away with a well-deserved Oscar.
Release Date: October 12th, 2018
First Man
https://www.youtube.com/watch?v=PSoRx87OO6k?feature=oembed
Seeing Damien Chazelle and Ryan Gosling in the same sentence should already be an indicator that this will be a major award season contender, The La La Land director and star are re-teaming to tell the story of Apollo 11's successful trip to the moon and Neil Armstrong's historic first steps as the first man to walk on the moon. The film also stars Claire Foy, Kyle Chandler, and Corey Stoll, who'll likely all be vying for supporting nods.
Release Date: October 12th, 2018
Boy Erased
https://www.youtube.com/watch?v=-B71eyB_Onw?feature=oembed
Based on the acclaimed memoir, the movie stars Lucas Hedges as a teen who is sent to gay conversion therapy after being outed to his parents. Also starring Russell Crowe as his pastor father, Nicole Kidman as his mother Cherry Jones, and Joel Edgerton—who also wrote and directed the film—as the program's head therapist, this heartbreaking movie is definitely one to keep an eye on in most major categories.
Release Date: November 2nd, 2018
Widows
https://www.youtube.com/watch?v=6S3phVSi0tI?feature=oembed
This may be the most bonkers heist film of the last decade and we cannot wait. The movie follows four widows—Viola Davis, Cynthia Erivo, Michelle Rodriguez, Elizabeth Debicki—who vow to finish the heist started by their husbands (all the men were killed while on a job). Written by Steve McQueen and Gillian Flynn, and directed by McQueen, the wildly star-studded film also stars Colin Farrell, Daniel Kaluuya, Jacki Weaver, Jon Bernthal, Carrie Coon, Robert Duvall, and Liam Neeson.
Release Date: November 16th, 2018
Mary Queen of Scots
https://www.youtube.com/watch?v=wnqjSgMU36U?feature=oembed
A historical drama starring a in-high-demand young actor is practically an awards season genre of its own. We all learned about the dramatic saga of Mary Queen of Scots and her clashes and later death at the hands of cousin Queen Elizabeth I in history class. However, it was missing Saoirse Ronan and Margot Robbie starring as the rival queens. We're looking at one—if not two—potential best actress nominations here, and likely another half-dozen creative and technical nods.
Release Date: December 7th, 2018
Backseat
It's the film that made Christian Bale as we've known him completely disappear. The biographical drama, written and directed by Adam McKay, depicts the rise of one of the most notorious politicians in recent U.S. history: Former Vice President Dick Cheney. Joining Bale, who plays Cheney, are Amy Adams as Lynne Cheney, Steve Carrell as Donald Rumsfeld, Bill Pullman as Norman D. Rockefeller, and Sam Rockwell as former President George W. Bush. It's safe to say we'll likely be hearing a lot about this one as the awards conversation heats up.
Release Date: December 14th, 2018
On The Basis of Sex
https://www.youtube.com/watch?v=28dHbIR_NB4?feature=oembed
Our queen RBG, the pint-sized Supreme Court justice with a penchant for scathing dissents and embroidered collars, is finally getting the biopic treatment. The film follows then-lawyer Ruth Bader Ginsburg (Felicity Jones) arguing what went on to become a landmark case against gender discrimination. Directed by Mimi Leder and also starring Armie Hammer, Justin Theroux, Kathy Bates, and Sam Waterston, this is definitely one to be paying attention to.
Release Date: December 25th, 2018
The Favourite
https://www.youtube.com/watch?v=SojHxpqswV8?feature=oembed
Emma Stone and Rachel Weisz starring as rival cousins in a period drama is something we didn't know we needed until now. Weisz stars as Queen Anne's (Olivia Colman) closest confidant, whose role is threatened by the arrival of her cousin (Stone). Nicholas Hoult, Joe Alwyn, and Mark Gatiss also star in the movie. Helmed by The Lobster director Yorgos Lanthimos, it goes without saying that The Favourite will likely be incredible.
Release Date: November 23rd, 2018