8 Movies Coming Out Now That You Need To Watch For Awards Season
Must-see flicks you'll want to stream... or see on the big screen.
Hollywood is back in its full movie-making swing after several years of disruption during the pandemic. That can only mean one thing as we approach the winter: It's time for award show season!
Although popular ceremonies like the Oscars and the SAG Awards did take place during the pandemic, far fewer films were released. And not all them got the recognition they deserved. This year, however, there are tons of new award hopefuls arriving in November and December.
It can be overwhelming trying to select which ones to see. But don't worry, we've got you covered. Whether you're looking for an intimate drama or a big-budget murder mystery, here are eight movies to watch now in order to be fully prepared for awards season.
1. The Whale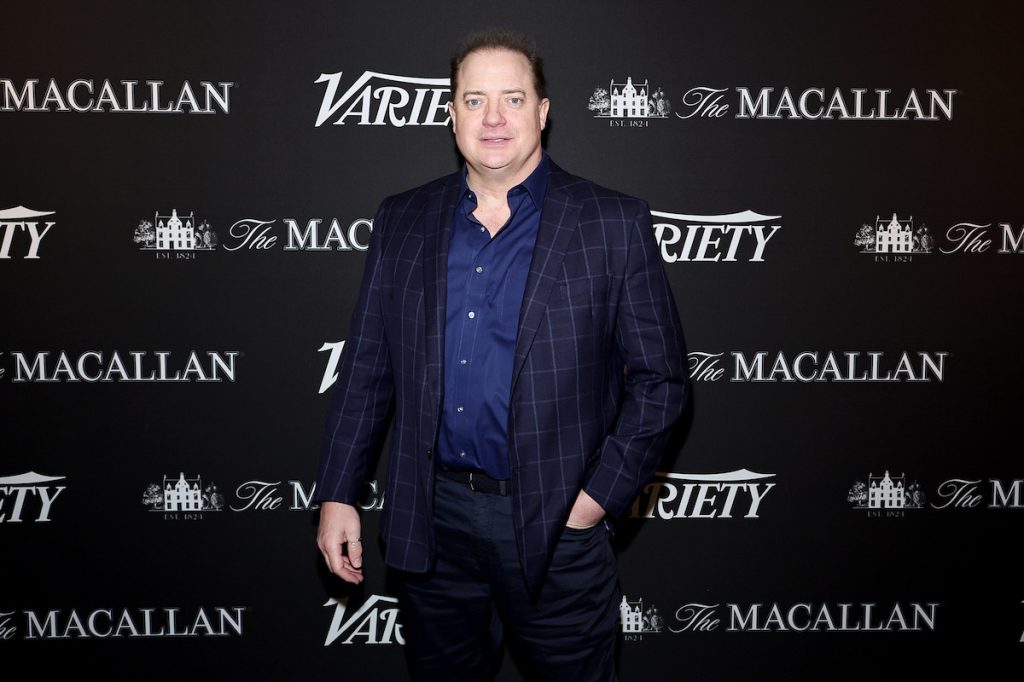 The beloved actor Brendan Fraser is back with a bittersweet role in Darren Aronofsky's latest film, about a severely obese gay man who attempts to reconcile with his daughter.
The film also stars Stranger Things' Sadie Sink, Hong Chau, Samantha Morton, and Ty Simpkins, but it's Fraser whose performance will linger in your mind. (Although, not everyone is thrilled with his casting.)
While you should definitely bring tissues, ultimately, The Whale is a hopeful movie that looks for the good in even the most damaged people. 
In theaters December 9, 2022. 
2. The Inspection
Based on writer/director Elegance Bratton's real-life experience, The Inspection follows a young, gay, Black man named Ellis French as he struggles through basic training with the Marines.
An undeniable Jeremy Pope plays Ellis, who faces homophobia from his fellow recruits as well as from his own mother, who kicked him out of the house for being gay. It sounds heavy, but it's not. Bratton's story, as played out in the drama, is uplifting and poignant.
In theaters November 18, 2022. 
3. Women Talking
One of the year's most memorable movies, Women Talking, is an adaptation of Miriam Toews's novel by writer/director Sarah Polley. Set in a religious colony, a group of women are forced to confront their reality after they discover the men have committed a series of sexual assaults.
The impressive cast includes Rooney Mara, Claire Foy, Jessie Buckley, Judith Ivey, Ben Whishaw, and Frances McDormand, all of whom bring a thoughtful gravity to the story (and will make for a crowded Best Actress category).
In theaters December 2, 2022. 
4. The Fabelmans
Steven Spielberg is a front-runner when it comes to Oscar nominations, and his latest, based on his own upbringing, will continue to captivate voters. The coming-of-age story is loosely based on the director's childhood, with Michelle Williams and Paul Dano playing fictionalized versions of his parents.
The film reflects on the power of cinema, a theme that feels especially pertinent during awards season. Judd Hirsch, Seth Rogen, and Gabriel LaBelle also star.
In theaters November 11, 2022. 
5. She Said
The Oscars love a good journalism movie (remember Spotlight?), and She Said delivers. Based on a book by New York Times journalists Megan Twohey and Jodi Kantor, the film traces their investigation into Harvey Weinstein's sexual assault and harassment.
Carey Mulligan and Zoe Kazan play Twohey and Kantor, while Patricia Clarkson, Andre Braugher, Jennifer Ehle, and Samantha Morton all impress in supporting roles.
It's a poignant movie for the #MeToo era that shows how far a good journalist will go to uncover the truth. 
In theaters November 18, 2022.
6. Empire of Light
Sam Mendes and Olivia Coleman make a compelling team in Empire of Light, the British's filmmaker's ode to classic movie theaters. Set on the English coast in the 1980s, the film stars Coleman as the manager of a once-esteemed theater as she battles mental health issues. She finds solace with a young employee, played winningly by Micheal Ward, while Colin Firth plays her boss.
Although imperfect, it's a sweet movie about overcoming darker times, which will likely resonate with moviegoers.
In theaters December 9, 2022. 
7. Glass Onion: A Knives Out Mystery
The original Knives Out captivated fans with its twisting murder mystery, as solved by Daniel Craig's detective Benoit Blanc. Writer/director Rian Johnson goes bigger and more outlandish in the sequel, which introduces a new cast of suspects and murder victims.
Edward Norton and Janelle Monáe head up the ensemble, who become caught up in a mystery on a Greek Island owned by a billionaire tech inventor. It's funny, thrilling, and sometimes ridiculous, but Monáe's performance puts her in the running for a coveted nomination. 
In theaters November 23, 2022; on Netflix December 23, 2022. 
8. Lady Chatterley's Lover
D.H. Lawrence's controversial novel has been transformed into a compelling, modern take by Laure de Clermont-Tonnerre, a French filmmaker who goes all-in on the book's sultry scenes.
Emma Corrin plays Lady Chatterley, an upper-class woman who begins an affair with the estate's groundskeeper (played by Jack O'Connell) after her husband is injured in the war.
The period film is beautifully shot, but the themes are the most compelling as the character liberates herself from the constrictors of society. Corrin is undeniable, proving that her nominations for The Crown weren't a one-off.
On Netflix December 2, 2022.
Emily Zemler is a freelance writer and journalist based in London. She covers entertainment and travel for a variety of outlets, including Los Angeles Times, Rolling Stone, Shondaland and Observer.
Read more