10 movies to stream if you loved "Lady Bird"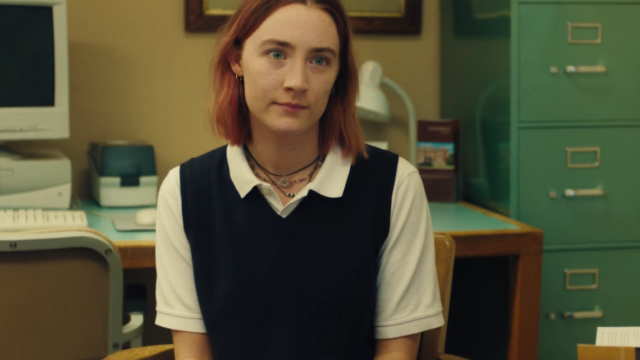 There are some Academy Award nominated movies that you might feel aren't worth seeing. Honestly though, Lady Bird shouldn't be one of them. Written and directed by Greta Gerwig and starring Saoirse Ronan, the film deserves every single of its five nominations. It's a funny, genuine, relatable AF, sweet coming-of-age film that everyone should watch. If you loved Lady Bird, there are some other movies you can stream that are similarly awesome.
Coming-of-age films are nothing new — they've been around forever — but some can easily come off as cheesy, overdone, and not very believable. That's one of the reasons Lady Bird works: It stars characters who actually seem real, with storylines that aren't too "Hollywood." The movie is about a high school senior who calls herself Lady Bird, and focuses on her dating mishaps, her friendships, and her struggles with getting into the perfect college. It also has a major focus on her relationship with her mom, which is such a huge part of being a teenage girl. It's the kind of movie that almost makes you want to go back to high school.
If you loved Lady Bird and want to get more of the same type of film, check out the below options — they're all available to stream now, which is just a bonus.
1. The Diary Of A Teenage Girl
https://www.youtube.com/watch?v=M9LNsSjnqBM?feature=oembed
One major storyline in Lady Bird had to do with the main character's sexuality and desire to lose her virginity before the end of high school. That's not a new storyline for a movie about teens, but it was the way it was done that made it stand out. If you were into it, try watching The Diary of A Teenage Girl. It's based on Phoebe Gloeckner's graphic novel The Diary of a Teenage Girl: An Account in Words and Pictures, and definitely isn't an average coming-of-age film. It's about the sexual awakening of a 15-year-old girl, Minnie Goetze, who struggles with her overwhelming hormones and ends up finding herself involved with her mother's boyfriend.
You can watch this on Amazon and YouTube.
2. Anywhere But Here
https://www.youtube.com/watch?v=LfOP2p7A9do?feature=oembed
If you were more into the mother-daughter relationship depicted in Lady Bird, you'll love Anywhere But Here. It stars Susan Sarandon and Natalie Portman as a mother and daughter struggling to get along, and their relationship often reminds me a bit of the one between Lady Bird and her own mother. Sarandon's character is an irresponsible mom who moves her young daughter all over the country. Portman plays the daughter who is fed up with her mom — but still finds herself tied to her.
You can watch this on Amazon and YouTube.
3. The Edge Of Seventeen
https://www.youtube.com/watch?v=EB6Gecy6IP8?feature=oembed
This recent film stands out because it feels so realistic for a coming-of-age story. Hailee Steinfeld plays Nadine, a teenage outcast who has a tough family situation but a very close best friend. Eventually, though, her BFF starts dating her older brother, and Nadine can't deal with it. She's jealous, angry, and wants her best friend for herself. The film explores some of the messier situations of teenage life that are often forgotten about, and it's really great. If you loved the relatable feel of Lady Bird, you'll be very into this one.
You can watch this on Hulu, Showtime, YouTube, and Amazon.
4. Mistress America
https://www.youtube.com/watch?v=6z8MCW16uZY?feature=oembed
If you're a huge fan of Lady Bird and you're interested in seeing more of Greta Gerwig's work, try Mistress America. Gerwig co-wrote and starred in this film, which is about a young woman (Gerwig) who takes her soon-to-be step-sister on a wacky journey. It's not quite a coming-of-age film and is more of an oddball comedy, but it's clearly Gerwig's work.
You can watch this on Amazon.
5. Girlhood
https://www.youtube.com/watch?v=lJudaZEY-Uc?feature=oembed
If you're looking for more coming-of-age films that focus a little bit more on friendship, watch Girlhood. An indie favorite, this is another super relatable movie about groups of very close girl friends. It's about a girl, Marieme, who comes from a poor family and ends up joining a group of street smart girls. The film is all about female friendship, and the intensity that comes with it when you're still a teenager.
You can watch this on Netflix, Amazon, and YouTube.
6. 20th Century Women
https://www.youtube.com/watch?v=6JnFaltqnAY?feature=oembed
Looking for a movie about teenagers that is a little different? Try 20th Century Women. This one stars Gerwig as Abbie, a wacky artist. Instead of focusing on teen girls, this one is more about a teen boy and his single mother, who is struggling to raise him herself. She ends up getting help from two younger women.
You can watch this on Amazon Prime and YouTube.
7. The Virgin Suicides
https://www.youtube.com/watch?v=fbz4-du3Ayg?feature=oembed
Parts of Lady Bird were a little sad, but the movie itself was never that dark. If you're looking for dark, though, watch The Virgin Suicides. This Sofia Coppola film is set in the 1970s and tells the story of the five Lisbon sisters. It's about what it sounds like — suicide — but it's also about being a teenage girl and dealing with relationships, family, and sex. It's a haunting tale that will definitely stay with you.
You can watch this on Amazon and YouTube.
8. Blue is the Warmest Color
https://www.youtube.com/watch?v=Y2OLRrocn3s?feature=oembed
Want to see more on teens and sexual identity? Watch Blue is the Warmest Color, a French coming-of-age romantic drama that definitely pushes the limits. It tells the story of a young teen who forms a deeply emotional and sexual bond with an art student she meets in a lesbian bar.
You can watch this on Netflix, Hulu, and Amazon.
9. Dazed and Confused
https://www.youtube.com/watch?v=3aQuvPlcB-8?feature=oembed
One of the best things about Lady Bird is that it was funny while also being a little sad and heartwarming at the same time. If you liked the humor, then go for Dazed and Confused. It's much more of a silly comedy, but is still such a good movie. It's about high school students on the last day of school, and touches on so many relatable issues.
You can watch this on Amazon and YouTube.
10. Thirteen
https://www.youtube.com/watch?v=7yxrc2W-czA?feature=oembed
Thirteen is an indie film that really manages to nail the feeling of being, well, thirteen. It's about a teen girl, Tracey, living with her single mother. Tracey desperately wants to be "cool," so she starts hanging out with the popular girl, Noel, who is totally out of control. The movie shows Tracey in a downward spiral and really does a great job with the mother/daughter relationship, as well as the struggles of teen friendships.
You can watch this on Amazon and YouTube.
Okay, we're pretty much ready to watch all of these in one day right about now. Time to plan a movie marathon!