13 movies you should stream on Netflix because you're trapped inside your apartment this week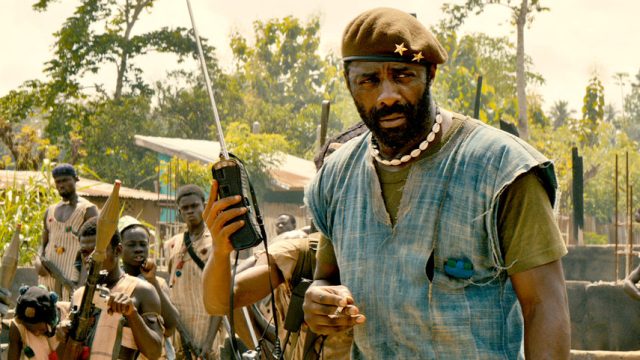 Rain or shine, Netflix is always there to entertain us when we need it the most. We've come to rely on Netflix movies to get us through anything — especially snow storms that lock us up in our house and threaten to bore us to death. Not to worry if that sounds familiar. As long as your WiFi is working, you've got plenty of Netflix movies to keep you occupied.
When you're stuck inside for whatever reason, you want to watch the kind of movies that are going to briefly take you out of your present life and put you in a completely different world that grabs your attention. Netflix offers all kinds of movies that will make you laugh, cry or shake your head in disappointment. So we've rounded up a diverse group of show stopping movies you can easily get lost in after spending 8 consecutive hours cooped up in your apartment. You've got many hours of entertainment coming your way!
Here are 13 movies you should stream on Netflix when you're trapped inside.
1. Step Up
Watch the love story between Channing Tatum and Jenna Dewan-Tatum blossom before your very eyes with this super sexy, super heartfelt movie that became a cult favorite. It doesn't matter how many times you've seen it before; you'll find something new about Step Up that will make you grin from ear to ear.
2. Backstreet Boys: Show 'Em What You're Made Of
https://www.youtube.com/watch?v=bOZm93IWvgA?feature=oembed
Nobody doesn't love all the classic Backstreet Boys songs. If they say they don't, they're lying. If you ever wondered how this iconic boy band got their start, you simply must watch this documentary. You'll fall in love all over again. The film also shows you behind the scenes footage of the Backstreet Boys recording their 2013 album "In a World Like This." Thank you, Netflix. Thank you.
3. Peace, Love & Misunderstanding
https://www.youtube.com/watch?v=IvLHeOFbSNE
Three strong female leads star in this romantic comedy about family, love, and getting through the tough times: Jane Fonda, Catherine Keener, and Elizabeth Olson. Jane plays a wacky grandmother who is knee deep in hippie hobbies, while her daughter Catherine is a high-powered lawyer. Watch the fun dynamic play out between all the different personalities. You might be inspired to call up your mom or sister and ask them to hang out.
4. Dope
https://www.youtube.com/watch?v=3ViVPRWRRmk?feature=oembed
Set in Inglewood, CA, Dope is about a few self-proclaimed black geeks who are trying very hard to fit in with the cool kids, while also striving to go to Harvard. They get caught up in some trouble with a few drug dealers, though, which isn't so great for them, but it sure is exciting for us. You'll laugh your head off from start to finish.
5. Talulah
https://www.youtube.com/watch?v=PuzbkIazggM?feature=oembed
It may seem like Ellen Page is simply resurrecting her Juno role, but Talulah is very different. It's about a young woman who, er, steals someone's baby and tries to play it off like it's her own. More than that, though, it's a heartfelt tale about the true meaning of family, with superb performances by Ellen and Allison Janney. These two women were born to work with each other.
6. The Theory Of Everything
Eddie Redmayne won an Oscar for Best Actor for his portrayal of renowned physicist Stephen Hawking in The Theory of Everything. The talented Felicity Jones joins him in telling the story of the Hawking family and what an extraordinary life they've had thus far. Make sure you have a box of tissues handy, because this movie will surely make you tear up.
7. The Young Victoria
https://www.youtube.com/watch?v=7uKX_9r3X1g?feature=oembed
Did you love season one of The Crown? Do you love Emily Blunt and Rupert Friend? Then what are you waiting for?! You'll get lost in The Young Victoria, a dazzling period piece about the young queen as she rules her beloved country and falls head over heels for her prince. Jean-Marc Vallee is the director, and he's the mastermind responsible for Dallas Buyers Club and Wild. Need we say more? Nah.
8. 13th
https://www.youtube.com/watch?v=V66F3WU2CKk?feature=oembed
This Netflix original documentary is directed by Ava Duvernay, who brought us Selma. It's about the criminalization and mass incarceration of African Americans in America, and how the government has used tactics like the War On Drugs to keep millions of people of color locked up. You'll never see the justice system the same way again. It's a must-watch for anyone who cares about the state of our country.
9. Goodfellas
This classic Scorsese film deserves to be watched all over again, especially if you're stuck at home with nothing to do. The mobster world will certainly make you grimace at times, but the comic relief of Joe Pesci will get you all the way to the end.
10. A Single Man
https://www.youtube.com/watch?v=sC9Zm1UJ7zs?feature=oembed
In Tom Ford's directorial debut, Colin Firth plays a gay college professor who's grieving over the sudden death of his longtime partner. Julianne Moore, Nicholas Hoult, and Matthew Goode also star in A Single Man, bringing you a deeply emotional look into the lives of everyday people in the 1960s.
11. At the Devil's Door
https://www.youtube.com/watch?v=anZuooQ8J1A?feature=oembed
If you're in the mood for a scary flick, Netflix has got you covered. At the Devil's Door will scare the living daylights out of you, so you may want to watch it while the sun's still out. It's about a real estate agent who discovers the house she's trying to sell has a very dark past. Naya Rivera stars in it, taking us far away from the cheery world of Glee we're used to seeing her in.
12. Atonement
Only watch this movie if you're feeling emotionally prepared, because it will fill you with so much grief you won't know what to do with yourself. It's a gut-wrenching love story between acting titans Keira Knightley and James McAvoy that racked up a good many Academy Award nominations. A young girl spouts a terrible lie out of jealousy, and as a result, the fate of two lovers is forever altered.
13. Beasts Of No Nation
https://www.youtube.com/watch?v=2xb9Ty-1frw?feature=oembed
Here's a story that doesn't get told very often: a boy in West Africa is turned into a child soldier and forced to fight with a group of mercenaries. Idris Elba stars alongside rising star Abraham Attah. Beasts Of No Nation will rip you out of the world you currently live in and force you to come face to face with the tragedy of civil war that destroys many lives in Africa.