20 Movies About Love That Are Actually Super Depressing
From 'Call Me By Your Name' to 'Blue Valentine.'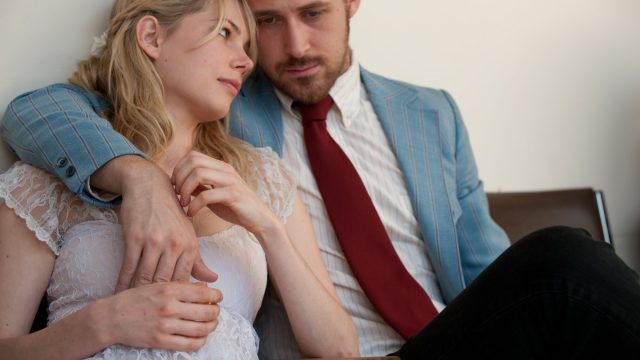 There's nothing we love more than a solid movie about love. But not all films about love have happy endings. In fact, there are a whole lot of romantic movies out there that are sad enough to make us curl up in a ball and cry for a few hours, lamenting the fate of our favorite characters and wishing we could turn back time on their behalf. As much as we hate to see love stories end in sorrow, we simply can't look away. It's no wonder we've seen Titanic about a million times.
From classic romance flicks like P.S. I Love You to sad indie numbers like Blue Jay, we've rounded up some of our favorite romantic movies that are closet tearjerkers. If you're in the mood for a piercing emotional experience, brace yourself and flip on any of these movies. Just make sure you have a cozy blanket, a box of tissues, and an even bigger box of chocolates nearby. Below are 20 movies about love that are actually super sad.
Sad romantic movies to watch:
1. Remember Me
Upon first glance, Remember Me seems like a basic love story starring the smoldering Robert Pattinson and Emilie de Ravin. They're an unlikely couple, both of whom have endured a lot of tragedy in their lives, so they connect and eventually fall in love. But just when you think things are going perfectly, we learn that it's all taking place in *SPOILER* New York City on September 11, 2001. Get ready for the waterworks.
2. The Best Of Me
Any Nicholas Sparks story is bound to make you cry, even if it's cheesy and a little bit unbelievable. The Best Of Me is no different, so make sure you bring tissues with you. Because no matter how dreamy James Marsden and Michelle Monaghan are together, their love just isn't meant to stand the test of time—and it's heartbreaking to watch it all unravel.
3. Shakespeare In Love
In 1998, Gwyneth Paltrow won an Oscar for Best Actress in this sweet, romantic movie that tells the tale of William Shakespeare's greatest love. The chemistry between Paltrow and Joseph Fiennes is special enough to make the most cynical person believe in the power of love, but we still get totally heartbroken at the end when they're forced to go their separate ways. Still, it's worth watching every minute of this whimsical film.
4. Moonlight
While Moonlight encompasses all forms of love, it's Chiron's story of growing up in Miami while he navigates his sexuality that will gut-punch you due to the heartbreak he feels. But even though he experiences loss throughout the different phases of his life, the movie reveals how these relationships impact his journey for the better.
5. A Walk To Remember
Is there a movie out there more depressing than A Walk To Remember?! We think not. It's also one of the most innocent, endearing stories to ever hit the big screen, so we don't mind bawling our eyes out at the end.
6. The Fault In Our Stars
This movie is all about how strong your first love is, and how it stays with you forever. However, it's also set against the backdrop of young adults dealing with the tragedies of cancer, so you'll face an equal amount of sadness and tenderness before the end credits roll. Good luck getting through the whole thing without shedding a tear.
7. Me Before You
Emilia Clarke absolutely dazzles in this movie, and we can't help but fall in love with her. She works as a caretaker for a paralyzed man who doesn't really have the will to keep on living, played by the beautiful Sam Claflin. We watch them fall head over heels for each other, only to be hit with one of the saddest endings to ever exist in Hollywood. We're pretty sure we cried ourselves into oblivion.
8. Malcolm & Marie
This noir-like film by Euphoria's creator Sam Levinson takes a deep dive into the relationship between Malcolm (John David Washington) and Marie (Zendaya). After the duo come home from a Hollywood event, chaos ensues at home as they explore nearly everything that is wrong with their relationship. Grab the popcorn because it's a bumpy ride.
9. Before We Go
This little indie film didn't make a huge splash in theaters, but it's a memorable love story all the same. Chris Evans and Alice Eve are two strangers who end up going on an unexpected overnight adventure throughout New York City together, and although they have palpable chemistry (especially as a performing jazz duo), they're just not meant to be together at the end. We can barely stand seeing them say goodbye.
10. Call Me by Your Name
Who wouldn't like a love story that takes place in Italy in the '80s? While the film has a killer soundtrack, the movie will eventually break your heart as you watch Elio (Timothée Chalamet) and Oliver (Armie Hammer) go from crushing on one another to ending things because of an unexpected twist.
11. Atonement
If there is a sadder love story than Atonement, we have yet to hear about it. Keira Knightley and James McAvoy are star-crossed lovers whose lives are torn apart when a young girl makes a devastating mistake. By the time the movie ends, you'll be nursing a heartache so strong you might need a few hours to process it.
12. Blue Valentine
A heart-wrenching tale about love, commitment, and the true meaning of family, Blue Valentine relies on vulnerable performances by Michelle Williams and Ryan Gosling. Their relationship seems strong enough to endure anything, but after several years, everything dissolves in front of our eyes. Watching them break up will remain etched in your mind for a very long time.
13. The Bodyguard 
This movie might be an oldie, but it will break your heart nonetheless. Whitney Houston and Kevin Costner play a singer and—you guessed it—a bodyguard who end up falling in love in the most endearing way. Unfortunately, things don't turn out the way you wish after a completely stressful event unfolds. Warning: have lots of tissues on hand before watching this film.
14. One Day
Don't be deceived by how happily romantic the trailer for One Day seems. It's a forlorn story about friendship and love and the powerful moments when the two intersect. You'll spend the whole movie rooting for Anne Hathaway and Jim Sturgess to end up together, but the storytellers have something a bit different in mind.
15. Never Let Me Go
There aren't many love stories out there that have the same depth as Never Let Me Go. But each character is doomed from the very start, so as much as you love watching the lifelong affection between Carey Mulligan and Andrew Garfield, you know you're in for a really sad ending.
16. The Light Between Oceans
A couple charged with looking after a lighthouse want nothing more than to start a family, but fate has a different plan in mind for them. The Light Between Oceans is just as much about romantic love as it is about parental love, and you'll be gutted when you see the end of this story play out.
17. Blue Jay
The entirety of Blue Jay is filmed in black and white, which lends to its old-timey, classic feel. Two high school sweethearts run into each other years after their romance came crashing to a halt, and although they still have a lot of love for each other, there's one traumatic detail about their past that they just can't overcome. Sarah Paulson and Mark Duplass have unbelievable chemistry that will leave you teary-eyed.
18. A Star Is Born
While you may think this film is similar to previous A Star is Born versions, trust us that it's not. Lady Gaga and Bradley Cooper have major chemistry in this heartbreaking movie about love, self-acceptance, and tragedy.
19. P.S. I Love You
Gerard Butler dies of a brain tumor but leaves a series of love letters to his wife, Hilary Swank, encouraging her to live life to the fullest and remember how much he loves her. P.S. I Love You is certainly all about love, but it's the kind of lost love that will leave you feeling emotionally bruised. Don't even think about watching this flick without a tissue box handy.
20. Carol
Even though this film is set in the early '50s, the chemistry between Cate Blanchett and Rooney Mara is timeless. Unfortunately, things don't unfold the way we hoped for these two star-crossed lovers, but the film is beautiful and a must-watch nonetheless.