9 patriotic movies to watch this 4th of July that celebrate strong women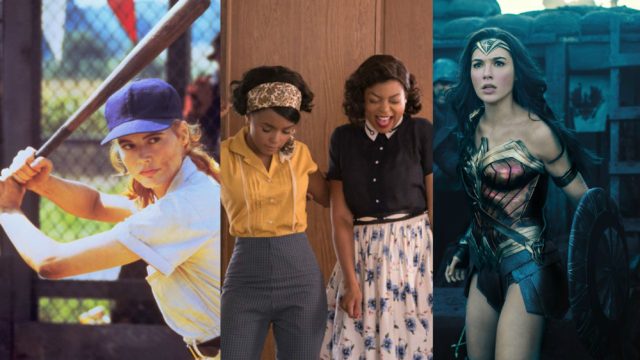 July 4th is just around the corner, which means it's time to get ready for so much BBQ, fireworks, and the inevitable digging through your closet for anything red, white and blue. If you want to mix it up, though, and make Independence Day EXTRA special (and extra empowering), we pulled together a list of some of the best movies that celebrate some of our favorite strong, independent women.
The movies are…
Wonder Woman
Okay, we know, we know…duh. Wonder Woman is the ultimate female empowerment movie to watch right now (it's currently in theaters). But to those who haven't seen it yet, go — go now! And if you have already seen it, maybe it's time for a second viewing? (Or third, or fourth, or fifth. We don't judge.) Because honestly, nothing sounds better than spending another couple hours or so with Gal Gadot, and sobbing all over again when she climbs that ladder.
Hidden Figures
This extraordinary true story about three female, African-American mathematicians who played a major role in America's early space missions while dealing with immense racism and sexism, is all kinds of inspiring and powerful. Also, it's just complete magic watching Octavia Spencer, Taraji P. Henson, and Janelle Monáe act together. Watch on iTunes or Amazon Video. 
Superman
Because, hi, Lois Lane. Not only was she one of the first female cartoon characters to ever be included in a superhero comic, but she was also a completely badass investigative reporter, who totally knew Clark Kent was hiding something before anyone else did. Watch the 1978 film — which, by the way, was an inspiration for Wonder Woman — on iTunes or Amazon Video.
A League of Their Own
What better way to celebrate the 4th of July than with a good ol' fashioned ball game? Only let's make that a women's only ball game that defied all expectations, proved women can play sports (very well, we might add), and brought together an incredible sisterhood, right as the atrocities of World War II were unfolding. Watch these all-star batters step up to the plate on Amazon Video.
Zootopia
This animated tale of Judy Hopps, a small-town rabbit who moves to the big city to become a cop, is not only delightfully entertaining, but also celebrates independence, diversity, and bravery (you really, really shouldn't try to hustle Judy Hopps). Come along for this epic, animated adventure on iTunes.
Moonrise Kingdom
Is there anything more gloriously American than spending some time in the great outdoors? Well, throw in some top-notch writing and directing from Wes Anderson, an incredibly fierce 12-year-old female lead, plus some summer camp throwbacks, and you've got yourself the ultimate July 4th movie pick. Watch on iTunes, and try not to want to run away into the wilderness forever and ever.
Erin Brockovich
This incredible, true story of one mom who took on an ENTIRE energy corporation for polluting her city's water supply is all kinds of empowering and deeply satisfying. Plus, watching Julia Roberts, who plays the title character, kick butt in a courtroom will never, ever grow old. Watch the whole legal drama unfold on iTunes.
The First Wives Club
Really, we'll take any excuse to watch Bette Midler, Diane Keaton, and Goldie Hawn together in anything. But, The First Wives Club kind of has it all — an empowering narrative, an amazing story of female friendship, hilarious gags, and so many celebrity cameos (oh, hey there, Sarah Jessica Parker and Maggie Smith). Plus, we dare you not to happily sing the film's pivotal song "You Don't Own Me" for days afterwards. Check the film out on iTunes and Amazon Video.
Legally Blonde
There's no way you can object to this one (sorry…had to). Elle Woods is fierce, loyal, and strong. She'd definitely be the friend who could both help you study for law school exams AND fix any sort of weird drama you got yourself into. Watch her bend, snap, and fight a pretty high-profile murder case on iTunes or Amazon.
So, what are you waiting for?! Time to watch, or revisit, some of these movies!