10 movies that were better than the book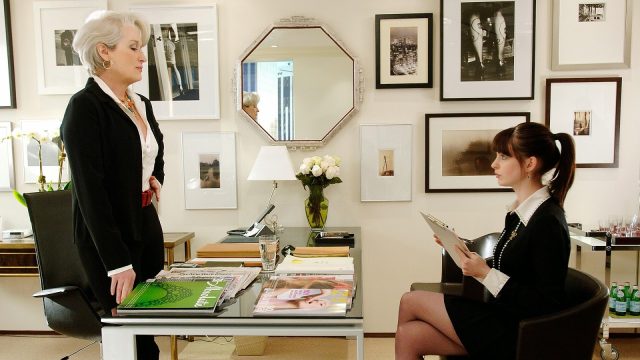 Can we tell you a secret? Something that we book lovers hardly ever admit out loud? Okay, here goes: Sometimes, the movie is better than the book.
Books expertly explain nuanced details. They help convey complicated emotions and reveal intricate relationship dynamics. But the silver screen allows for a different type of storytelling. Movies let big, adventurous tales pop off the page and truly come to life. It's not every day the movie lives up to the original story, but these 10 films turned out to be better than the book.
1. The Devil Wears Prada
We'll just say it: Everything is better with Meryl Streep. Lauren Weisberger's novel of the same name was a New York Times bestseller in its own right, but this devilishly rich story is best told on film. Actually seeing the vibrant fashions and Miranda Priestly's stony facial expressions are worth the price of admission alone.
2. Jurassic Park
It didn't take long for Stephen Spielberg to adapt Michael Crichton's novel Jurassic Park into the film we know and love today. The book is heavy with scientific theory, and the movie's action and special effects make for a much more exciting story.
3. The Girl on the Train
The Girl on the Train is one of Hollywood's most recent book-to-movie adaptations. There's something about Paula Hawkins's story that's more satisfying to actually see than to read about. That, or maybe we just really love Emily Blunt.
4. The Princess Bride
This one sparks a hot debate between readers and moviegoers. Some argue that claiming The Princess Bride is better as a movie is — all together now — inconceivable! But others think the film version lends itself well to the fairytale fantasy and adventure. If it helps, author William Goldman adapted the screenplay himself.
5. Fight Club
Fun fact: The Fight Club movie directed by David Fincher ends differently than the Fight Club book written by Chuck Palahniuk. But we're #TeamMovie on this one, mostly because so is author Palahniuk. He once said in an interview with DVDTalk.com that he was "sort of embarrassed by the book." Why? Fincher streamlined the plot and made connections Palahniuk himself never even saw. We're sold.
6. The Notebook
Before there was Ryan Gosling and Emma Stone, there was Ryan Gosling and Rachel McAdams. Many of Nicholas Sparks's books have been given the movie treatment, but none are more magical than The Notebook. What reads as sometimes sappy on the page comes brilliantly to life on the screen. Gosling and McAdams made us cheer for Noah and Allie like we've never cheered for an on-screen couple before, and together they set a new standard for romantic movies.
7. Forrest Gump
Forrest Gump written by Winston Groom is barely recognizable next to the film Forrest Gump starring Tom Hanks. In the book, Forrest is a healthy boy who grows up to become an astronaut. In space he meets a monkey named Sue, then nearly gets eaten by cannibals when he crash-lands in the jungle. Needless to say, that got cut from the film.
8. Jumanji
Little known fact: Jumanji was originally a picture book by Chris Van Allsburg. With a few additions — like misbehaving monkeys and Robin Williams — it became one of the most beloved movies of the '90s.
9. The Godfather
The Godfather is, without a doubt, considered one of the greatest films of all time. The book by Mario Puzo is good, but the movie outshines it, thanks in large part to the performances of Marlon Brando and Al Pacino. The Godfather won a slew of awards, including the Academy Award and Golden Globe for Best Picture.
10. Bridget Jones's Diary
Helen Fielding's novel Bridget Jones's Diary is a funny, feel-good adaptation of Pride and Prejudice on its own. So it was hardly fair for studio executives to add the devastatingly charming Hugh Grant and Colin Firth into the equation; of course we fell in love with them. We're calling this one Hollywood's fault.