Moms are bearing the brunt of childcare during the Coronavirus—and it's time to discuss it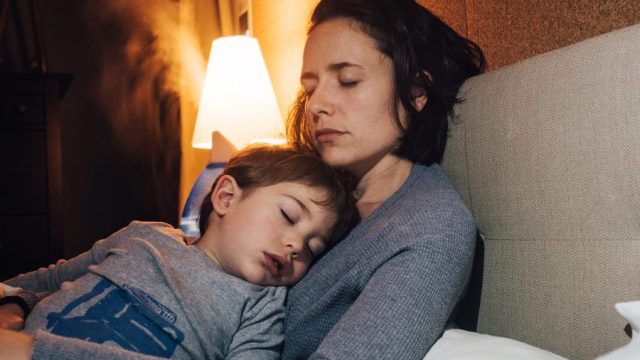 Like the majority of Americans, I have been closely following coverage of the Coronavirus, a now-global pandemic responsible for 125,000 infections and nearly 5,000 deaths, according to a tally by Agence France-Presse (AFP) based on official sources. As the number of confirmed cases in the United States continues to grow, and more and more social gatherings, sporting events, theme parks, and schools close, I am constantly wracking my brain trying to figure out ways I'll be able to meet the needs of my children. Thoughts spiral in my head about what I'm going to do if, say, my son's schooleventually closes, we're quarantined, my partner is forced to take unpaid time off, or one of my family members—or myself—falls ill. And all the while, I continue to work from home to ensure we can afford rent, food, and other necessary expenses.
And outside of healthcare workers are moms, who prior to the Coronavirus outbreak, were already taking on the majority of the child-rearing and household responsibilities despite more and more of us working outside the home. Now we are the ones who are bearing the brunt of this health crisis and the necessary precautions and accommodations that have followed. 
"Our school just made the announcement last night around 7 p.m. that they'd be closed 'until further notice,'" Jamie Kenney, 37, a mom of two living in New Milford, Connecticut, tells HelloGiggles. "As soon as the school made its announcement, I sat down and started working out what I called a 'plague schedule.' Since we don't know how long this is going to go on, I wanted to get my kids into a routine that incorporates learning in some way, especially since my five year old is learning how to read. So I began Googling online resources, worksheets, and other educational opportunities I can help them with all while staying home. I also expect we'll be able to pop out every now and then for groceries, but I tried to make sure we were stocked up on non-perishable items and dry goods as a 'just in case.'" 
Kenney works from home, so she is primarily responsible for making these changes a reality. "[My husband] is still going to work every day, so I'm the one who's around to do stuff for the kids and the house," she says. "Everything is definitely taking a toll. I'm having to work around the imitation of this bizarre-o reality not just for myself but for my family. So I, like a lot of people I'm sure, think about it all the time, and that's scary and draining." 
Dr. Jessica Zucker, a psychologist specializing in women's reproductive and maternal mental health, says the virus has the potential to ramp up anxiety and depression symptoms, especially if a mom and/or caregiver is already experiencing those mental health issues. 
"When you are faced with the responsibility of raising a human, it's inevitable that we come face-to-face with issues surrounding mortality, world issues, and our own mental health," Zucker says. "We want to keep ourselves and our children safe, but at a time like this, it's particularly tough to be able to secure or guarantee safety. This, in itself, can create appreciable anxiety."
"In addition to unequal division of parenting responsibilities, is the unequal division of emotional labor as well," Zucker says. "We don't only shuttle our children to and fro, we also work to instill in them emotional intelligence through modeling empathy, compassion, inquisitiveness, and dutiful citizenship. How do we do this amidst the ever-increasing terror that looms in the face of a virus we still know relatively little about?!"
Of course, things are even more difficult for single moms who are solely responsible for their children's wellbeing, moms living below the poverty line, moms who do not have paid sick leave (a reported 34 million Americans do not have access to paid sick leave) or the ability to work from home, and moms living in unsafe environments with abusive partners who are being told they should remain at home. In the U.S., a reported 40% of single moms struggle to afford food, according to a 2020 poll by Gallup, an American analytics company conducting international polls. A reported 27% struggle to afford shelter, according to the same poll. And since an estimated 30 million U.S. kids rely on free or reduced school lunch for their meals, schools shutting down means children, and their mothers, are scrambling to find ways to acquire food, shelter, and other necessities many of us take for granted. 
"There is anxiety tucked into every decision these days: to go to the market or not, to go to the drug store or not, to take the kids on playdates or not, to take the subway or not," Zucker says.
"Big decisions exist where they once did not, and this responsibility on top of baseline responsibilities like work and parenting, have the potential to send our minds spinning."
Like the calls for self-care that have permeated our society, it will be up to moms doing this work to also check in with themselves to ensure that their mental health doesn't take a hit as they facilitate, coordinate, and otherwise create these accommodations for their families. Reaching out to a mental health professional and utilizing telemedicine when applicable is valuable, Zucker says, but being cognizant of potential issues and future burnout is also key. 
"Some red flags to look out for that may signal the need for additional self-attention and/or professional help amidst this global crisis include: increased lethargy, not wanting to get out of bed in the morning, panic attacks, ruminating thoughts swirling with what ifs, becoming easily frustrated and angry," Zucker advises. "I would typically suggest stepping up social support and connecting with others, but given the fact that we are being encouraged to socially isolate, we are in a bit of a bind. However, this might be a good time to connect more over FaceTime, text, phone, and social media so that we continue to feel a part of our network of loved ones." 
And when it comes to accommodating and entertaining your children while they're home, regardless of whether or not you work in the home, work outside the home, or are working from home as the result of the Coronavirus, Zucker says moms should feel empowered to scale back on the normal rules. More screen time? Sure. Independent play? Absolutely. 
"Making your life easier as you navigate this monumental lifestyle change due to the virus is wise," she says. "Take the stressors off your place where you can and be gentle with yourself about these difficult decisions. We are charting new territory. Our kids, more than anything, need to have parents who care about them and keep them safe. As for all the after school activities, those will resume soon enough."
In a country that has done little more than pay lip service to moms—a country that has failed to provide mandatory paid family leave, affordable and/or universal child care, is more interested in curtailing abortion rights than adequately addressing the rising maternal and infant mortality rate, and where 60% of homeless women have children—perhaps I shouldn't be surprised that it is and will continue to be moms who are bearings the brunt of a global pandemic and the necessary changes made by society to protect the lives of the most vulnerable.
It will be moms caring for their children, managing their partners' changing work schedules, enforcing social distancing protocols, staying up late at night worried about a rough-sounding cough or a higher-than-normal temperature, scrambling to secure last-minute day care, and, for many of us, simultaneously working from home to financially provide for our families, that will help carry this country through this crisis.
As information about the coronavirus pandemic rapidly changes, HelloGiggles is committed to providing accurate and helpful coverage to our readers. As such, some of the information in this story may have changed after publication. For the latest on COVID-19, we encourage you to use online resources from CDC, WHO, and local public health departments, and visit our coronavirus hub.