15 Mother's Day gift alternatives, based on the plans you originally had scheduled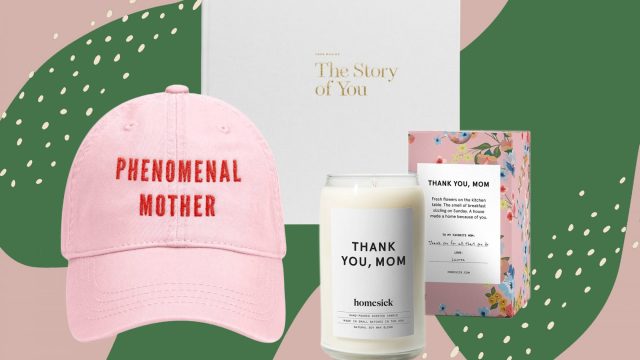 This Mother's Day is undoubtedly going to be different from those of the past. Your family get-together is likely to be virtual, you may not be able to physically hug your mom, and it might be a while until you see her again. However, you can still make this an enjoyable, love-filled Mother's Day by getting a well-thought-out gift that resembles the plans you originally had scheduled with her.
While this gift won't replace the physical time you were planning on having with your mom, it can be a great placeholder for when the two of you can reconnect again. Whether you were planning on having brunch with her, taking her to the movies, or treating her to a cooking class, we found the perfect gift that will embody your original Mother's Day date idea below.
If you were planning on taking her to brunch
While you can't go out for your typical Mother Day's brunch this year, you can still give her the feast she deserves. What's better than New York City bagels? (Answer: Literally nothing.) Through Goldbelly, you can send your mom bagels, cream cheese, and lox from N.Y.C.'s famed spot H&H Bagels. Does your mom have another favorite treat—say, Chicago's deep-dish pizza or Philadelphia's cheesesteak? Goldbelly ships out regional specialties from all over the country, too. 
If you were planning on taking her to the bookstore
The stay-at-home order has given us a lot more time to find joy in simple pleasures like reading. If your mom is missing her Mother's Day trip to the library with you, bring the books to her with a subscription to Book of the Month. She can choose from five new books every month. You can gift her three months for $49.99, six months for $89.99, or twelve months for $149.99.
If you were planning on taking her to the botanical gardens
Cratejoy is a one-stop shop for subscription boxes. Their My Garden Box will give your mom everything she needs to create a beautiful at-home garden. Not only will she enjoy this nature project, it will also help her to relieve some stress.
If you were planning on going to her house to play games
Old-fashioned board games have become fun again now that everyone is staying at home. Jonathan Adler's backgammon set is not only a game but also a beautiful living room piece of art. 
If you were planning on doing nothing
Just because you weren't planning on hanging with your mom doesn't mean you can't give her the gift of a better night's rest. Having a comfortable sleeping environment is now more important than ever, and Zoey Sleep's Curved Pillow is the perfect shape for side-sleepers. The interior is designed to mold to the shape of your neck.
If you were planning on having drinks with her
Wine is essential during these crazy times, and Dry Farm Wines will deliver all-natural and additive-free wine straight to your mom's door. That means she can drink her favorite beverage without having to deal with headaches and grogginess the following morning. 
If you were planning on taking her to the movies
If your mom talks about celebrities as if they're her own friends, send her a shoutout from one with Cameo. There are tons of celebrities who will record a personalized message that you can send directly to your mom.
If you were planning on doing yoga together
Since at-home workouts are all the rage these days, your mom will appreciate a really nice yoga mat. The Alo Yoga Warrior Mat is non-slip, moisture-wicking, and has the perfect amount of cushion for her to pose in downward dog.
If you were planning on introducing her to your new little one
Give your mama this scrapbook of your newborn's first year. Filled with photos and memories, the book will definitely bring a smile to her face when she's unable to be with her grandchild. 
If you were planning on meeting her for coffee
What mom wouldn't want a caffeine boost? With Trade Coffee, you can gift your mom a new coffee blend from across the country. The good news is you can customize the number of coffee bags she'll receive and how often she'll receive them. 
If you were planning on going shopping with her
If your mom is into shopping and beauty, then she may be aware that CBD is now making its way into beauty products. This serum is magical: It increases skin elasticity, speeds up cell renewal, and combats sun-damaged skin. 
If you were planning on taking a cooking class with her
The air fryer is one of those things that not every chef has in their arsenal, so this would be an amazing addition to your mom's kitchen. She can bake, fry, roast, and grill using the Crux Digital Convection Air Fryer. Plus, it uses less fat than other typical fryers. 
If you were planning on taking her to the spa
Bring the spa experience to your mom by getting her this Homesick candle with her "mom" name on it. This candle will provide fresh scents of lavender, bergamot, and sage. Plus, you can write a sweet message to your mom on the packaging to tell her how much you love her. 
If you were planning on taking her to a concert
These headphones will save the day when your mom needs a little peace and quiet, even if she can't physically escape. The headphones will allow her to listen to music, watch TV, or even take a work call, all while canceling out the noise from the outside world.
If you were planning on volunteering with her
Phenomenal Woman is an organization that brings awareness to social causes. Net proceeds of Phenomenal Woman products benefit several non-profit partners like Justice for Migrant Women and Black Futures Lab. This hat will be perfect for your mom to take a stance and help others—while hiding some unwashed hair in the interim.