26 Mother's Day Gift Ideas for All Types of Personalities
Whether she's all about comfort or loves to wear jewelry.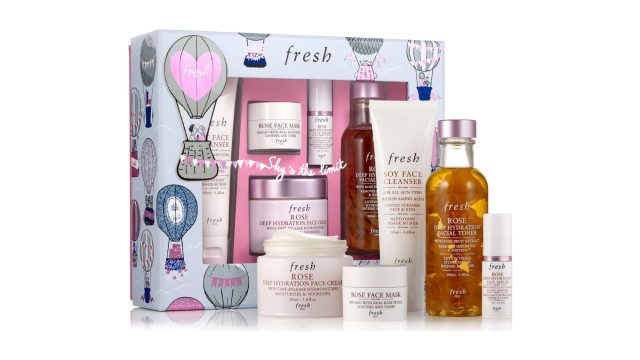 Mother's Day is around the corner, so don't let it sneak up on you and catch you unprepared. It's the day to let your mama know how much she means to you, and it's the perfect opportunity to thank her for everything she's done for you, so why not make it special? Make her a sweet Mother's Day card and if you can, throw in a little gift—it doesn't need to be expensive or over-the-top to be meaningful. What matters is that you take the time to find something that will make her feel loved and valued.
And since all moms are different, we've come up with a comprehensive shopping guide to kick off your search. No matter what your mother is into, what her hobby is, or what her style might be, we've got something for you. You can easily find something that matches her aesthetic and appeals to her many interests. So whether you've got a mom who loves technology or a foodie mom who can't stop buying kitchen gadgets, we've got you covered. And if your mom happens to be a beauty lover, we found a variety of services and products she'll adore.
For the mom who needs to get some zzz's:
1. Anthropologie Nathalie Lete Bouquet Monogram Mug
This mug is an automatic mood-booster with its floral design. Customize it to fit your mother's initials, and throw in some of her favorite relaxing chamomile tea.
2. Vitruvi Essential Oil Diffuser
Help your mom drift off into a deep sleep with this ceramic diffuser. It'll look beautiful on her bedside table and will help her get some quality zzz's. Just make sure to get her some essential oils as well.
3. Parachute Cloud Cotton Robe
This soft robe is perfect for mid-afternoon naps and for snuggling into before bedtime. It's made with 100% Turkish cotton for ultra soft, high-quality material, and is also available in seven colors.
4. Slip Silk Sleep Mask
This silky sleep mask will make your mom feel as special and luxe as Marie Antoinette, whether she's trying to catch some sleep at home or using it while traveling.
5. Everlane the Washable Silk Pajama Set
This pajama set is as sweet as can be. Plus, it's pretty affordable and super comfortable. Get the matching pants here.
6. Casper The Glow Light
Help your mom make her room a sleep oasis by buying her a Casper glow light. It self-dims, can be controlled via an app, and can be turned off or on by simply flipping the device upside down.
For the mom who is a high-key techie:
7. Native Union™ Dock Wireless Charger
If your mom keeps on losing her phone charger code, then it's time to give her a sleek charging station. This charging dock is made of canvas and allows you to use the phone while it's charging.
8. Google Home Mini
If she doesn't have a digital home assistant yet, then this should be high on your list. She'll be able to ask it for the weather or to play her favorite podcasts, and she can instruct it to call you whenever she wants.
9. Amazon Kindle Paperwhite
E-readers are game-changers for moms. It's so lightweight and she can have any book at the tip of her fingers. Once she gets her hands on one of these, she won't go back.
10. iConnect® by Timex Active 37mm Resin Strap Smartwatch
Your mom will feel very cool sporting this smart and stylish watch. It helps monitor heart rate, sleep, and physical activity. Plus, it's water-resistant.
11. Apple AirPods with Charging Case
Does your mom keep needing to detangle her headphone wires? It's time to upgrade her tech with a pair of AirPods. This set comes with a charging case, lasts up to five hours, and can charge in just 15 minutes.
For the mom who accessorizes more than Carrie Bradshaw:
12. Kate Spade Love Me Knot Mini Necklace
You can never go wrong with simple jewelry, and this subtle and sweet knotted heart will remind your mom of your love without being over-the-top or cheesy.
13. Dagne Dover Essentials Clutch Wallet
Whether she needs a place to store her credit cards or a face mask, this clutch wallet is the perfect, timeless companion.
14. Baublebar Verbena Hoops
If your mom has an eye for modern classic jewelry, she'll love these gold hoops.
15. Nordstrom Aiko Crisscross Ring
This ring is one of those rare finds that looks expensive AF, but is actually affordable. She'll love wearing this, no matter the occasion.
16. Kate Spade Bora Flora Skinny Scarf
How gorgeous is this nautical scarf? It will add an effortlessly fun touch to any ensemble.
For the mom who wants to be the next Barefoot Contessa:
17. Magnolia Table by Joanna Gaines
Help your mom add a few more recipes to her arsenal with this cookbook by Joanna Gaines. What's more, you can join her yourself for some extra quality time.
18. West Elm La Jolla Glass Dinnerware
Perfect for the spring and summer, this colorful dinnerware is sure to spark joy.
19. Coté des Roses
Moms love rosé, and they'll especially love this one that's so beautifully decorated.
20. Hurom Personal Series Slow Masticating & Cold Juice Presser
If you've got some extra cash to drop on your mom, then this juicer will blow her mind. Who doesn't love fresh juice? Buy it in matte black, rose gold, or white.
21. KitchenAid Ultra Power 5-Speed Hand Mixer
If your mom wants to get into baking but doesn't have the right kitchen equipment, then give her this easy-to-use hand mixer. It has five speeds, a comfortable handle, and comes in an array of colors. Shop fast because this item is almost sold out.
For the mom who wants to be the next big beauty guru:
22. Fresh Cleanse, Exfoliate & Hydrate Set
Treat your mama to a luxurious skincare set that will have her feeling pampered and loved. This set includes the brand's cult-classic Soy Face Cleanser, Rose Face Mask, Black Tea Firming Overnight Mask, and Sugar Face Polish Exfoliator. What's more, they work well with all skin types.
23. Herbivore Botanicals Jade Facial Roller
This face sculpting roller will help reduce face inflammation and puffiness. This tool will feel soothing on her skin, and really, that's what self-care is all about.
24. Revlon Salon One-Step Hair Dryer and Volumizer
If your mom doesn't feel comfortable going to the salon, give her an easy-to-use blow dryer like this one from Revlon that will give her salon-quality blow-out strands.
25. Beautyblender Original Makeup Sponge Applicator
Using a Beautyblender will help your mother's makeup go on much more seamlessly and will help achieve a radiant glow—just remind her to wet it first. It's latex-free and designed to use for any kind of makeup product (i.e. foundations, powders, and primers).
26. Clinque Light Up Your Eyes Makeup Set
Your mom's jaw will hit the floor when she sees this makeup set. It includes a limited-edition All About Shadow Palette, High Impact Mascara, and Take the Day Off Makeup Remover. It's valued at $185, but the price is over half off.