This woman was her own son and daughter-in-law's surrogate, and whoa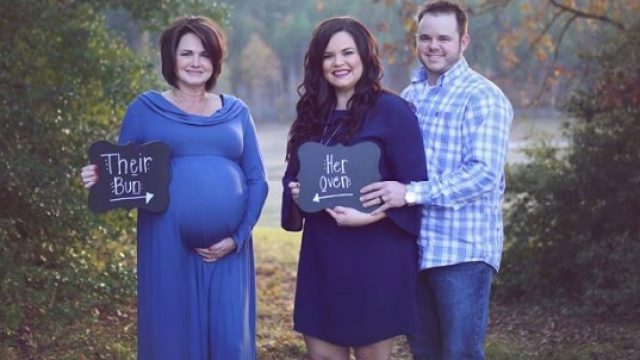 While still not often discussed, fertility issues affect so many women and families in our culture. And Kayla Jones, 29, knew conceiving would be impossible after receiving a partial hysterectomy as a teenager.
But while Kayla's uterus was removed, her ovaries weren't — meaning she could still potentially have a child that was biologically hers with the help of a gestational surrogate. And that's where her mother-in-law, 50-year-old Patty Resecker, came in. Apparently, Patty volunteered to carry her son and daughter-in-law's biological baby several times, but it wasn't until other options fell through that Kayla and husband Cody started to seriously consider it.
"At first I thought the doctors may think we were crazy, but as I researched I found other grandmothers who had been surrogates," Kayla said to Love What Matters. "After much testing, my mother-in-law was cleared to carry our baby!"
And as you can see, their maternity photo shoot was incredibly special.
The couple even decided to surprise Patty when they found out she was pregnant. After she left them a urine sample, they tested it and decided on a clever and special way to let her know.
https://www.youtube.com/watch?v=XgvoXfI49tY?feature=oembed
And in case you were wondering, Kross Allen Jones was born happy and healthy on December 30th, 2017.
"Having him via surrogacy was not always easy, and definitely not easy for Patty, but having him here makes all the hard days worth it,"  Kayla noted to Love What Matters.
Not only does Kross have one of the most interesting birth stories we've ever heard, but he came into this world loved by so many people.