The 15 most shocking hair transformations of 2019, from Selena's curly lob to Halsey's rainbow roots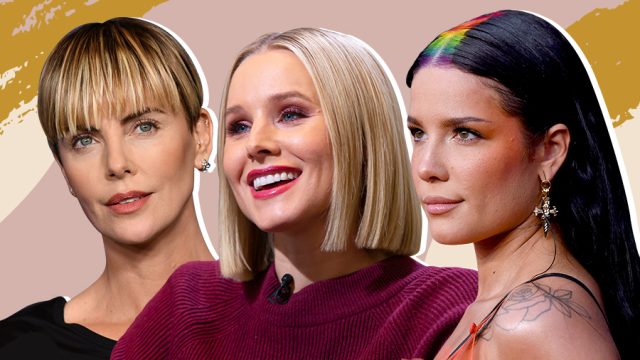 This year was full of memorable celebrity beauty moments, from red carpet glam to stunning photoshoots. But our personal favorite category of big beauty moments this year was the abundance of shocking celebrity hair transformations. Celebs were all about making bold hair changes in 2019—they chopped their long locks into blunt bobs, swapped their signature colors for the opposite shade, brought back bowl cuts and mullets, and dyed their roots a rainbow of colors (literally, in Halsey's case).
To celebrate a full year of drastic hair makeovers, we rounded up the top 15 celebrity hair transformations for your viewing pleasure. In case you missed it, 2019 was not only the year of the bob, but the year of experimenting with whatever the hell celebs wanted to try out. See our favorite looks below.
1Kristen Bell's blunt bob
Bell's haircut was the bob seen 'round the world—or 'round social media, that is. The Frozen 2 star has rocked a shorter look for years, but she took it to a whole other level in 2019 by going shorter than ever. People (ourselves included) went nuts for this razor-sharp '90s throwback.
2Charlize Theron's bowl cut
Okay, tbh, it's been years since we've seen a bowl cut we could get behind. We had deemed the hairstyle a thing of the past, but that changed when Theron dusted off the vintage look and gave it a sleek, modern twist. Now, we're encouraging bowl cuts left and right.
3Priyanka Chopra Jonas's clavicle bob
Along with the blunt bob, the clavicle bob was at the forefront of 2019 hair trends. Priyanka Chopra Jonas gave it a whirl in September, and we're still living for her gorgeous fall cut.
4Ashley Benson's clavicle bob
Our girl Benzo loves experimenting with her hair—no color, texture, or length is off the table. This year, she hopped on the clavicle bob trend and added her own caramel twist. Yeah, we'll take a drizzle of that, please.
5Selena Gomez's curly lob
From ultra-long waves to sleek retro bobs, Sel is always serving us #hairgoals. This fall, she provided inspo for the next must-try hairstyle on our list: the curly lob. Those natural curls are to die for—but are we surprised?
6Billie Eilish's soft brunette lob
Billie Eilish's hair is a big part of her image, so when she ditched her jet black and neon-green hair, we were shook. Turns out, it was only for a music video, but still, seeing Eilish done a soft brunette lob was shocking to say the least.
7Gwen Stefani's blunt bob with bangs
Gwen put a spin on her iconic platinum blonde hair in November, rocking a blunt bob, bangs and all. The look seriously turned heads on social media, but it was short-lived—the transformation was actually a wig. We're hoping Gwen doesn't hang it up for good, though, and whips this beaut out again next year.
8Bella Hadid going blonde
Bella and Gigi Hadid definitely look like sisters, but you can typically count on one claiming the blonde sister card and the other claiming the brunette one. However, this past summer, Bella shook things up by opting for a much lighter shade that made her look like Gigi's twin.
9Jessica Alba's blunt bob
https://www.instagram.com/p/B4sqxpwJrWd
Before November of 2019, it had been years since Jessica Alba opted for short hair. But last month, she returned to the look with a bang, serving us some serious holiday hair inspo.
10Ciara's '90s bob
While the summer of the bob was in full swing, Ciara channeled her inner '90s Posh Spice with a chin-grazing hairstyle. The sleek bob was 100% Ciara—badass, bold, and chic.
11Millie Bobby Brown's blonde hair
Because we first knew her as the buzz-cut Eleven on Stranger Things, we're always interested to see how Millie Bobby Brown decides to switch up her hairstyles. This year, she treated us to something totally unexpected: She went blonde.
12Zoë Kravitz's pixie cut
https://www.instagram.com/p/B5WbGQSJrB4
A big part of Zoë Kravitz's cool-girl vibe is her long locs. But just last month, the actress debuted a new look: A piecey pixie cut. Fans went into a frenzy speculating the reason behind the chop. The biggest theory: her upcoming starring role in Catwoman.
13Halsey's rainbow roots
Halsey loves bright colors when it comes to her beauty looks, and we stan. Not only did she debut rainbow bangs at the beginning of August, but she kept the colors coming later that month with rainbow roots at the AMA's. Girl knows how to turn heads.
14Kylie Jenner's blunt bob
https://www.instagram.com/p/B3VQI5tHE7n
Kylie Jenner is obviously no stranger to shocking hair transformations. The makeup mogul has tried basically every color, length, and style in the book, but it had been a while since she rocked a short hairstyle. In October, Jenner debuted her blunt bob, and we loved the retro vibes, distressed denim and all.
15Kendall Jenner going blonde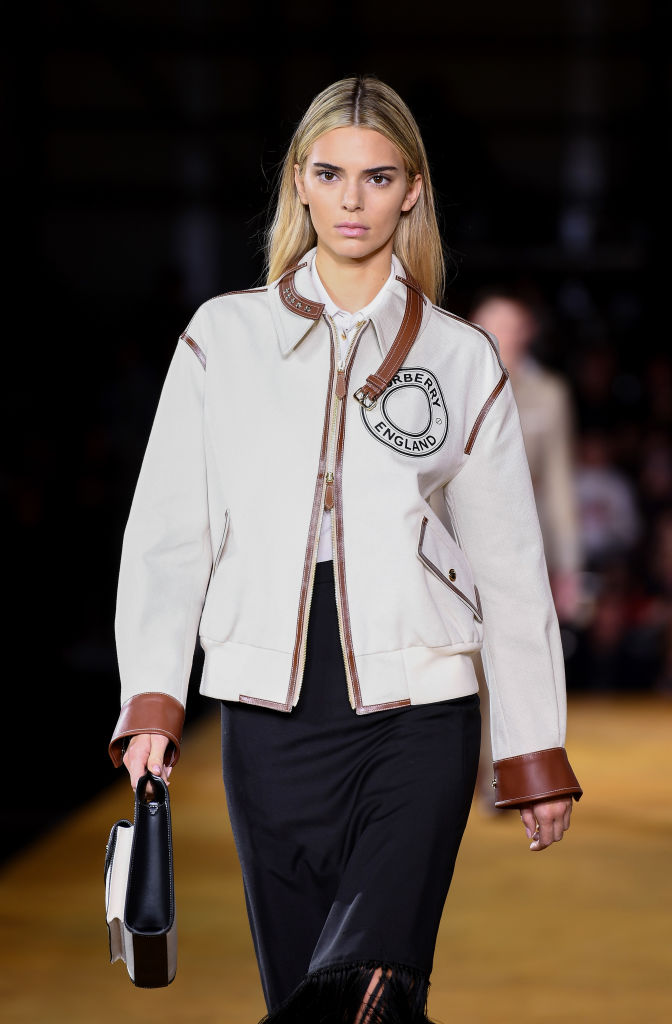 Most of the Kardashian-Jenner clan has swapped their signature dark hair for a lighter shade at some point over the years, but Kendall had remained the one loyal brunette. That changed this year: Kendall strutted the Burberry runway in September, going nearly unrecognized as a blonde.
We can't wait to see what celebs have up their sleeves with more shocking hair transformations in 2020.