The most popular wedding dress style of 2018 is surprisingly conservative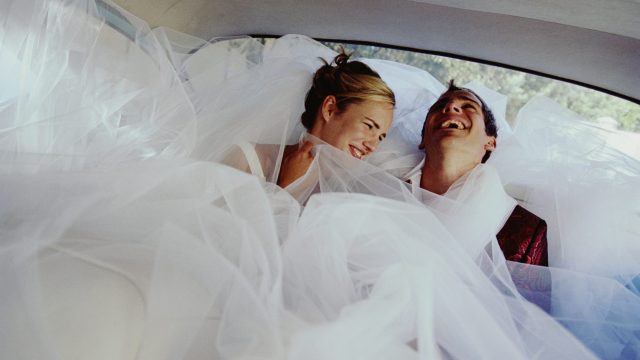 If you've ever attended or been in a wedding, you know it's a big deal. And if you've ever planned a wedding, then you know it can be an intense process where every. detail. matters. If you haven't found a wedding dress yet based on your zodiac sign, or if you don't have a personal stylist on call, you may feel stressed. But good news: there's one place that always offers major style inspo — Pinterest.
Pinterest's wedding report for 2018 was released on February 21st and gives major insight into what brides-to-be are searching for and saving to their boards, with topics ranging from style and beauty to decor and travel destinations. A few notable trends stick out, including a focus on more low-key, intimate affairs.
And when it comes to wedding dresses? We won't say that 2018 brides are ditching the sexy backless or mermaid cuts, but many are opting for a more conservative option.
High necklines are having a major moment.
With a 351% increase in searches over 2017, brides-to-be are pining for and pinning higher necklines. But a higher neck certainly doesn't mean frumpy or boring. These dresses still serve.
We love that you can try this look with sleeves or without, with full back coverage or a daringly low back. There are so many options.
Pinterest also noted an uptick in another conservative wedding dress style. Well, not the dresses in particular, but what's worn over them. With a 163% increase in searches and pins, boleros are back. Women are loving these sheer, lace, and even tulle toppers that are perfect finishing pieces over any dress.
Conservative-chic is the modern trend we've been waiting for.