The 50 most anticipated books of 2019 to add to your reading list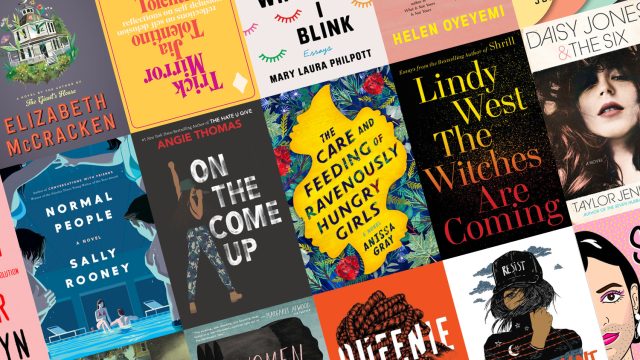 I hope you're caught up on the best books and authors of 2018, because it's time to look ahead to the most anticipated books of 2019.
2019 will introduce us to new authors and deliver much-anticipated follow-ups (hello, Angie Thomas). The books on this list span every genre from literary fiction and young adult fiction to powerful memoirs and essay collections. Love historical fiction? Crave twisted thrillers? Seek short stories? Check, check, and check. There's something for every reader.
It was nearly impossible to narrow down the most anticipated books of 2019 to just 50 titles, but we had to start somewhere. Here's a sample of what we'll be reading:
1An Anonymous Girl by Greer Hendricks and Sarah Pekkanen, out January 8th
If you thought The Wife Between Us was insane, just you wait. Hendricks and Pekkanen's sophomore novel about a woman who signs up for a psychology study takes the psychological thriller genre to the next level.
2An Orchestra of Minorities by Chigozie Obioma, out January 8th
Start your year with An Orchestra of Minorities, a contemporary retelling of Homer's Odyssey set in Nigeria. It's destined to become a classic.
3Thick: And Other Essays by Tressie McMillan Cottom, out January 8th
We can't recommend Tressie McMillan Cottom's collection of essays about race, class, beauty, and body image enough. You'll learn something new on every page.
4The Water Cure by Sophie Mackintosh, out January 8th
The Water Cure is a haunting novel about three sisters who grow up on an island with their parents, protected from the violent men on the mainland. One day, their father—the only man they've ever known—disappears, and three strange men arrive. Feminist fiction for the win this year.
5You Know You Want This: "Cat Person" and Other Stories by Kristen Roupenian, out January 15th
You know you loved Kristen Roupenian's 2017 short story "Cat Person." And you know you want to read her new collection of short stories ASAP.
6Black is the Body: Stories from My Grandmother's Time, My Mother's Time, and Mine by Emily Bernard, out January 29th
Emily Bernard's memoir examining race begins with the story of her being stabbed by a random stranger. It's honest, compelling, and necessary reading.
7The Atlas of Reds and Blues by Devi S. Laskar, out February 5th
The Atlas of Reds and Blues is a deeply moving novel about an American-born woman with Bengali immigrant parents and the racism she faces raising her three daughters. It's based on Devi S. Laskar's own experience of police raiding her home.
8Bowlaway by Elizabeth McCracken, out February 5th
This quirky novel offers a sprawling history of a New England family who runs a candlepin bowling alley. Come for the juicy family secrets, stay for the unforgettable characters.
9Figuring by Maria Popova, out February 5th
We've read Maria Popova's newsletter, Brain Pickings, for over a decade. We're thrilled that she's writing a book of her own, which will explore some of life's biggest and most daunting questions. In her own words: "Are achievement and acclaim enough for happiness? Is genius? Is love?"
10The Last Romantics by Tara Conklin, out February 5th
Attention, dysfunctional family drama lovers: You're going to devour The Last Romantics. It's an excellent read that's perfect for fans of Little Fires Everywhere, The Immortalists, and The Nest.
11On the Come Up by Angie Thomas, out February 5th
The Hate U Give is one of the most important books of the decade. There's no doubt Angie Thomas' follow-up On the Come Up, about a 16-year-old rapper named Bri, will be just as phenomenal.
12Sea Monsters by Chloe Aridjis, out February 5th
Sea Monsters is a smart and playful novel about Luisa, a 17-year-old in Mexico in the late '80s. Follow along as she searches for a traveling group of Ukrainian dwarfs who escaped a touring Soviet circus and the people she meets along the way.
13Sounds Like Titanic: A Memoir by Jessica Chiccehitto Hindman, out February 12th
When Jessica Chiccehitto Hindman got a job playing violin in an ensemble in New York City, she thought she'd hit the jackpot. Instead, the group was a complete sham, duping audiences by "performing" while a CD blasted the music instead. Sounds Like Titanic, about identity and imposter syndrome, will be one of the most engaging memoirs of the year.
14The Source of Self-Regard: Selected Essays, Speeches, and Meditations by Toni Morrison, out February 12th
Everyone can always use more Toni Morrison. In February, you can read this new collection of her writings and speeches, including her poignant eulogy for James Baldwin.
15The Care and Feeding of Ravenously Hungry Girls by Anissa Gray, out February 19th
Anissa Gray's debut is heralded as "The Mothers meets An American Marriage." If that's not enough to sell you on this stunning novel about family and relationships, we don't know what will.
16The Lost Night by Andrea Bartz, out February 26th
10 years after Edie's shocking suicide, her best friend Lindsay learns more about what really happened that night. The Lost Night has some of the best plot twists you'll read all year long.
17Vacuum in the Dark by Jen Beagin, out February 26th
Vacuum in the Dark is the laugh-out-loud funny story of Mona, a 26-year-old housekeeper with a wacky roster of clients.  Read it as a standalone novel or start with Pretend I'm Dead. Either way, you can't go wrong.
18A Woman Is No Man by Etaf Rum, out March 5th
Deya is straddling two worlds: that of her traditional Palestinian family and that of her life in Brooklyn. As pressure mounts for her to marry a suitor and have children, she can't help but question her past. Etaf Rum's debut will be one of the most powerful novels of the year.
19Children of Virtue and Vengeance by Tomi Adeyemi, out March 5th
Tomi Adeyemi's fantastic Legacy of Orïsha series continues. If you haven't read Children of Blood and Bone, now's the time to catch up.
20Daisy Jones & The Six by Taylor Jenkins Reid, out March 5th
Daisy Jones & The Six is just plain fun from cover to cover. Taylor Jenkins Reid's latest novel is a fictional oral history of one of the biggest bands of the '70s. But her characters feel so vividly real, you'll wish you could stream their albums, YouTube their concerts, and google their wildest moments to see them for yourself. Fortunately, soon, you'll be able to do the next best thing: Watch the 13-episode series Reese Witherspoon is producing for Amazon Video.
21Era of Ignition: Coming of Age in a Time of Rage and Revolution by Amber Tamblyn, out March 5th
If you're in the market for a lighthearted celebrity memoir, look elsewhere. Amber Tamblyn is one of the most unapologetically outspoken voices of the #MeToo movement and her book of essays dives deep into serious topics like sexual assault, reproductive rights, and the gender pay gap.
22Gingerbread by Helen Oyeyemi, out March 5th
Helen Oyeyemi never disappoints, and she's done it again. Gingerbread, a curious tale of family and baking, is her best work yet.
23Queen Bey: A Celebration of the Power and Creativity of Beyoncé Knowles-Carter edited by Veronica Chambers, out March 5th
If Beyoncé is your queen (as she should be), your bookshelf needs this collection of essays dedicated to the legendary lady. It features the words of some of our favorite writers like Lena Waithe and Brittney Cooper.
24Sissy: A Coming-Of-Gender Story by Jacob Tobia, out March 5th
It's clear that our nation could use better conversations around gender identity. Sissy, Jacob Tobia's memoir about finding their identity as a genderqueer person, is an excellent resource. This beautiful book couldn't be more timely.
25The Trial of Lizzie Borden by Cara Robertson, out March 12th
True crime had a real moment in 2018. But The Trial of Lizzie Borden isn't just riding the true crime wave—it's based on 20 years of research. You won't be disappointed.
26Internment by Samira Ahmed, out March 19th
Internment is set in a near-future U.S.—emphasis on "near." It's about a 17-year-old named Layla and her parents who are forced to live in an internment camp for Muslim Americans. This powerful novel will leave you angry, horrified, and so damn fired up to inspire change in our country.
27Queenie by Candice Carty-Williams, out March 19th
You'll read Queenie, a novel about a young Jamaican British woman trying to find her place in London, in one day. It's that good.
28My Lovely Wife by Samantha Downing, out March 26th
Mark our words: My Lovely Wife will be one of the most shocking and suspenseful thrillers you'll read all year. We need Reese Witherspoon to buy the film rights to this one ASAP.
29No Happy Endings: A Memoir by Nora McInerny, out March 26th
Nora McInerny has the rare ability to make you laugh wildly one minute and sob uncontrollably the next. She's a fighter who has been through more than her fair share of battles; she lost her husband, her father, and her unborn child all in one year. But she's here to remind us that even if there aren't any happy endings in life, we can always find a new beginning.
30Sing to It: New Stories by Amy Hempel, out March 26th
Amy Hempel is back with her first collection of short stories in over a decade. And it's one of the best you'll read all year.
31I Miss You When I Blink: Essays by Mary Laura Philpott, out April 2nd
Mary Laura Philpott realized that checking boxes doesn't automatically equal happiness. Sometimes, you can do everything "right," like having a job, getting married, and having kids, and still want more. Her collection of essays reads like a brutally honest conversation with your most relatable friend. It'll make you feel infinitely less alone.
32Wicca: A Modern Guide to Witchcraft and Magick by Harmony Nice, out April 2nd
In 2018, more and more people embraced wiccan rituals to get in touch with their spiritual sides. If you're curious about crystals, spells, wands, and tarot cards and want to get started practicing wicca, Nice's guide is perfect for beginners.
33Women Talking by Miriam Toews, out April 2nd
The feminist fiction genre shows no signs of slowing down, and Women Talking is one of the biggest titles of 2019. Bring this one to book club, because the discussion topics are endless.
34The Ash Family by Molly Dektar, out April 9th
Sometimes, you just need to read a novel about a young woman joining a cult. Though Berie, who is renamed Harmony, would never call the farm a cult. At least not at first. Don't miss this profound coming-of-age story.
35When We Left Cuba by Chanel Cleeton, out April 9th
Next Year in Havana was one of our favorite books of 2018. Be sure to read Chanel Cleeton's follow-up, a companion novel that follows the fascinating Beatriz Perez.
36Normal People by Sally Rooney, out April 16th
We are forever in awe of Sally Rooney's beautiful brain. She deserves every award and every piece of praise she's ever received. If you loved Conversations with Friends, add Normal People to the very top of your 2019 reading list.
37The Farm by Joanne Ramos, out May 7th
The Farm is not your average farm with cows and chickens in New York's Hudson Valley; it's a surrogacy farm. If chosen to live there, residents receive gourmet meals, luxurious housing, and a massive payday. But once Jane settles in, she realizes it's not as glamorous as it seems. The scariest part? This work of dystopian fiction could too easily be real.
38With the Fire on High by Elizabeth Acevedo, out May 7th
In 2018, Elizabeth Acevedo won the National Book Award for Young People's Literature for The Poet X. And in 2019, she'll publish her sophomore YA novel, With the Fire on High, about a high school senior with serious culinary chops. It's a beautiful book inside and out.
39I Like to Watch: Arguing My Way Through the TV Revolution by Emily Nussbaum, out May 14th
Nobody knows TV like Emily Nussbaum. I Like to Watch offers an in-depth look at how TV has changed through the years—and, more importantly, what that evolution says about us as a society.
40Naturally Tan by Tan France, out May 14th
Whether he's talking about pronoun usage or printed shirts, when Tan France speaks, we listen. Which is why we're over-the-moon-excited that he's releasing his first memoir this May. We can't wait to learn more about his upbringing, his personal life, and how he found his killer sense of style.
41City of Girls by Elizabeth Gilbert, out June 4th
Elizabeth Gilbert is back to fiction, and she's never been better. City of Girls is about 89-year-old Vivian reflecting back on her youth in the '40s. It's going to be the perfect summer read.
42The Tenth Muse by Catherine Chung, out June 18th
The Tenth Muse follows Katherine, a mathematician attempting to crack an unsolvable hypothesis. Her research reveals complicated family secrets that make her rethink everything. Math has never been so fascinating.
43Lock Every Door by Riley Sager, out July 2nd
At this point, Riley Sager thrillers are a summer staple. In keeping with tradition, Lock Every Door will keep you up all night long.
44The Nickel Boys by Colson Whitehead, out July 16th
The wait for Colson Whitehead's follow-up to The Underground Railroad is almost over. The Nickel Boys is an affecting novel about a young man attending reform school in the Jim Crow south.
45The Pretty One by Keah Brown, out August 6th
Keah Brown is a writer, disability rights advocate, and the creator of the viral hashtag #DisabledAndCute. In 2019, she'll add "published author" to her long list of accomplishments. Her debut essay collection, The Pretty One, explores what it's like to be black and disabled in a white, able-bodied world. It's necessary reading.
46Trick Mirror: Reflections on Self Delusion by Jia Tolentino, out August 6th
You know that scene in Girls when Hannah presumes that she's the voice of our generation? Jia Tolentino is actually the voice of our generation. Her collection of essays is the real deal.
47The Testaments by Margaret Atwood, out September 10th
Margaret Atwood is writing a sequel to The Handmaid's Tale. Need we say more?
48Nice Try by Josh Gondelman, out September 17th
From TV writing to standup comedy, Josh Gondelman has a lot to brag about, but he mostly uses his voice to praise and elevate others. So, let's turn the attention back to him for a minute. There isn't much out there about his new book yet, so I went straight to the source for more info. "It's a humorous essay collection," Gondelman told me. When asked if it has a self-help slant, he added, "I wouldn't call it self help but I definitely wrestle a lot in it with ideas about how to be a good and helpful part of society!" That, dear reader, is the most important kind of wrestling.
49The Witches Are Coming by Lindy West, out September 17th
Lindy West is one of the most unflinching feminist voices in the world today. We couldn't be happier to add The Witches Are Coming (perfect title, btw) to our bookshelves next to her 2016 smash hit, Shrill.
50Ali Wong's book
https://www.instagram.com/p/Bmgbt_Shk7s
We don't know much about Ali Wong's book yet. But here's what we do know: "Her debut book for Random House will come out in 2019," her website states. We're already sold.