A mom reveals the five morning hacks that help her survive back-to-school season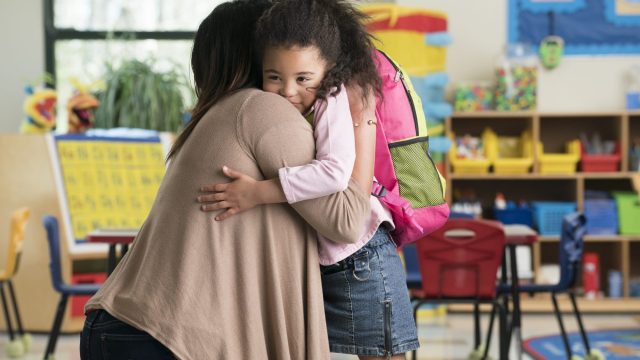 Having children is a beautiful blessing from the heavens and blah blah blah motherhood. All that love and gratefulness goes out the window when your 5-year-old is having a nuclear meltdown and refuses to take off his Halloween costume so you can get him to school and yourself to work.
Whether your summer was restful or stressful, it's almost time for a whole new evil: the dreaded back-to-school season. And if you're not a morning person—don't worry, I'm definitely not—this list is for you.
I wrote this list of sanity-saving hacks with the anti-morning person in mind, developed over the years to make my life—and my child's—easier.
1Pre-game the night before.
I am a strong believer in planning outfits the night before, or even the week before. On Sundays, I try to take out my son's outfits for the week and fold the pants, shirt, undershirt, underwear, and socks together in a bundle. It has literally changed my life. And because I want to teach my son that he has choices in life, I let him pick which bundle he'll wear for the day. On the weeks when I pre-game, it shaves at least 20 minutes off my morning routine.
2Make your alarm something pleasant.
This one was something I struggled with. As a habitually late riser, I grew up thinking that an alarm needed to be as annoying and irritating as possible to get me up and moving. A few years ago, when I lost my phone, I had to get a new one and the alarm sound was pre-set. On the first morning I awoke to wind chimes or some other hippie-sounding tone, and I was pleasantly surprised. The first sound I heard in the morning (when my son didn't jump on my head to wake me up) helped shape the way my morning started. It may seem like a small thing, but the impact has been major key for me.
3Detect, distract, dessert.
This one matters more than all the other hacks. In order to maintain any sort of order in our house, I have to be vigilant about detecting boredom. My son gets dangerously creative when he is bored. Often, he'll let out a long sigh right before getting the bright idea to climb on top of the fridge to practice being Catboy. Once you detect the nonsense, the next step is to distract your child. This can be done a number of ways, but make sure to tailor the distraction towards your child.
My son enjoys leadership and racing. So some mornings, I set the kitchen timer to clock him on exciting obstacle courses, like "making the bed," "brushing teeth," or laundry slam dunk. Laundry slam dunk is especially fun because he will go through the entire house until the hamper is full. He gets points (which he keeps track of, so I can actually get ready for the day), then when he's finished he writes the points on the dry erase board in the kitchen. If he gets five points (or 10, depending on how messy the house is that morning), he gets dessert. Dessert could be a multigrain muffin, but I call it a cupcake so he'll be more excited. We also call cereal bars Pop-Tarts.
4Friday is Screen Day.
Look, I know a lot of moms just gasped, but let's be real—parenting is a lot. Like, a lot. I want to be one of those moms who never allows screen time and only uses the freshest organic ingredients to create healthy, beautiful, well thought out meals. But for this working mom, that's just not realistic. If my son has been good all week, I let him watch PBS Kids during breakfast on Fridays. It gives me time to prep dinner or answer a couple of emails or scream into a pillow in the backyard. Screen Day can be clutch.
5Puzzles are your friends.
Maybe it's the teacher in me, but I love having puzzles ready for my son in the morning. He is at an age where he can dress himself and make breakfast, so the name of the game is engagement. Whether it's one of those wooden peg puzzles, word games, or a little maze in the backyard, puzzles use up a little of that frantic morning energy while getting your child centered for the day. They can leave the house having accomplished something high-five worthy.