Morgan Freeman released a new statement about the sexual harassment allegations against him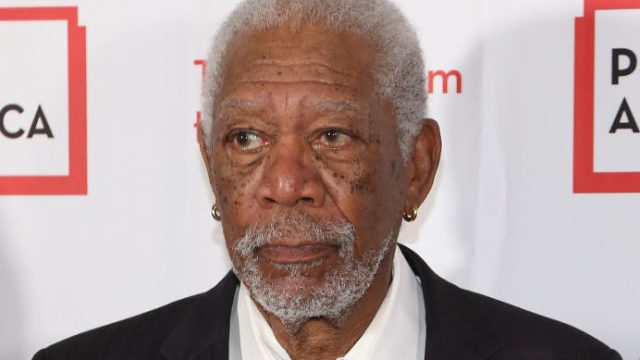 In the last seven months, women and men who have been verbally, physically, and sexually harassed and assaulted have come forward in droves. At this point, most of us are familiar with the takedown of Harvey Weinstein. The once-powerful movie producer was arrested on Friday, May 25th in New York City and charged for raping a woman and for forcing another to perform oral sex on him. It seems that time literally is up for many Hollywood men who abuse their power.
It's upsetting when new allegations surface, though. On May 24th, Morgan Freeman was publicly accused of sexual harassment by at least eight women. We feel for the women who have spoken out. And we believe them. (Again: We believe women.) Since the news broke, Freeman has been dropped from ad campaigns for both Visa and TransLink while we await more information. On the 24th, he issued a brief apology for his behavior. And the following day, Freeman released a longer statement about the allegations against him.
Freeman maintains that he did not assault women or intentionally create an unsafe work environment.
He also states that it's important to listen to survivors.
"I am devastated that 80 years of my life is at risk of being undermined, in the blink of an eye, by Thursday's media reports," the statement reads. "All victims of assault and harassment deserve to be heard. And we need to listen to them. But it is not right to equate horrific incidents of sexual assault with misplaced compliments or humor. I admit that I am someone who feels a need to try to make women—and men—feel appreciated and at ease around me. As a part of that, I would often try to joke with and compliment women, in what I thought was a light-hearted and humorous way. Clearly I was not always coming across the way I intended. And that is why I apologized Thursday and will continue to apologize to anyone I might have upset, however unintentionally. But I also want to be clear: I did not create unsafe work environments. I did not assault women. I did not offer employment or advancement in exchange for sex. Any suggestion that I did so is completely false."
Freeman's statement is proof that we need better conversations about consent.
We need better conversations about what kind of behavior is and isn't appropriate at work and in the world. Based on what Freeman is saying, he believes his transgressions live in that gray in-between area that we are finally starting to address. Over the past year of allegations and news surrounding men's behavior in the workplace, it's become clear that some men have a hard time understanding why some things are appropriate and why others are not.
Freeman went on to say that he apologizes to anyone he made uncomfortable.
It is high time we start to talk about what makes women uncomfortable and why. And it's not all on women to start talking; men need to be held accountable. Something is not funny if it is not funny to all parties involved. Bottom line is: If a woman is uncomfortable, the behavior is unacceptable. Let's start there and keep talking.