People are obsessed with the fact that Morgan Freeman wore a baseball hat to the 2018 SAG Awards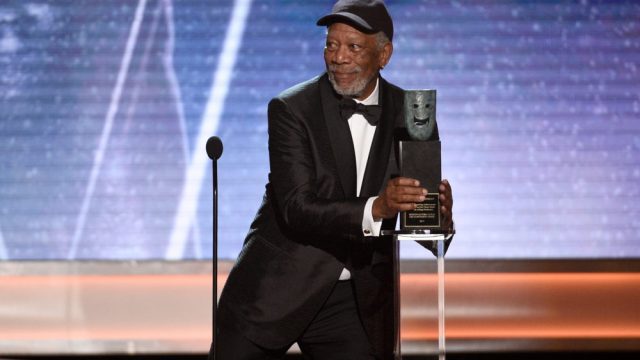 There was a lot to talk about at the 2018 SAG Awards — Kristen Bell's amazing opener, the well-deserved wins for This Is Us and Sterling K. Brown, and the hat Morgan Freeman decided to wear throughout the entire ceremony. While we appreciate the fact that the 80-year-old legend felt comfortable wearing a baseball hat indoors, we still have a few questions.
Freeman accepted the Life Achievement Award and his friend Rita Moreno — who presented the big honor — was quick to point out that he accepted it while sporting the baseball cap. "Lift up your hat," she said, making the moment more notable. "There we go. Now we can see you," she quipped. Freeman joked about the moment, saying, "You see what I had to put up with?"
While the actor didn't reveal why he was wearing the cap, we have a few solid theories. For one, he might have just liked it (which is valid). There's also a possibility that he was paying tribute to the Time's Up movement — since the hat was black. Morgan noted that the SAG Awards still aren't gender neutral and called for change in his acceptance speech, which adds some weight to the theory.
At the end of the day, we likely won't ever know what inspired the look, but we do know people loved it.
false
false
You do you, sir. You've earned it.