More Women Come Forward in Adam Levine Alleged Cheating Scandal
Earlier this week, news broke that Adam Levine had an alleged year-long affair with TikTok influencer Sumner Stroh. Since then, more women have come forward accusing the singer of flirtatiously sliding into their Instagram DMs as well — and they brought receipts. Was Maroon 5's 2021 banger "Beautiful Mistakes" a cry for help or pure coincidence?
While Levine is denying the alleged affair, sources close to the subject don't seem all too surprised by the musician's disrespectful behavior towards his wife, model Behati Prinsloo. Who, by the way, is pregnant with their third child.
RELATED: 30 Best Zodiac Tattoo Ideas
The couple, who tied the knot in 2014, are parents to daughters Dusty Rose, age 6, and Gio Grace, age 4.
To get y'all up to speed on everything that's gone down in the last 24 hours, let's start at the tippity top.
The Maroon 5 frontman addressed the accusations Tuesday morning on his Instagram Story.
"A lot is being said about me right now and I want to clear the air. I used poor judgment in speaking with anyone other than my wife in ANY kind of flirtatious manner. I did not have an affair, nevertheless, I crossed the line during a regrettable period in my life," he penned.
Yes, you crossed a big no-no line, Adam — but, spoiler alert: cheating is cheating, whether it's emotional, verbal or physical.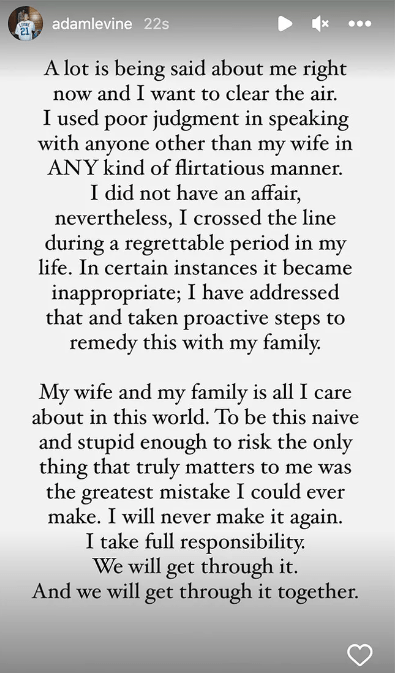 Levine continued, "In certain instances it became inappropriate; I have addressed that and taken proactive steps to remedy this with my family. My wife and my family is all I care about in this world. To be this naive and stupid enough to risk the only thing that truly matters to me was the greatest mistake I could ever make. I will never make it again. I take full responsibility. We will get through it. And we will get through it together."
Not soon thereafter, TMZ learned of two more women who say (and have proof) Levine flirted with them, too.
Comedian Maryka uploaded to her Story a screenshot of her alleged Instagram DMs with Levine. One text reads, "Distract yourself by f****** with me!"
A woman named Alyson Rosef came forward as well. Her alleged convo with Levine also occurred via Instagram. At one point, he allegedly tells her, "I shouldn't be talking to you you know that [right]?" Later on, Levine allegedly and indirectly refers to Alyson as a "hot chick" after she says she prefers metal music.
Major yikes, Adam.
Per sources, Levine is in damage control mode now.
"He was messaging her, being flirtatious with three women. One of them — she specifically said they have a physical relationship but he is completely denying that to friends," a source told PEOPLE.
"Why would he do this? He liked the attention," the source continued. "He likes it more than most." It being "female attention," the source disclosed.
In terms of naming his unborn baby after the woman he allegedly had an affair with, the source said, "People don't know what he was thinking."
For the sake of Prinsloo and their children, we hope this story ends here.
Emily is a NYC-based freelance entertainment and lifestyle writer — though, she'll never pass up the opportunity to talk about women's health and sports (she thrives during the Olympics).
Read more