There's still hope for more "Veronica Mars"
Kristen Bell + Rob Thomas = magic. The duo gave us three seasons of Veronica Mars AND a Veronica Mars movie. Now, they've reunited for Rob's show iZombie. Kristen is lending her voice to an upcoming episode, "Fifty Shades of Grey Matter," as a librarian who secretly writes erotic fiction.
We won't actually see her, but we'll get to hear her voice, reading some her of saucy stories. In a way, Kristen Bell voicing a naughty librarian is almost better than her making a regular cameo. She recently told The Hollywood Reporter that the project, though a quick one, was lots of fun to work on.
"It was particularly amusing, especially knowing that my friend Rob had written things like, 'heaving breasts pressed against the cold plastic of the airplane door,'" she said with a laugh.
Of course, Kristen and Rob teaming up together for iZombie has rekindled the idea of a Veronica Mars reunion/reboot/new project. When we see them collaborate, we have to wonder if anything is in the works. We can't help it—we love Veronica Mars!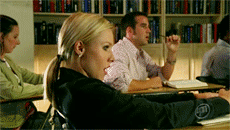 "Friendship is something that's permanently on the books for Rob and I. There's a constant dialogue about projects and when we can work together again," she continued. "We're definitely still looking for the windows where we could allow Veronica to exist again, whether it's a miniseries or a short-run cable series," Kristen said.
Yes! Yes! We'll take more Veronica Mars, no matter how we can get it. A new Netflix season? Great. A miniseries? Sounds good. A 25-hour marathon, Angie Tribeca-style? Even better.
"The business of this business twists it all a little bit when you are only allowed to do one television series at a time. It's tricky. But we haven't dropped the conversation. It just might end up being a Murder, She Wrote where I'm 80."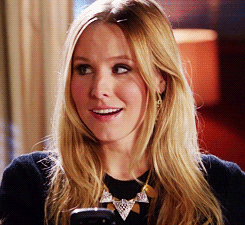 While we wait for more VM news, Kristen's iZombie episode will air next Tuesday, February 2.
(Images via the CW.)