"Moonlight" won Best Kiss at the MTV Movie & TV Awards, and this feels like progress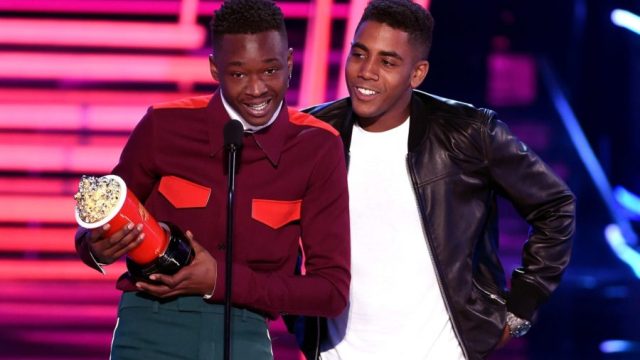 Moonlight might just be having the best year ever. The Barry Jenkins' masterpiece won the Academy Award for Best Picture, and it seems the awards just keep rolling in. Last night (Sunday, May 7th) Moonlight won Best Kiss at the MTV Movie & TV Awards. The kiss, if you recall, takes place when young actors Ashton Sanders and Jharrel Jerome shared an intimate moment by the sea.
The film is a beautiful coming of age drama which sheds light on social issues like race and class — but most importantly, it's the story of a young Black man and his struggles with his sexual orientation over the course of his life.
It's not often we see actors of color or queer performances being recognized and awarded in mainstream outlets, so this win feels like progress.
The two young actors took the stage together, and although they didn't recreate the sweet scene — something many previous winners have done in the past — they gifted us with some powerful words.
"I think it's safe to say that it is okay for young performers," said Jerome. "Especially us minority performers, to step out of the box. This award is for that. It's for artists who need to step out of the box and do whatever it takes to tell a story and whatever it takes to make a change, to get people to wake up."
"This award is bigger than Jharrel and I," followed Sanders. This award represents more than a kiss. This is for the others, the misfits."
Director, Barry Jenkins was an obvious proud papa, taking to Twitter to share these kind words,
It also became clear that we weren't the only ones noticing the progress being made in Hollywood.
https://twitter.com/udfredirect/status/861385756291383296
Hopefully the higher ups are taking notes and recognizing that these stories matter and need to be told.
Congratulations to Ashton, Jharrel, and the entire Moonlight gang.