In the name of the moon, Rowan Blanchard's Halloween costume will punish you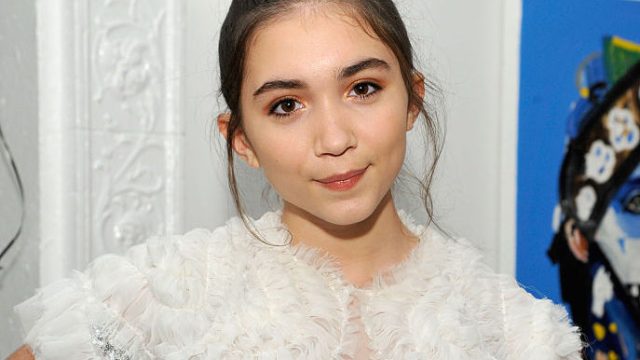 Cory and Topanga Matthews' daughter knows how to do Halloween right, as evidenced by the fact that Girl Meets World star Rowan Blanchard's Halloween costume of Sailor Moon was out-of-this-world. (Literally.) Specifically, the brunette actress who plays Riley Matthews on the Disney Channel show went all-in on channeling the stellar (and interstellar) anime character to celebrate Halloween 2016.
While some celebs wear intricate costumes none of us mere mortals could pull off, that's not the case with Blanchard's costume. Unfortunately, we don't all have people at our disposal who are more than willing to become our Halloween clones like Heidi Klum does.
But with a few store-bought items, you could definitely recreate Blanchard's Sailor Moon costume for next Halloween.
It shouldn't be too surprising that Blanchard took dressing up for Halloween with the right level of seriousness. Girl Meets World always has a dedicated Halloween episode each season entitled "Girl Meets World of Terror" (LOVE it). Last season, the themed episode even included a crossover musical ep with Austin and Ally.
Ah, reminds me of the good old Boy Meets World days when the scream queen of I Know What You Did Last Summer, Jennifer Love Hewitt, starred in a Halloween episode alongside then-boyfriend Will Friedle (aka THE Eric Matthews).
Besides Girl Meets World's devotion to Halloween, the star of the show has posted on Twitter how much she adores the holiday and Blanchard has had a clever costume idea pretty much every year that she's been in the limelight.
https://twitter.com/udfredirect/status/518966596279468032
So yeah, Blanchard's love of Halloween definitely matches Girl Meets World's love as she showed with her spot-on Sailor Moon costume. And what a magical girl costume to rock for the scary holiday.
But if anime is less your thing, there is another similarly female-friendly costume that Blanchard approves of — her very own Girl Meets World character.
https://twitter.com/udfredirect/status/792455711884087296
So no matter how you celebrate Girl Power on Halloween, Blanchard is right there with you.