Hello, do you have a minute to talk about erecting a monument to Missy Elliott instead of the Confederacy?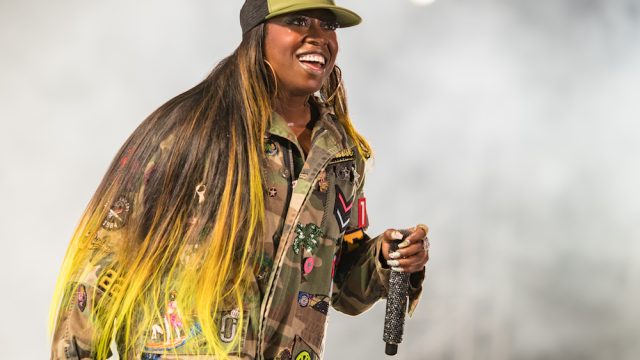 One Virginia man is tired of seeing Confederate monuments in his town. And with all the talk of removing them, he's got a perfect idea for a reaplacement: instead of a Confederate monument, he'd one for Missy Elliot. After the unrest in Charlottesville, Nathan Coflin of Portsmouth started a petition to send to the mayor of Portsmouth, John Rowe. In it, he propositioned putting up a statue of Missy Elliot in her hometown — Portsmouth — to replace the existing Confederate statue.
Who would be better to replace it than a local hero? Missy Elliott is a Grammy Award winning producer, songwriter and rapper. And so far, Coflin's petition has received almost 17,000 signatures, about 8,000 shy of its 25,000 goal
We gotta say, a Missy Elliot statue would be pretty cool.
Probably best known for her 2002 hit song "Work It," Missy Elliott is a successful artist. Coflin even references "Work It" in his petition to the city.
"Together we can put white supremacy down, flip it and reverse it," he wrote.
Because of the universal popularity of Missy Elliott, people have rushed to sign. Since her first single "Supa Dupa Fly" came out 20 years ago (sob), Missy Elliott has made a mark on pop culture. Many people praise her offbeat and unapologetic style. The only question people have? Which incarnation of Missy the city should commemorate.
Missy Elliott herself even tweeted about the statue.
While Missy Elliott came from humble beginnings in Portsmouth, "she rose to become a platinum recording artist with over 30-million albums sold. All this without even once owning a slave." Furthermore, Elliott is also a fantastic dancer. She released her last album in 2005, but began working more as a producer and made a SuperBowl cameo in 2015 during Katy Perry's performance. While no one knows if Portsmouth officials will take the petition seriously, they're not being deterred. Is it worth it? Let them work it.