Do a silly walk and head to Netflix, because that's where you can soon find "Monty Python"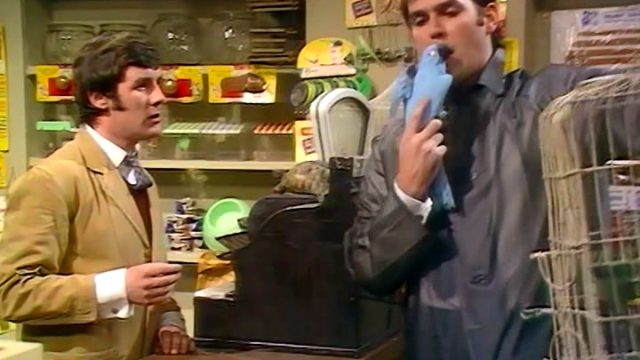 The rise of streaming services has meant, of course, that shows that have long been dead are able to find new life. And for a long time, Monty Python's Flying Circus was only available to fans who had the series on DVD, or via whatever clips you could pull from YouTube.
But mercifully, comedy is about to strike at Netflix — sudden, violent comedy, in the form of every single episode of Flying Circus ever, along with all the Monty Python movies, and other TV series.
This year, Monty Python will head to Netflix in the U.K., Canada, and the U.S. U.K. and Canadian fans won't have to wait long to get their fix of the Ministry of Silly Walks and Argument Clinics, as the Monty Python's Flying Circus and the rest of the MP collection will hit Netflix on April 15th. For those of us in the U.S., we'll have to wait a bit longer to get our Python fix. There isn't an official release date just yet, but it is set to hit Netflix later this year. (Oh, and down the line, Deadline reports, Netflix could gift us with some original Monty Python content!)
Official Monty Python countdown begins now!!!
For those who are only familiar with Monty Python through films like Monty Python and the Holy Grail, Monty Python's Flying Circus was their sketch television show that ran for four seasons from 1969-1974. True to the comedy in Holy Grail, Flying Circus is kooky and bizarre, but utterly wonderful. If you enjoy sketch comedy — especially sketch comedy that can get a bit out there — you'll really enjoy the show. It stars Graham Chapman, John Cleese, Eric Idle, Michael Palin, Terry Gilliam, and Terry Jones. And while a few sketches haven't aged well, by and large, it's one of those shows that will quickly become a fave.
We're so excited for this wonderfully weird show to make its way to Netflix. Hopefully us American Python fans won't have to wait too long to check back in with some of our favorite characters who are set on jumping the English channel, are able to identify all sorts of trees from very far away, and who are experts in not being seen.
We've missed you, Pythons!