Monica Puig won the first gold medal for Puerto Rico — here's why that's so important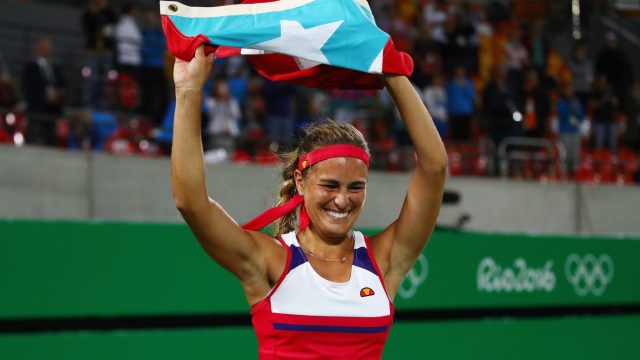 When Monica Puig won an Olympic gold medal yesterday, the tennis player couldn't hold back her tears of joy. But Monica was excited about more than just winning — her gold medal is the first for Puerto Rico, not just in the Rio Olympics, but ever.
The Puerto Rican anthem played for the first time at the Olympic medal ceremony, making it a special moment when Monica stood on the top step of the podium to show off her gold medal.
https://www.instagram.com/p/BJEuXSKApa2
As The New York Times points out, while other Puerto Rican tennis players have won Olympic medals before, the 22-year-old tennis star is the first to actually represent the island where she was born — other Puerto Rican athletes have represented the United States, of which Puerto Rico is a commonwealth. And Monica isn't just Puerto Rico's first gold medalist — she's also the first woman to represent Puerto Rico at the Olympics.
On Twitter, she wrote, "Oh what a time… To be alive!!!! I'm still in shock! Thanks for all the beautiful messages! I love you all!!!"
#Feels is right, Monica!
After winning the gold medal in women's singles, Monica caught the attention of Lin-Manuel Miranda. The Hamilton creator and star praised the tennis player, tweeting nothing but love for his fellow Puerto Rican.
He was so about the 22-year-old's win that he cried.
We were all thrilled when Monica won, but Lin-Manuel took it to the next level.
He couldn't even conjure up a complete sentence. We don't blame him!
It was as if he won a gold medal himself.
He was so full of emotions, he used emojis instead of words.
Congratulations, Monica!!