Monica Lewinsky walked off stage after getting a disrespectful question about Bill Clinton from a journalist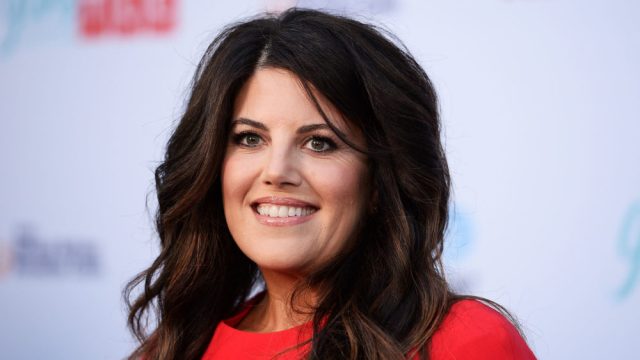 In February, Monica Lewinsky reemerged into the public eye after penning a moving essay about how the #MeToo movement helped her reevaluate her experiences with former President Bill Clinton when she was a young intern on Capitol Hill. Since then, she's been working to defy the internalized misogyny that led her to blame herself for what happened—even though she was a 22-year-old intern at the time (and he was the most powerful man in the country). So when an Israeli journalist asked her about the Clinton affair in a live interview, Lewinsky put her foot down and walked off stage.
CNN reported that during a September 3rd interview in Jerusalem with Hadashot News anchor Yonit Lev, Lewinsky ended the encounter when asked if she still wanted a private apology from Clinton.
"I'm sorry, I'm not going to be able to do this," Lewinsky reportedly said before setting down her mic and leaving.
Later that evening, Lewinsky explained what happened via a Twitter post, writing that the interview was meant to be about the "perils and positives of the Internet." She wrote that she and Lev had previously met to set "clear parameters" about what they would discuss onstage, and that she had been clear that questions about Clinton were "off limits." Lewinsky wrote that Lev had shown "blatant disregard" for these parameters.
"I left because it is more important than ever for women to stand up for themselves and not allow others to control their narrative," Lewinsky wrote. "To the audience: I'm very sorry that this talk had to end this way."
In a statement to CNN, Hadashot News defended Lev's question, saying that the organization had "stood up to all of its agreements with Ms. Lewinsky."
"We believe the question asked on stage was legitimate and respectful, and one that certainly does not go beyond Ms. Lewinsky's requests and does not cross the line," the statement continued.
In a June interview on Today, Clinton dismissed the idea that he owed Lewinsky a private apology, saying that he had already atoned in public. He later clarified his comments on the Late Show, stating that he was indeed sorry and that the #MeToo movement was "long overdue, necessary, and should be supported."
Lewinsky has written and spoken at length about the pain the extremely public investigation caused her—and how it took her years to regain her sense of self and self-worth. The conversation about abuse of power and its intersection with harassment and work-place dynamics is finally coming to light in the public dialogue, and we applaud Lewinsky for standing her ground.