13 'Friends' Outfits That Monica, Rachel, and Phoebe Would Totally Still Wear Today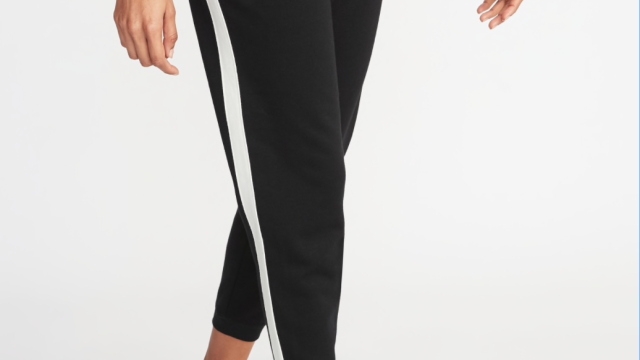 When rewatching old TV shows, we don't often click pause and take notes on the characters' outdated outfits, googling lookalikes to shop ourselves. We're no longer pining over Lizzie McGuire's butterfly clips or even Lorelai Gilmore's abundance of bedazzled T-shirts. On the contrary, those ill-fated fashion choices reassure us that the early aughts are over. However, binging reruns of Friends has the opposite effect.
Throughout ten seasons of the beloved sitcom, Rachel Green, Monica Geller, and Phoebe Buffay serve looks we would have worn twenty years ago and would still wear today. And although each leading lady has her fair share of fashion faux pas throughout Friends (remember Phoebe's vest phase?), they make up for these lapses in judgment with enough mom jeans, baby tees, and slip dresses to last a lifetime.
The revival of '90s fashion is alive and well, with claw clips, plaid pants, and spaghetti straps flooding our feeds and closets. And Monica, Rachel, and Phoebe are the ideal muses to turn to when planning your '90s outfits this fall. Whether you're working from home or heading into the office, the girls across the hall can offer both casual and corporate fashion inspo for you.
Below, see our favorite Friends fashion moments and shop lookalikes, so you can pretend you're hanging out with the gang at Central Perk when you're really just sitting on your couch.
Monica's acid-wash jeans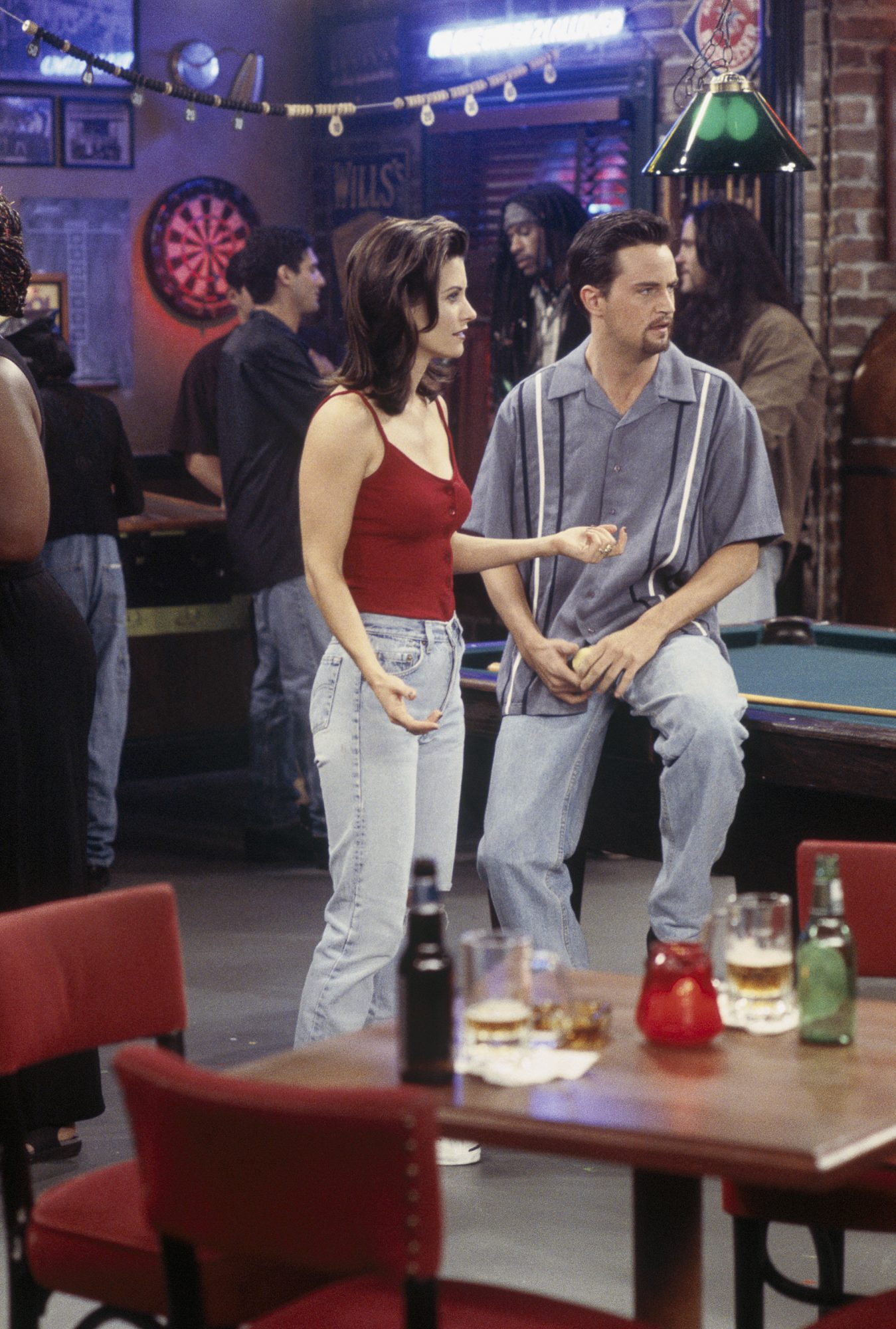 High-waisted jeans and a simple tank top—this is a classic Monica Geller outfit. The gang's resident brunette often opted for subtle looks, and this getup is a prime example. We'll take it all, please.
Everyone needs a classic tank top in their wardrobe, and this notch-neck option fits the bill. Choose between this Monica-inspired red, white, black, lavender, or green.
Acid-wash jeans take us back to '80s rock bands, but if goody-two-shoes Monica Geller can pull them off, so can we.
Rachel's plaid pants and cardigan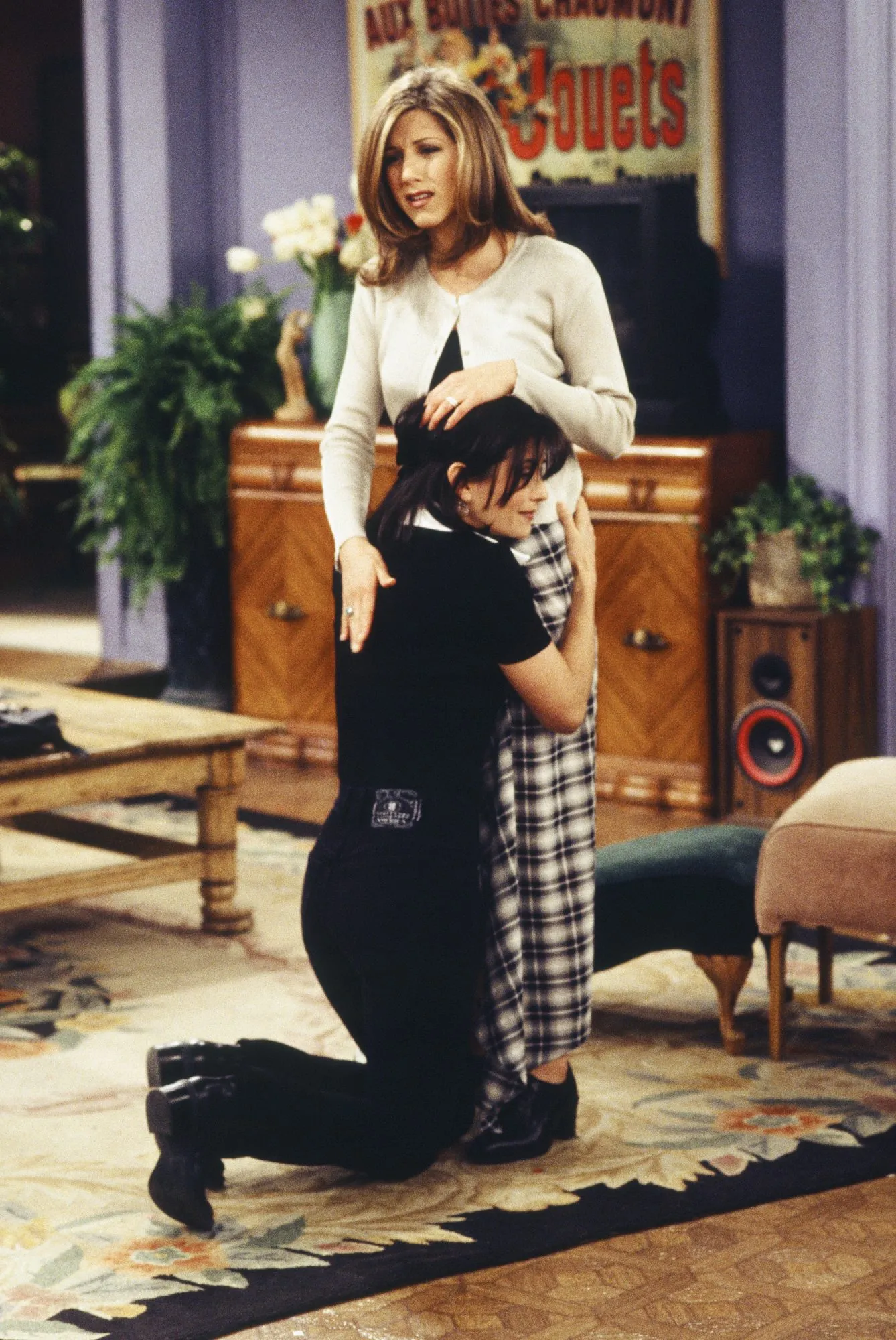 Plaid pants are a fall and winter staple, especially when they come in this cream and black print. Plus, cardigans are the sexy grandma trend that won't quit. We'd be hugging this classic Rachel Green outfit if we were Monica, too.
Having your go-to cardigan on hand is a must during chilly fall weather. This chunky cream option is ideal for layering on top of tees and tanks.
Dress these classic pants up with a leather jacket and booties—or down with a simple sweater and Doc Martens.
Phoebe's denim shirt and Converse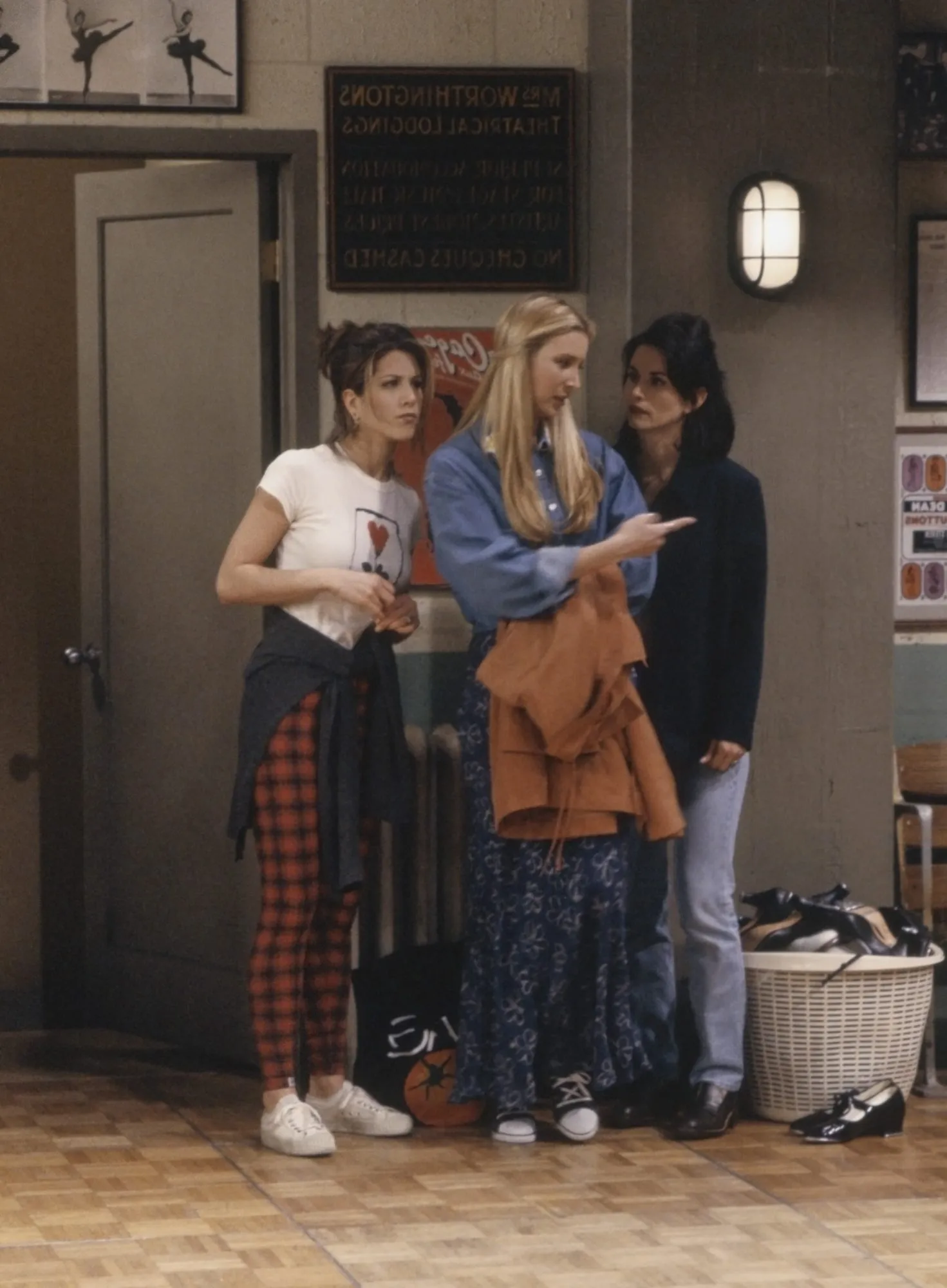 All three ladies are killing the casual-cute outfit game in this Season 1 episode of Friends. Phoebe incorporated two closet staples—a button-down denim shirt and black Converse—into one look, and she added a maxi skirt for a bohemian touch. Meanwhile, Rachel wore another pair of plaid pants and a white baby tee.
Wear this denim shirt Phoebe Buffay-style with a maxi skirt, or opt for denim on denim.
You can't go wrong with a versatile pair of Chuck Taylors in classic black canvas.
This classic white baby tee pairs well with any mood, bottoms, or 'tude. Choose between seven colors in what's sure to be your new go-to top.
These plaid pants are perfect for the holiday season or paired with a baby tee like Rachel's during warmer months.
Rachel's track pants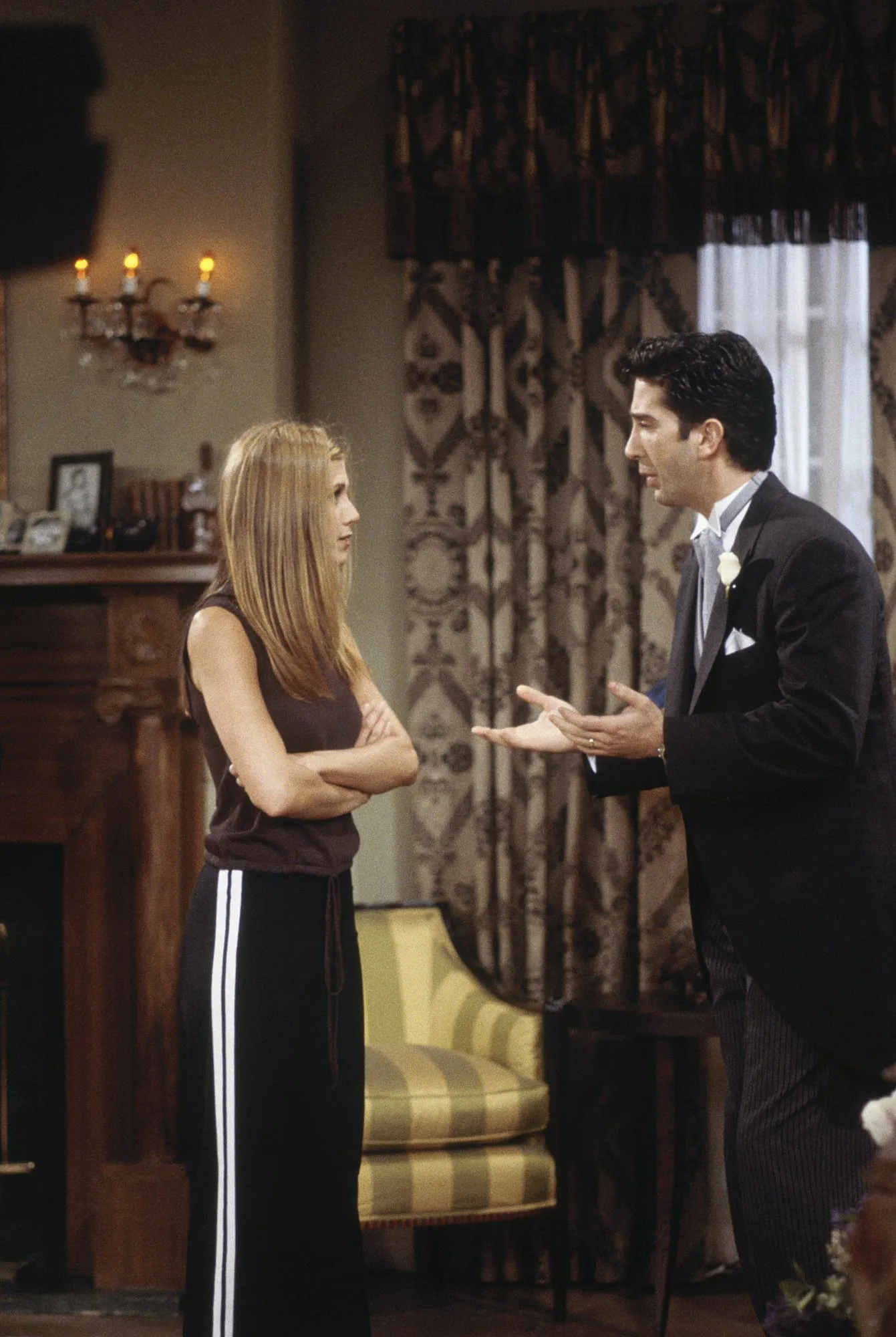 Who could forget the uber-casual look Rachel wore while crashing Ross and Emily's wedding? Miss Green rolled up to the London ceremony in black sweatpants and a brown tank top proving two things: black and brown do pair well together, and Ross prefers sweats over wedding dresses (poor Emily). The track pants are classic loungewear, and we can totally see ourselves working from home in this comfy outfit.
You can find us living in these Rachel Green-approved sweatpants all fall long—on the couch and on the streets.
Rachel's gingham mini dress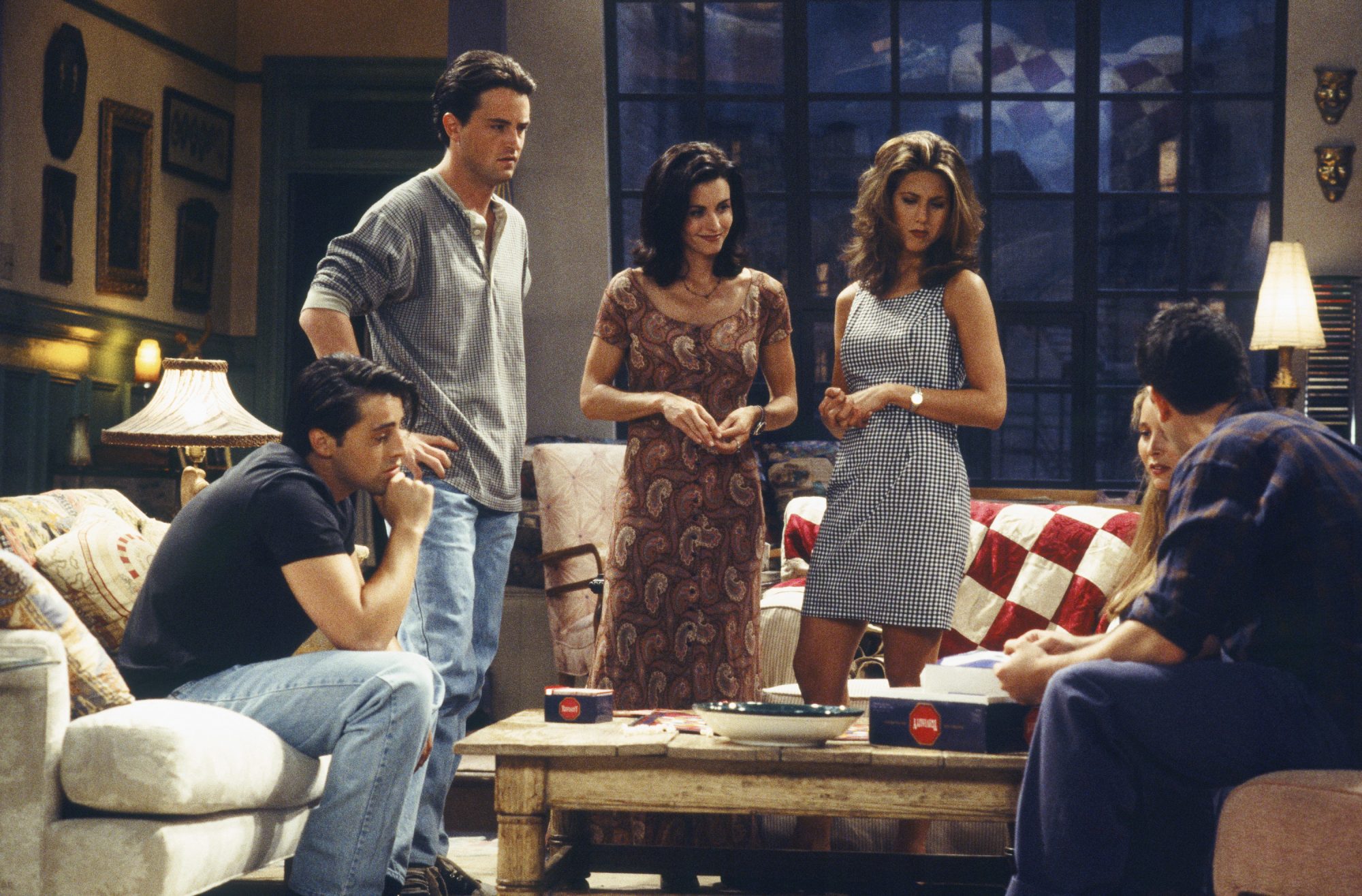 Gingham is a classic print, no matter the season or year. Rachel Green knew this, and she also knew how to rock a mini dress like no one else. Pair this little number with a jean jacket in the fall and tights in the winter, and wear it solo in the spring and summer.
Channel your inner Rachel Green in this flirty dress paired with white sneakers or black boots.
Monica's sweater-skirt combo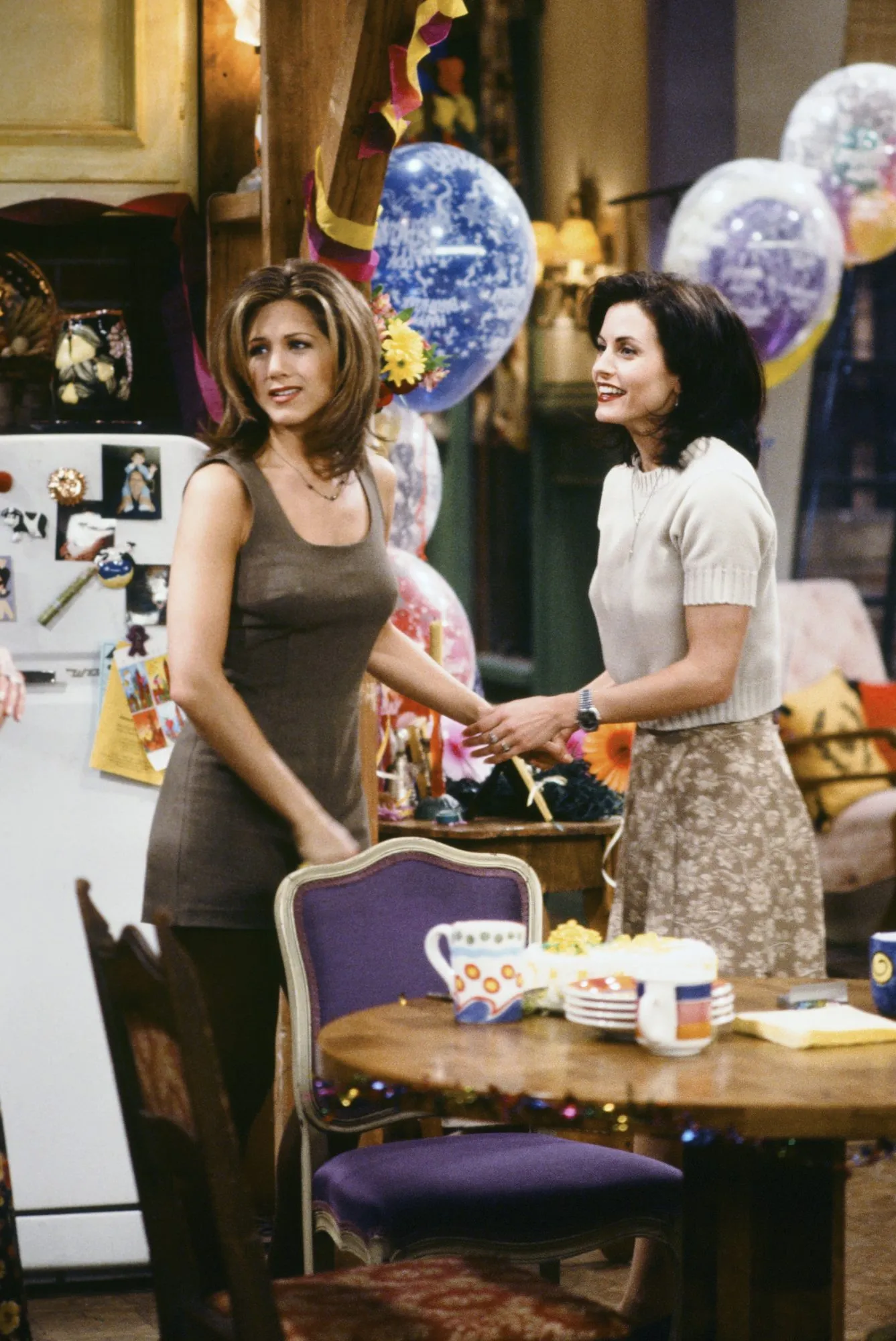 Yes, Rachel's hair looks amazing, but we're loving Monica's party ensemble. A cropped sweater tee is the perfect pairing to a high-waisted floral skirt.
Style this cropped sweater with high-waisted jeans, leather jackets, or, in honor of Monica Geller, with a floral skirt like the one below.
We love a good floral skirt moment, especially when it's in a fall color palette like this brown and cream combo.
Rachel's blazer and overalls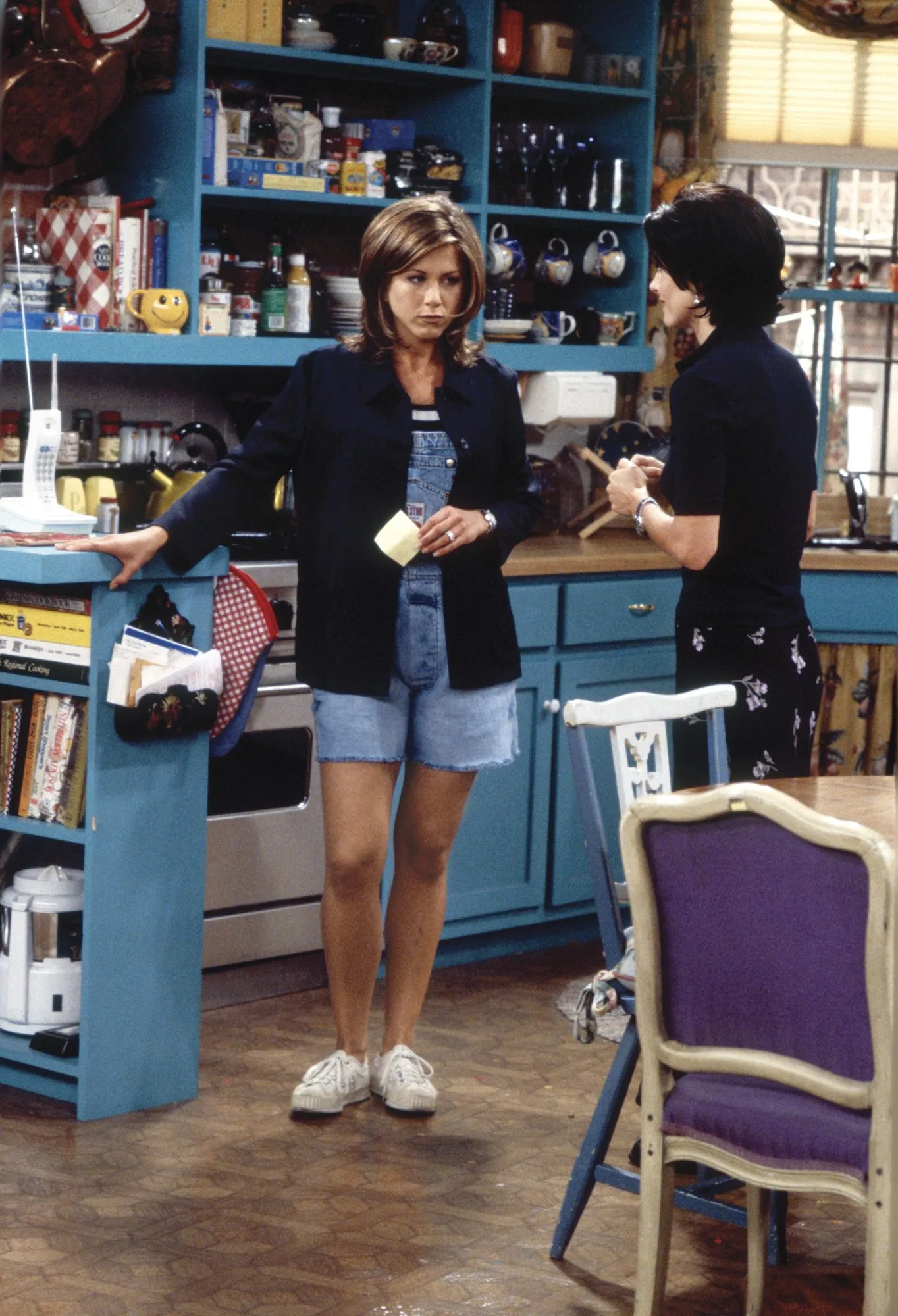 Rachel flaunted the perfect business-casual outfit by pairing a blazer with some jean overalls.
A navy or black blazer is a must in every working woman's closet. Dress it up for Zoom meetings or down, like Rachel did, with overalls.
Throw it back to the '90s with these vintage Levi shortalls, available in four washes.
Monica's velvet skirt and turtleneck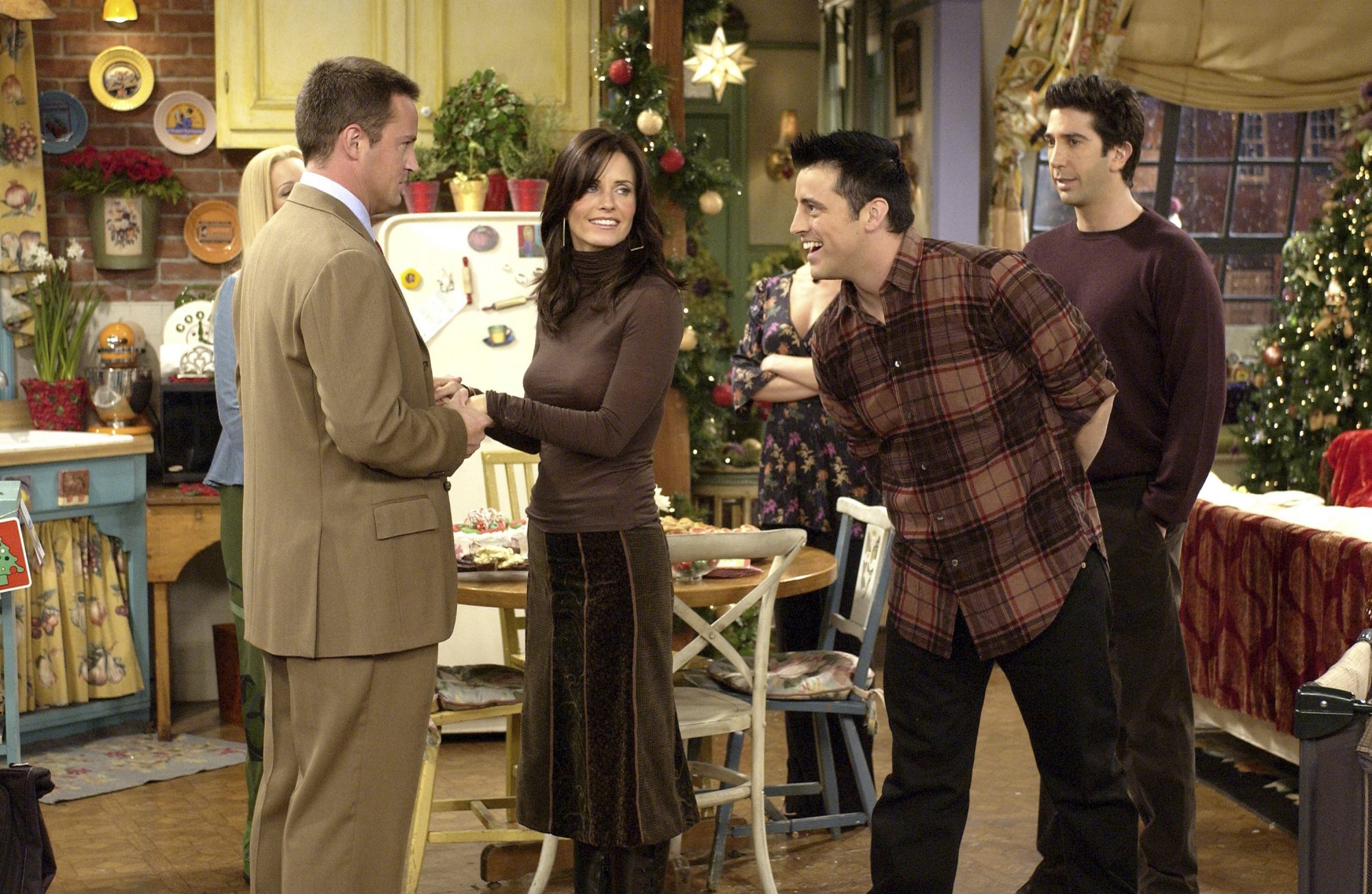 We're suckers for a monochromatic look, and Monica killed it with this festive holiday outfit. Honestly, every character fits into the brown-tan theme in this photo, and we're loving the coordination. We found black lookalikes that are more on-trend this year. Pair the velvet skirt with a variety of tops, and wear the lightweight turtleneck on repeat during fall and winter.
You'll rewear this classic black turtleneck all fall and winter long. The lightweight material and bodysuit silhouette make it easy to pair with a variety of bottoms and jackets.
Velvet, pleats, and a comfy waistband? We're sold on this versatile midi skirt.
Rachel's denim pencil skirt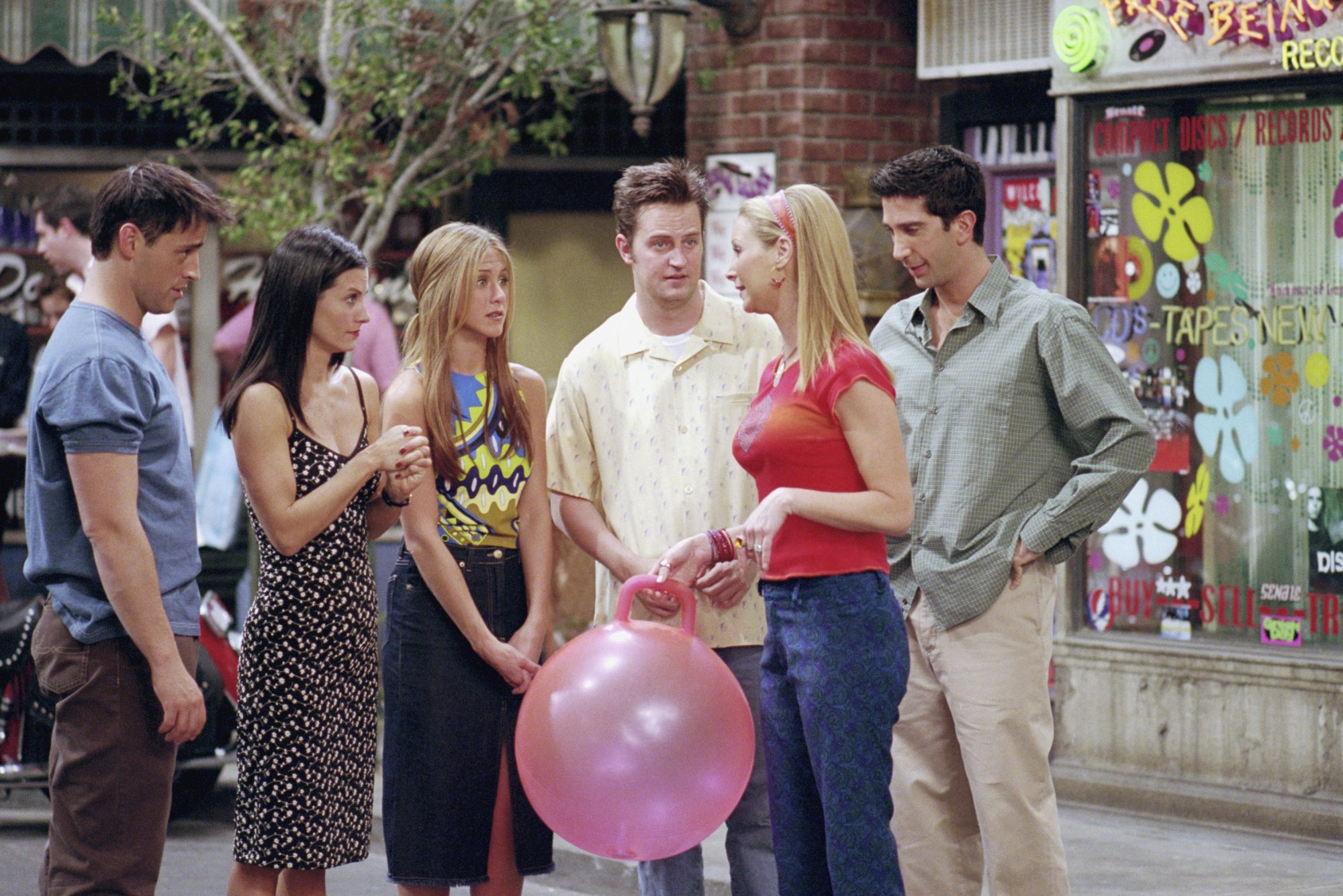 Denim pencil skirts are a controversial topic of conversation, but we're totally pro this style, as is Rachel Green. The fictional Ralph Lauren employee styled her denim midi skirt with a halter top in this Season 6 episode of Friends, and we're loving the retro vibes.
Denim skirts are less restrictive than jeans and more versatile than patterned skirts.
Monica's mom jeans, Rachel's drawstring pants, and Phoebe's maxi dress
In this classic Friends episode, Phoebe stops Rachel and Monica's catfight over Jean-Claude Van Damme and makes them her "bitches" by pulling on their ears. While the scene is hilarious, all three girls' outfits are memorable, too. Rachel is honing in on her classic crop-top-baggy-pants combo, Monica is rocking one of her many pairs of mom jeans, and Phoebe pulls off the dress-over-turtleneck look.
This classic turtleneck will be on heavy rotation for us this winter.
Choose between black and dusty pink in this form-fitting, comfortable midi dress.
With wide pockets, an adjustable waistband, and loose-fitting linen, we think these joggers might be our new WFH uniform.
Mom jeans are always a yes in our book, and this low-key, medium-wash pair from Madewell might be the perfect addition to our denim drawer.
Now, go binge Friends in honor of the show's 26th anniversary!