Mona May, the costume designer for "Romy and Michele," gives us the scoop on all of the film's amazing outfits
The name Mona May might cause you to instantly think of Clueless, since she's the brilliant costume designer behind all of the fabulous outfits Cher, Dionne, and the rest of the Beverly Hills High gang wore in the movie. She also brought her sartorial genius to many other stylish films such as Never Been Kissed, The House Bunny, The Wedding Singer, Enchanted, and — wait for it — Romy and Michele's High School Reunion.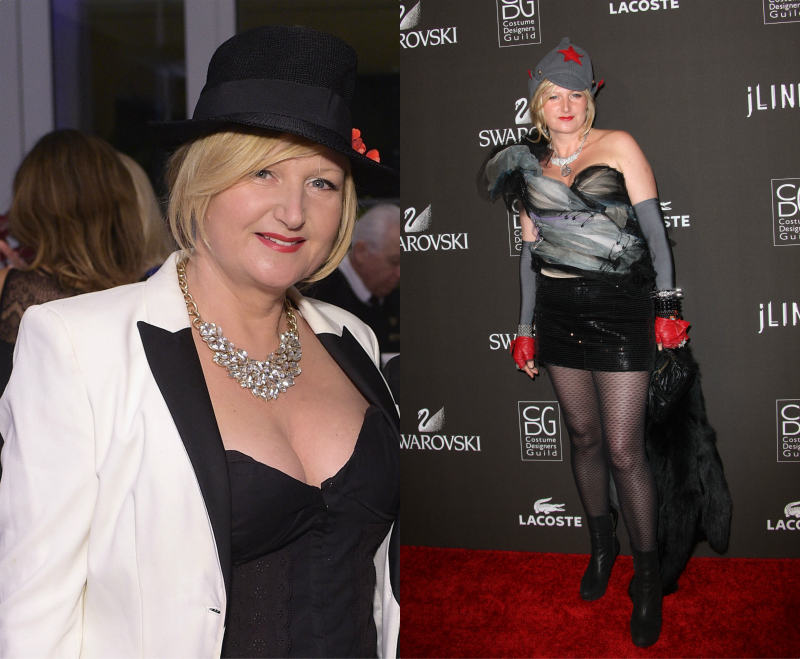 In honor of the film's 19th anniversary, May spoke to us about the inspiration behind Romy and Michele's memorable outfits, her most challenging costuming gig, and the "magic moment" that happens with every character she dresses.
HelloGiggles: You did the costumes for "Ladies Room, the original play that Romy and Michele was based on. Were any of the outfits the same or were you working from a clean slate?
Mona May: It was completely different. The play was much more tame. You have to do so much more with a movie. First, you have to read the script, see how many wardrobe changes they have and ask, "What is the arch?" Here, it was their reunion — everything was building up to that. And everything the characters wore had to make sense. They make their own clothes, they live in an apartment, they might shop at thrift stores. They can't be wearing all Dolce and Gabbana all the time, so we have to make it realistic.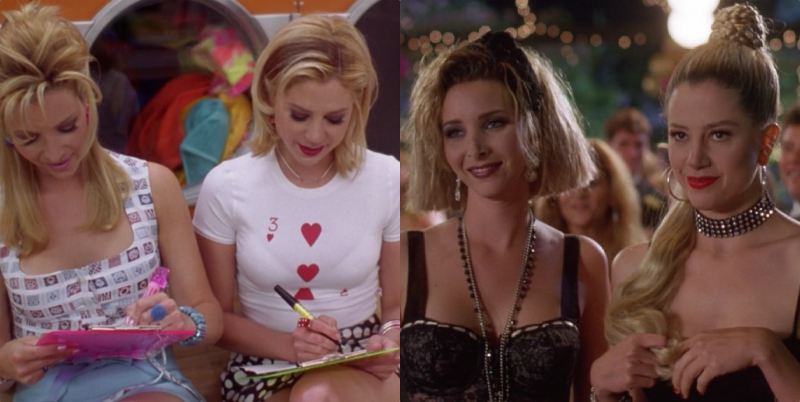 HG: As with Clueless, there are so many statement outfits in Romy and Michele. How did you start building their wardrobes?
MM: I sat down with the director and actors and we formulated it with presentation boards, collages, or what's happening in fashion. The characters read Vogue and all the magazines, so they were fashion-oriented and always knew what was in. We also want to think about how fashion will be six months from now. We don't want to look like we were lazy and went to Macy's and picked up whatever they have on the floor.
It's a collaborative effort in a sense. But the real magic is in the fitting room. You create all these looks even for very simple characters, but the fitting room is where the real moment happens, when you know something works. You feel it in the room and the actor goes "Yes, I'm her!" That's what I love most — when that happens, all the elements come together in the right way. And you can't predict it. It might be a brown sweater that you just find on the rack and that ends up being the key piece.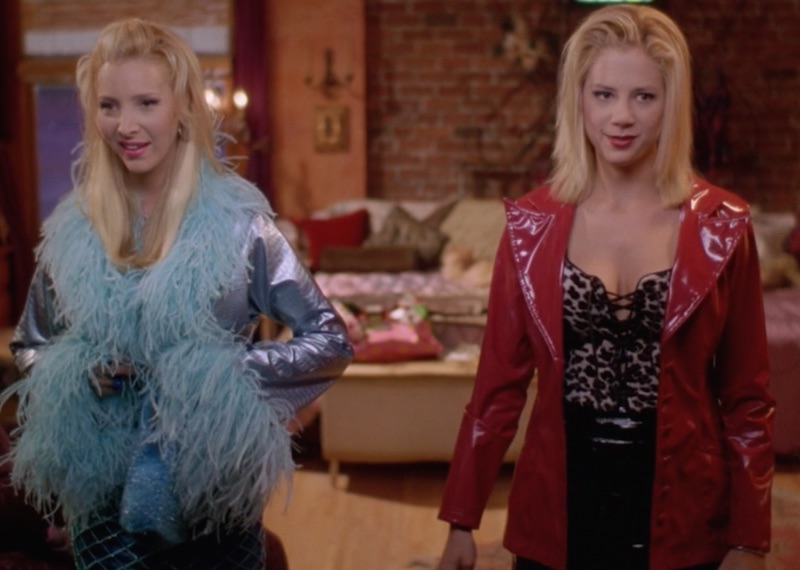 HG: Since designing their own clothes was a huge part of the characters hobbies, were many of the outfits they wore actually handmade?
MM: It was a big mix. You didn't have much time to prep, only six to eight weeks. With Enchanted, I had seven months to prep so I could hand make everything. With Romy and Michele, we made a lot of the outfits, but also used a lot of thrift store clothes and just tweaked something here and there, which is exactly what the characters would do. They would hem something or add buttons to make it more artsy and funky.
HG: Both Romy and Michelle had bold, colorful style, but did they also have their own characteristics that you kept in mind while dressing them?
MM: Each girl had their own distinct style. Romy (Mira Sorvino) was more of the serious one and Michele (Lisa Kudrow) was the fun, exuberant, and silly one. It was wonderful to work with Lisa because she dives into the character and she's not afraid to look silly.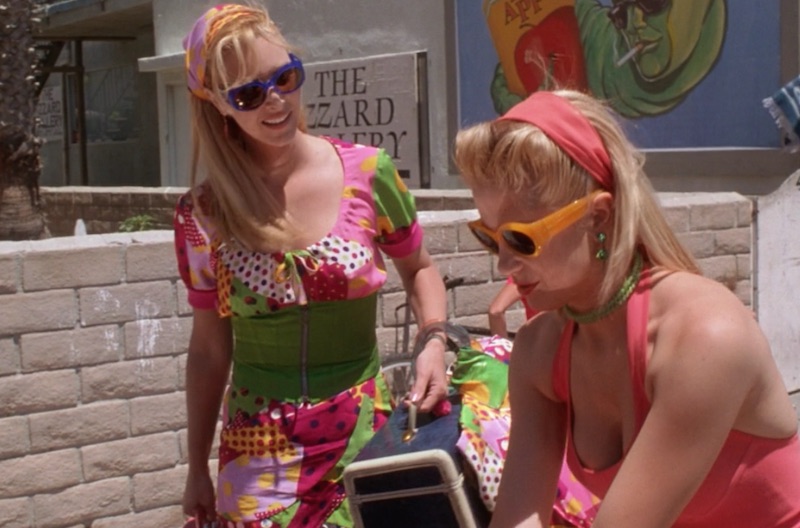 HG: Romy and Michele were always coordinated, but still also different, even at the reunion when they changed from their fancy business lady clothes to their matching pink and blue dresses. 
MM: Both dresses were made out of spandex and in the same shape, but completely different. One was pink and feminine and the baby blue dress was kind of space-y. It was fun to create them because you really show their personalities through the dresses. I loved making Lisa more like Barbie and she was always game for that. We used iridescent materials. Her shoes had to be more dazzled so we added boa.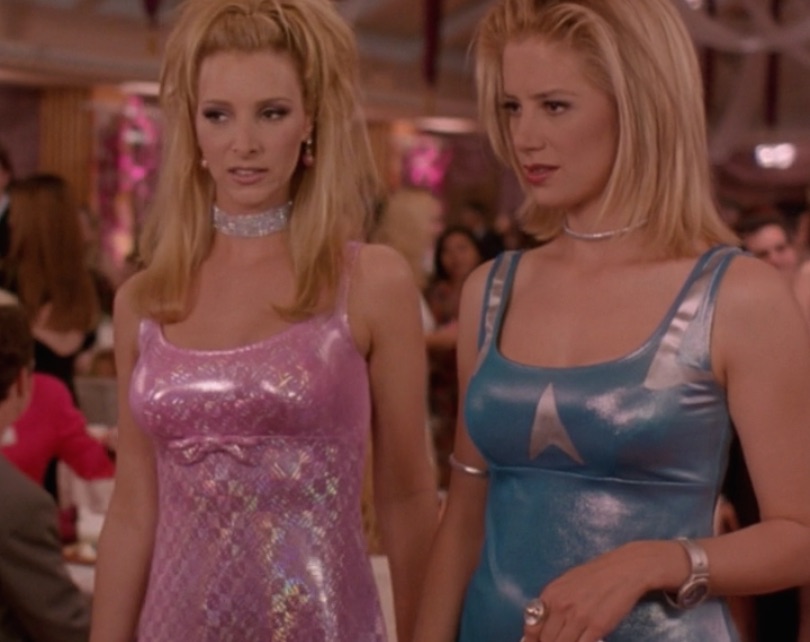 HG: Speaking of shoes, I loved how they didn't wear traditional exercise clothes and wore heels on the treadmill.
MM: I loved doing that in Clueless too. I think it's important to show that if you're into clothes, you would wear something really cool. It's like, I'm not wearing old sweats to my yoga class, so if you want to portray a girl who is really into fashion, she should still be able to show off her distinct style.
HG: I know you made the Chanel water bottle holders for Clueless, which ended up being used at their runway show. Did you also design the ones in Romy and Michele?
MM: Yes! I made them again for the movie. You know, at that time, it was pre-computer. It was the beginning of all of that. Now, everyone has their cell phone holders and accessories. Back then, it was a more innocent time because we didn't have access to everything. I think it's fun to look back at these movies because now everything is such an overload and it is almost too much.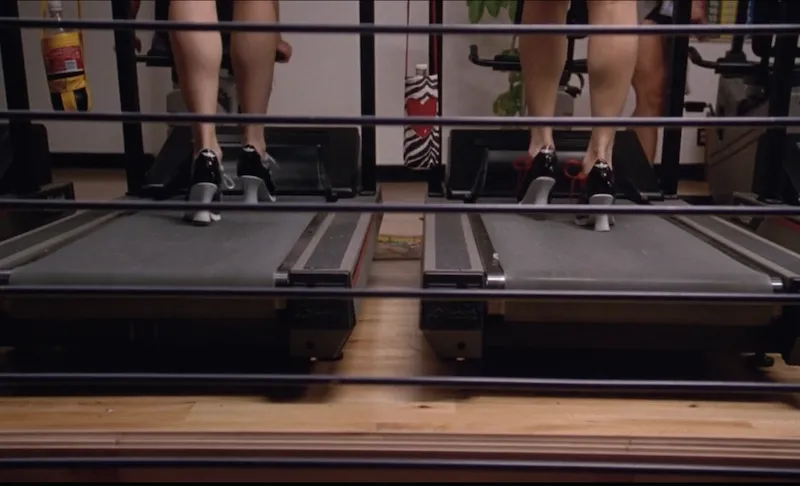 HG: You signature look is very girly and reflected in all of these movies. Which movie was a challenge?
MM: My darkest movie was the Nic Cage one I did. [The Trust]. Even when you're dealing with something that dark, you have to get the right thing for the characters. I think each project has its own challenges. With Enchanted, even though my budget was huge and I had a lot of time to prepare, the challenges were very much there. Like, "How do I adhere to this classic look, but still make it innovative?"
HG: And you worked on Grandfathered, too?
MM: Yes! It was such a joy to work with John Stamos. He is the most handsome man on earth and the best body to dress. I was able to buy get him in Dolce and Gabbana, Prada, and Tom Ford, but also was able to custom make him suits as well. It was so much fun to make him look so dapper and working with a modern, European silhouette. He can totally pull it off with his amazing physique. It is a blast dressing men. It's my new thing.