Moms are NOT happy about these baby high heels, but the designer has a good explanation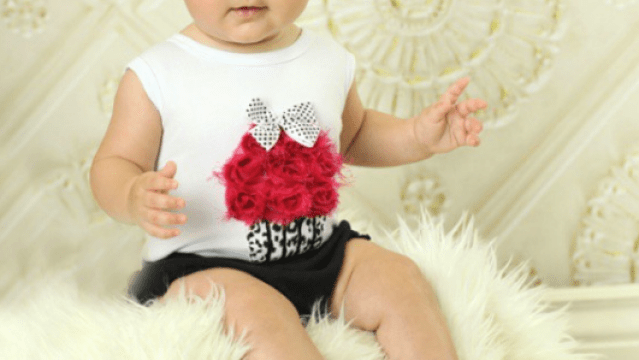 There are quite a few cheeky baby clothing products on the market for fashion-forward mamas to dress up their tots. Chiefly among them is Pee Wee Pumps, a line of dress-up baby heels made from soft cotton. They're not actual heels, but rather cute plush slippers designed to snag a few laughs and cute Instagram snapshots.
Except, there are quite a few moms who are definitely *not* laughing.
"Do they [realize] that the reason heeled shoes are perceived as sexy is because the heel forces the wearer to walk with chest/buttocks out for balance and an exaggerated arch in the foot mimicking (apparently) feet during orgasm?" one peeved Facebook user wrote in the UK-based group, Let Clothes Be Clothes.
And the woes don't stop there. Since a post about the absurdity of Pee Wee Pumps was published to the Facebook group earlier this month, nearly 100 commenters have chimed in with their opinions.
"I was just lamenting the presence of any type of heel on toddler-sized "girl" shoes, and now this. Soon women will be having Barbie shoes surgically inserted into their wombs, so that their embryonic daughters can be 'princesses' before they breathe independently," a different Facebook user chimed in.
"Apart from the tremendously worrying sexualisation of children such products contribute to, I don't even want to know the effects these shoes would have on small, developing feet," another user wrote.
But before we get ahead of ourselves here, let us explain a few things about these controversial toddler pumps.
They're *not* intended for walking. Rather, they're a photo prop. And they're no more physically harmful to babies' feet than a regular pair of baby slippers.
"This isn't the first time that the U.K. has had a problem—they turn it into something it's not; it's a photo prop," Pee Wee Pumps founder Michele Holbrook told Footwear News. Furthermore, the baby heels are fully adjustable with Velcro straps and the faux-heel is filled with collapsible cotton. There's "no endangerment" for the babies, she added.
"Fashion-forward moms love to dress up their little girls with the cutest bows and outfits, and are always looking for the perfect pair of shoes to complete any outfit," Pee Wee Pumps's 'About Us' section reads online. "Now they've found them with Pee Wee Pumps–infant crib shoes with a collapsible heel! They're just like mom's favorite pair of pumps only in a miniature size. Pee Wee Pumps will be your daughter's first fashion statement."
While we understand why moms are upset about the issue, we can see both sides. Many celebrity moms have taken a liking to the costume shoes, and they're pretty popular amongst American moms. It just goes to show: Everyone's entitled to their opinions!