This hilarious video shows how a mom sneakily exit her sleeping baby's nursery without waking her up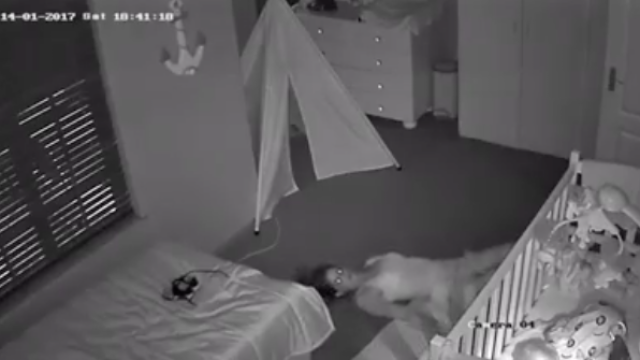 When your baby has finally fallen asleep, being able to sneak out of the nursery without waking said sleeping baby up can be nearly impossible. It feels like any little sound you make – even if you think you're being absolutely silent – can wake up your little one. And you have to start the whole bedtime process all over again.
So any parent who accomplishes the "sneak-out" is basically a ninja. And one genius mom snuck out of her baby's nursery using the best trick ever, and we're super impressed.
Tyrone Morris posted a video on Facebook of baby cam footage that captured his wife, Caryn Chelin Morris, sneaking out of their son's room in the most hilarious way possible.
She literally reverse army crawled out of the nursery. Her moves were brilliant and, most importantly, successful.
"The best thing about having cameras in your house is watching your wife trying to exit the room after putting your son down," Tyrone wrote. "Sometimes you have to use your initiative for your exit!! PS The SA Army are calling me for you to do training on the reverse leopard crawl !!"
If you have kids, you know that all babies are born with a sixth sense that allows them to always know when you're trying to escape or have some time alone. So when you figure out a way to outsmart your baby, you just go with it. Especially when your other option is to accidentally wake the kid up, listen to him cry and get even more exhausted by it all.
So yeah, reverse army crawling it is.