This mom secretly recorded her daughter practicing a viral dance routine in a "Spirited Away" costume — and we can't stop laughing
Sometimes, dancing like no one's watching really has its upsides. Case in point — a mom secretly recorded her daughter practicing a viral dance routine while she also happened to be fully dressed as N0-Face from Spirited Away, and the hilariously bizarre video has gone viral. Give it one watch and you'll see why, because it's guaranteed to make your Friday even better than you expected.
Maya, a high school senior in Japan, donned the No-Face costume and danced to the song "Love," because, why not?
Her mom wisely broke out the camera and secretly recorded Maya's killer dance moves. She was kind enough to upload the video to Twitter, because no one should miss out on this epic dance sequence.
Sometimes, the social media posts of a complete stranger brighten your day when you least expect it.
In an interview with BuzzFeed News, Maya explained that she got the idea when she watched a video of two girls doing the very same dance on Twitter:
"I thought that something wasn't quite right. I mean, that I could make it funnier, she said. "I thought showing my face while dancing would be a little too much, so I put on my No-Face costume and did it."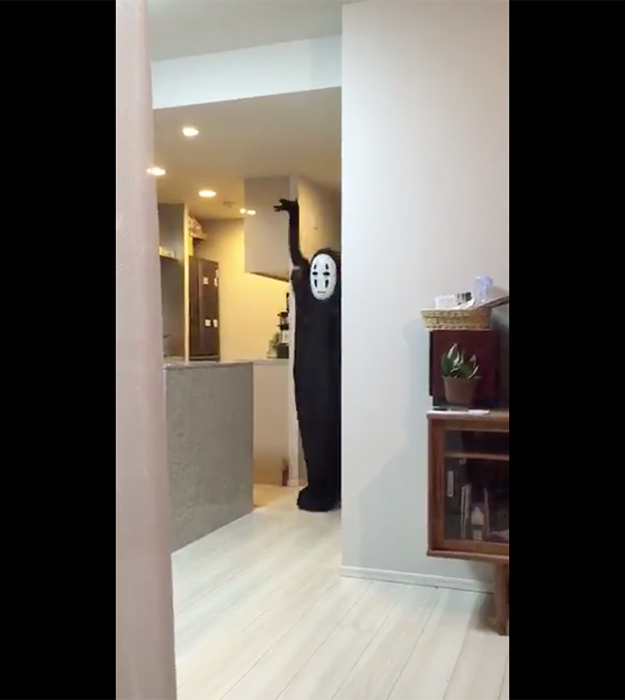 Just one week after Maya's mom posted the video, it already has over 52,000 retweets.
So, next time you decide to dance like no one's watching (let's be honest — we all do it), don't be afraid to go all out. It may make you an overnight Internet sensation.
Maya provided the full, high-quality video of her dance to BuzzFeed and we highly recommend watching it. One caveat — you may end up watching it on a loop for 10 minutes straight because it's truly that hilarious.