Mom posts pic of her post-baby tummy to prove that not losing weight doesn't mean you're "letting go"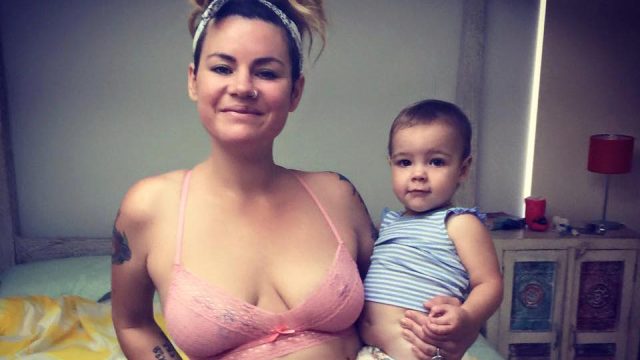 Blogger Constance Hall has long been on our radar when it comes to body positivity. Back in January, she thoughtfully commented on the post-baby body, making a point to mention that society's judgement of moms' body image is unwarranted. Then, just last month, Constance copied Kim Kardashian's infamous nude selfie to point out that sexy comes in all different shapes and sizes. Now, the powerhouse mom is setting her sights on post-baby weight loss.
Earlier this week, Constance posted a Facebook pic of herself holding her child upon her hip. She's wearing a pair of jeans, a lacy pink bra, and her hair is tied up. She writes, "I used to be obsessed with my weight. I thought skinny was beautiful." After she became a mom, Constance's weight obsession was amplified and she states, "My least favourite part of being a mum was losing the baby weight."
Considering that society traditionally expects women to quickly "bounce back" after giving birth, Constance's fixation isn't unheard of. When a woman brings another human being into the world and doesn't immediately lose all the weight she gained over the course of nine months, she's seen to be "letting go of herself." This is a huge issue, one that should be turned around to focus on how strong women's beautiful bodies are – no matter what size they are.
Constance's entire perspective suddenly changed when she was in the midst of a health scare. A few years ago, she discovered a lump on her breast, revealing, "I was so scared that I wouldn't be granted the privilege to raise these perfect children of mine. That week, I couldn't eat yet my weight was the furthest thing from my mind." Later on, Hall thankfully learned that the lump was a non-cancerous cyst and, in the process, she re-examined her obsession with her weight.
https://www.facebook.com/plugins/post.php?href=https%3A%2F%2Fwww.facebook.com%2Fpermalink.php%3Fstory_fbid%3D1140682489309908%26id%3D1019711431407015%26substory_index%3D0&width=500
"Now I realise that not losing your baby weight isn't a sign of letting go, it's a sign that this Queen has evolved," states Constance. "[S]he's realised that life is not about a number on a scale, happiness is about gratitude and love and the privilege that is life."
The inspiring mom concludes, "Nothing could be more beautiful then that." We couldn't agree more.