Molly Ringwald says there was a HUGE downside to being everyone's teenage crush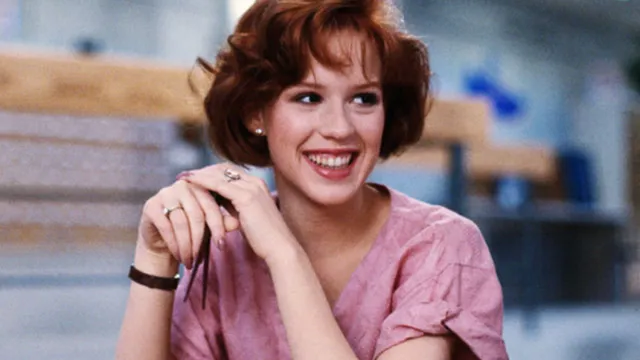 Our favorite movies (Sixteen Candles, The Breakfast Club, Pretty in Pink) all have one thing in common: Molly Ringwald (and, of course, writer John Hughes). Just because the actress has stayed out of the limelight in recent years doesn't mean she shines any less bright in our hearts, and now we love her even more after her interview in today's Lenny Letter.
Laurie Simmons (a badass artist and Lena Dunham's mom, FYI) sat down with Molly to chat about growing up in the spotlight, and what it was like to be everyone's teenage crush.
"It did feel like the world had a crush on me," Molly said when asked if she was aware of being a teenage crush back in the '80s and '90s. "But then if you have any lucidity, or if you are prone to anxiety, which I think I have been my whole life, you always have the feeling that it's going to change, that it's ephemeral and it's not going to last."
For instance, Molly remembers entering seventh grade two months late after her first movie, and finding out that all of her friends had moved on. "I had no friends at all, which was very, very painful," she recounts. "I felt completely isolated."
It didn't help that being a Hollywood actress meant that people were intimidated by her—especially guys. Despite being everyone's crush in pop culture, Molly reveals that dating as a teen IRL was still really difficult.
"Boys were always too shy to come up to me," she said. "If I wanted to go out with anyone, I always had to make the first move."
This is a trend that continued throughout the rest of her life. Being a powerful woman sometimes means that you have to be the one to say what you want.
"I feel a lot of tenderness for myself," she said, thinking back on her life as a teenager. "Because I beat myself up on a regular basis, and still do, for not accomplishing everything that I feel like I should have accomplished, or still want to accomplish."
Like many of us, Molly still has an inner critic. But after all those hit movies, plus her success as an author, on stage, and touring the world with a jazz band, we think it's pretty safe to say that Molly is living a life to be very proud of.