17 moisturizers for oily, acne-prone skin, because, surprise, you still need to keep it hydrated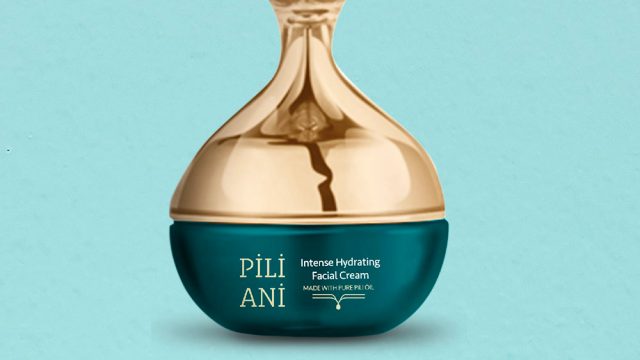 While some people with oily skin might think that using a moisturizer will make their skin even more greasy, it's actually quite the opposite. Your skin is left dry after cleansing, so when you skip moisturizer, your body responds by producing more oil to correct the dryness. Finding the right oily skin moisturizer can be challenging. That's why it's important to select a moisturizer carefully, especially since you want to balance absorbing oil with keeping your skin hydrated.
Luckily for us, Dr. Debra Jaliman, a board-certified dermatologist, spoke to HelloGiggles about what type of moisturizers are best.
"If you have oily skin, you'll want to use a lotion that provides enough hydration without causing issues such as acne," she said.
It's also important to try to use a moisturizer with a lighter texture, she explained, as the consistency should not be thick to the point where it clogs your pores.
Shopping for your moisturizing product can be somewhat intimidating. You may be overwhelmed and confused about the difference between lotions, creams, and oils. However, dermatologist Dr. Anna Guanche, M.D.,  explained that it's all about their water-to-oil ratios:
"Creams are heavier and richer than lotions and have more oil-to-water ratio," Dr. Guanche said.
She explained that ointments have an even higher ratio of oil-to-water compared to creams, and lotions have the least amount of oil and contain mostly water. Because of this, lotions are the optimal choice for oily skin. Like Dr. Jaliman, Dr. Guanche said that a lotion with a watery texture rather than heavy, thick texture could be ideal for those with oily skin.  She says that water absorbs faster than oil, so a lotion will absorb into the skin more readily than a cream or an ointment.
When looking for products, ingredients to keep in mind are acrysorb micro-particles, which have been known to reduce facial shine by absorbing oil, according to Dr. Jaliman. Dr. Guanche also recommended using products with silica, which is also known to be an effective oil absorber.
Now that we know moisturizers are a must no matter how oily our skin is, it's time to pick the right one! Here are 17 of the best oily skin-approved moisturizers:
1Mario Badescu Oil-Free Moisturizer
This daily moisturizer is extremely lightweight, meaning it will effectively hydrate your skin without clogging your pores.
2Neutrogena Oil-Free Moisture Sensitive Skin
This non-comedogenic and hypoallergenic moisturizer is ideal for those with sensitive skin, as it contains a fragrance-free formula that won't cause unwanted irritation.
3TATCHA The Water Cream
This botanical-powered cream is suitable for those looking for an oil-free moisturizer that also has added anti-aging benefits.
4La Roche Posay Effaclar Mat Moisturizer For Oily Skin
Tuck this oil-free moisturizer in your bag if you want some intense oil-fighting action, as it uses special Sebulyse Technology to help mattify the skin and redefine large pores.
5Dermalogica Oil Free Matte SPF 30
This oil-free moisturizer has built-in SPF 30 for sun-shielding action.
6Grown Alchemist Matte Balancing Moisturizer
Active acai berry and borago come together to help balance sebaceous levels in the skin, leaving your complexion smooth and matte.
7Avalon Organics Intense Defense with Vitamin C Oil-Free Moisturizer
This rejuvenating vitamin C-enriched moisturizer uses white tea and lemon bioflavonoids to keep it firm and super radiant.
8Paula's Choice Resist Youth-Extending Daily Hydrating Fluid SPF 50
Keeping your skin hydrated and matte, this daily hydrating fluid has added SPF 50 to keep burns and UVA/UVB damage to a minimum.
9Glow Recipe Watermelon Glow Pink Juice Moisturizer
This moisturizing product is like a lightweight serum, and it's formulated with watermelon extract and hyaluronic acid to help boost overall radiance.
10Avene Hydrance Light Hydrating Cream
This hydrating cream uses a hypoallergenic and noncomedogenic formula to keep your face free from shine.
11Shiseido Essential Energy Moisturizing Gel Cream
This non-comedogenic cream provides a dewy and non-greasy texture that hydrates your skin effectively.
12Pili Ani Intense Hydrating Facial Cream
You don't have to worry about any greasy residue when using this intense hydrating facial cream. It utilizes special pili oil to help keep your skin hydrated without the unwanted weigh down.
13Farmacy Honey Drop Lightweight Moisturizer With Echinacea GreenEnvy
This super hydrating antioxidant moisturizer functions as a water cream to keep your complexion hydrated and nourished.
14BELIF The True Cream Aqua Bomb
This oil-free cream is great after a long day, as it cools down your skin with a special blend of apothecary herbs.
15Biossance Squalene + Probiotic Gel Moisturizer
This ultralight moisturizer uses squalene and probiotic technology to keep your face hydrated, brighter, and more balanced.
16La Mer The Moisturizing Cool Gel Cream
Developed with micro 0il gel capsules, this moisturizing cool gel-cream soothes and plumps the skin without setting off  any oil.
17Youth To The People Superfood Air-Whip Hyaluronic Acid Moisture Cream
Think of this lightweight facial cream like a green juice for your skin. It uses kale, spinach, and green tea, and some hyaluronic acid to keep your skin supple and free of fine lines.